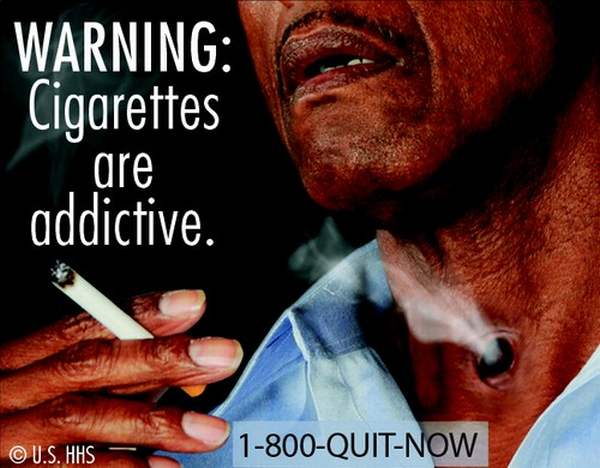 Back a few months ago, the government's regulatory Food and Drug Administration released advanced copies of the new warning labels that depict in graphic detail the negative health effects of tobacco use.
---
'If You Smoke, You Die,' Says FDA Ad Campaign
Could this kind of campaign be used to fight obesity, alcoholism?
July 24, 2011 Leave A Comment
By: O. J. Cunningham
Before we start today lesson . . . here's a Google "Tip" . . .


DON'T EVER GOOGLE "VOMIT IMAGES" . . .
(Keep Reading and all will become clear to you . . . )
Don't get the wrong idea about me . . . I'm no anti-smoking evangelist. I admittedly smoked (up to two packs a day) starting with my college days and well into my 40s.
Once my kids were born, it just seemed the "right thing to do" to go outside to smoke rather than puff on a Pall Mall while changing Jessica's or Christopher's diaper. Worst thing was that Donna always got mad whenever ashes fell on the kids' little tummies and they started screaming.
In the end, both Donna and I finally made it to non-smoking status although I was always ready to "bum" a ciggy from a fellow bar-fly during a night of Michigan Idol binge drinking during the years at Stables.
Now, I'm smoke free and damn proud of it.
But I'm far from being a crusader or one of those anti-smoking anarchists that eats-sleeps-rallies and breathes only in a smoke-free environment.
Nonetheless, I'm REALLY having a mixed reaction to the new governmental advertising campaign (on cigarette packaging) pertaining to ANTI-SMOKING.
In case you havn't heard, by the end of 2012, cigarette companies will be required to place images (like the ones in this column) on their cigarette packs so as to depict the "downside" of the cigarette smoking habit.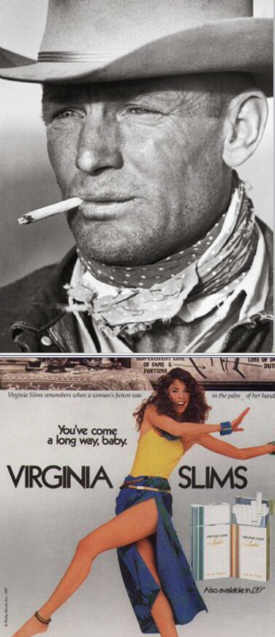 caption
In my day, the macho Marlboro Man, the long-legged slinky Virginia Slim ladies (maybe Joe Camel) and the cool refreshing taste of menthol were the strongest and most successful advertising gimmicks that cigarette companies used to get my generation hooked on their product.
Story Idea -- Click Here to Send to MyBayCity
Back a few months ago, the government's regulatory Food and Drug Administration released advanced copies of the new warning labels that depict in graphic detail the negative health effects of tobacco use.
Among the images are rotting and diseased teeth and gums and a man with a tracheotomy . . . still smoking.
The pictures are graphic enough but also included are phrases like "Smoking can kill you" and "Cigarettes cause cancer" and feature graphic images to convey the dangers of tobacco, which (according to the FDA) is responsible for about 443,000 deaths in the U.S. a year. Each label includes a national quit smoking hotline number.
According to a press release from the Associated Press, "The labels will take up the top half - both front and back - of a pack of cigarettes. Warning labels also must appear in advertisements and constitute 20 percent of the size or timeline of an ad."
Cigarette makers have until the fall of 2012 to comply.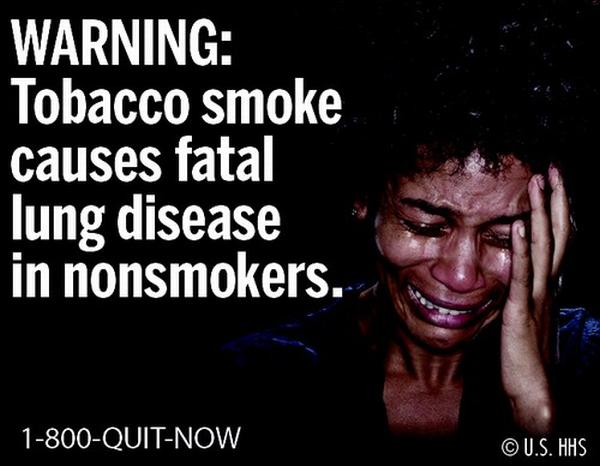 Nobody is going to leave a pack of ciggies with pics like this laying around on the table.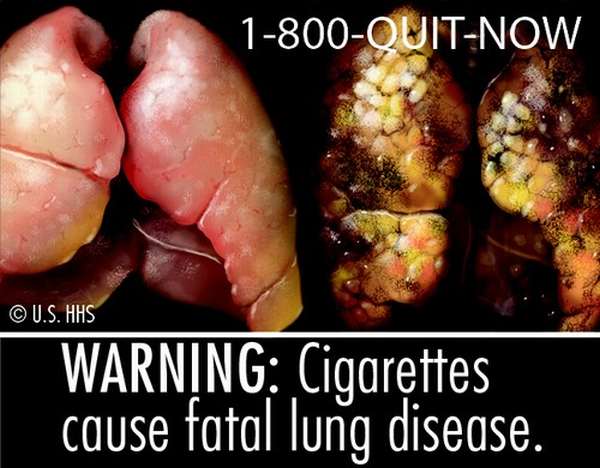 Is that really growing inside somebody?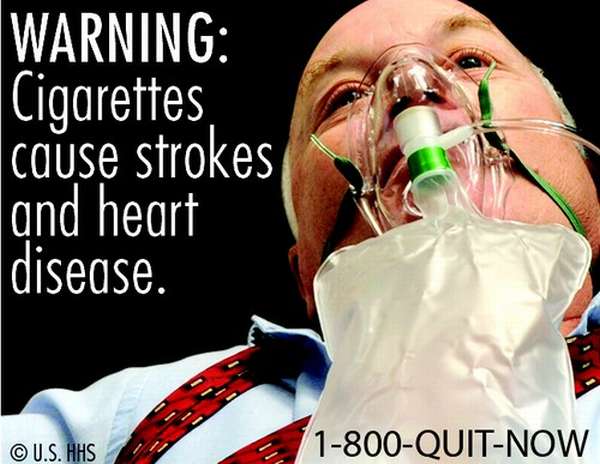 Smoking + Flame + Oxygen = "BOOM"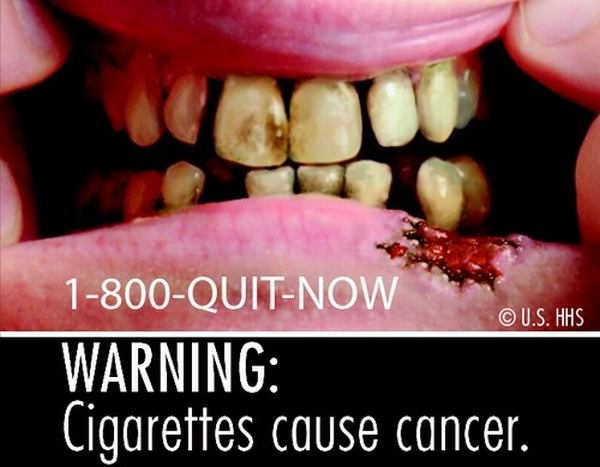 What the hell is growing on this guy's lip?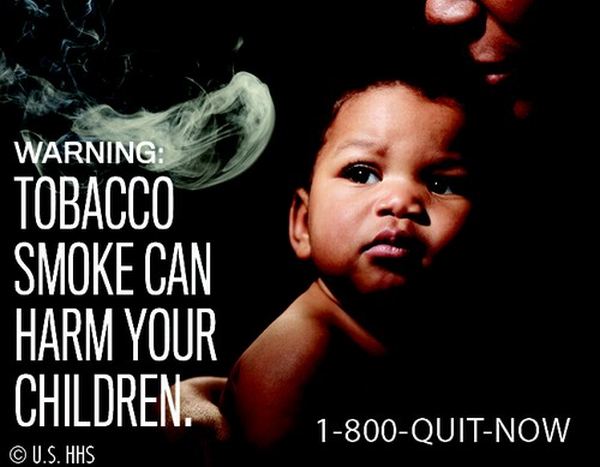 Stop Smoking Today -- For the Kids . . .
Got me thinking . . . Would pictures of fat kids on fast food packaging stop moms from buying French fries and burgers and shakes for their overweight children?
Would overweight kids notice (and read) that they're eating food that might effect their long term health. Salad menu items could have models and movie stars on their packaging. Burgers and fries would feature elephants, grotesque obesity and maybe even Sumo Wrestlers.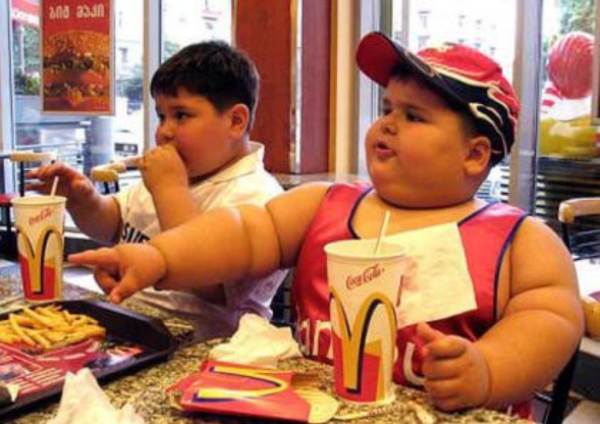 Would a fat kid eat a burger wrapped in a wrapper with a fat kid's picture on it?
What about drinking?
What if beer bottles had pictures of sick and throw-up sessions? Would that stop an already drunk bar patron from having "one for the road?"
Imagine, having to look at pictures like the ones below instead of those beautiful icy mountains of Colorado.
A picture of this on your beer can might change the topic of conversation.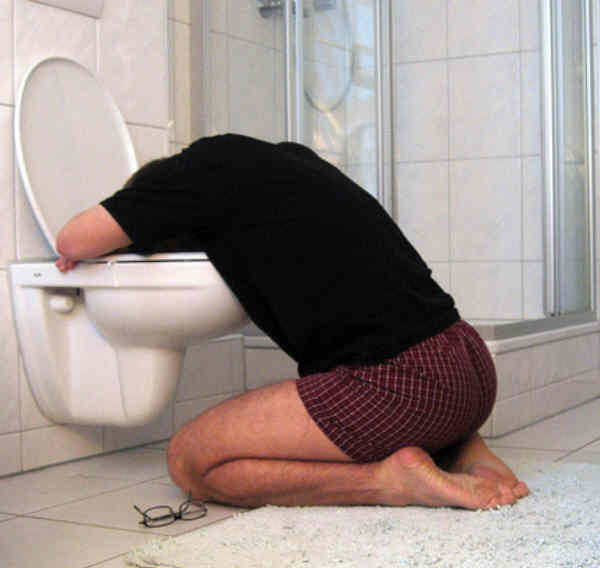 Worshiping at the Porcelain Altar
And THIS is why you should NEVER NEVER EVER EVER Google the words "Vomit Images" -- Even if you're only doing research for a MyBayCity column . . .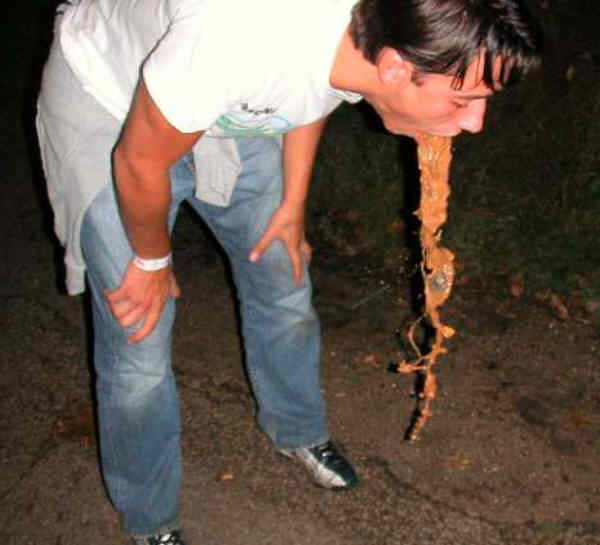 Although the above image on a bottle of Tequila might make you think twice . . .
---
(Prior Story) Columns Article 6102 (Next Story)
---

O. J. Cunningham




O. J. Cunningham is the Publisher of MyBayCity.com. Cunningham previously published Sports Page & Bay City Enterprise. He is the President/CEO of OJ Advertising, Inc.

More from O. J. Cunningham
---
Send This Story to a Friend!
Letter to the editor
Link to this Story
Printer-Friendly Story View
---
--- Advertisments ---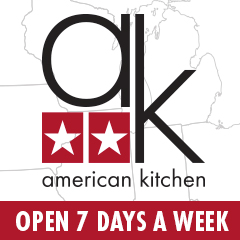 0200 Nd: 12-06-2013 d 4 cpr 1