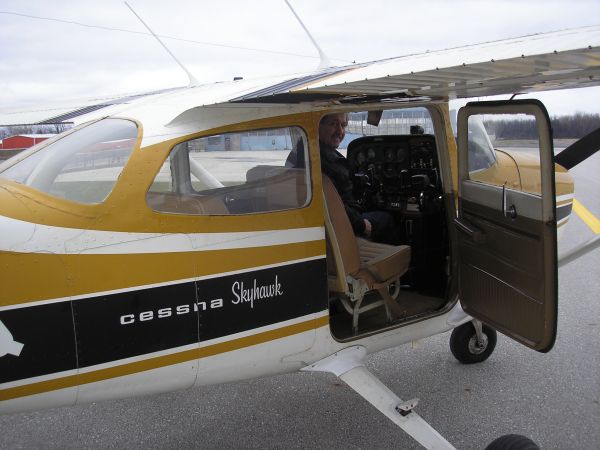 My Chariot Awaits
---
Look Mom! I'm a Co-Pilot!
Bay City's James Clements Airport-A Historical Treasure
January 2, 2012 2 Comments
By: Diane Szczepanski
Having been a resident of Bay City all my life, I am ashamed to admit I really hadn't any clue to the origin, history and current value the James Clements Airport added to our Bay City hometown.
My intention, when I contacted Nancy Smith, Valley Aero Club member, (a week prior to the busy Christmas season, no less) was to ask for "just a few minutes" of her time to learn more.
What I got was an afternoon at the airport, an amazing feel for its history, a guided tour, a chance to hear some of the stories in the "lounge" from other long-time Valley Aero Club members and a plane ride.
I came away from my experience with an appreciation of this unique facility and met some very nice folks, dedicated to preserving this treasure, while doing so.
---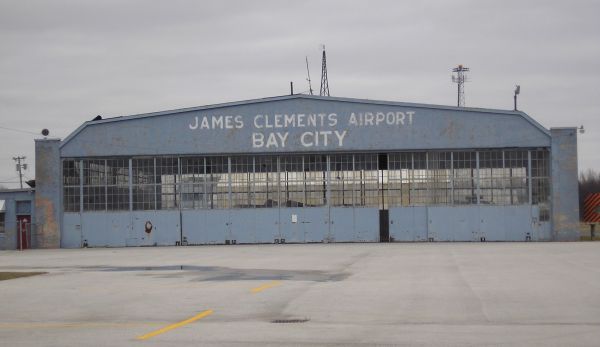 James Clements Airport first hangar was built in 1929, with donations from Bay City residents and officially went on the list of National Historical Places in 1982.
---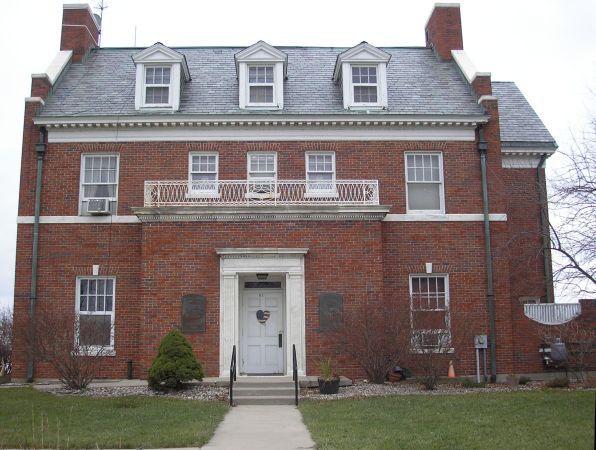 The current Administration Building and former Clement's family farmhouse
My tour began with the Administration Building, which is much more than I imagined. The building itself is the former William Clements family residence and farm.
The property, some 30 acres, was sold (donated) to the City for $1.00 by William in honor of his son, James Renville Clements, who died while in active military duty in 1918.
The provision for this generous donation was that the property not be sold and if deemed necessary, ownership can only be reverted back to a member of the Clements family.
James Clements, an Ensign USNRF, was a sea plane pilot who died of pneumonia complications while serving in the military. He is buried in a National Cemetery in Suresnes, France. A portrait in his honor graces the common room of the Admin Building.
The airport has served as a training facility for the Army Air Force, as well as being the location for the first airmail delivery received in Bay City in 1928. That plane now hangs in the Smithsonian Museum.
The former farmhouse now holds decades of history and memorabilia and is open for the public. The second story houses Airport Manager, Doug Dodge.
State and federal grants, as well as donations from various fundraisers of the Valley Aero Club, have kept the facility running to date.
---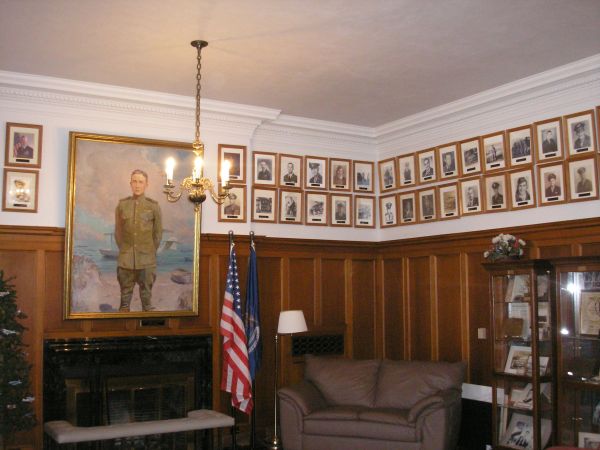 James R. Clements portrait, surrounded by photos of other Bay City pilots who served in the military
---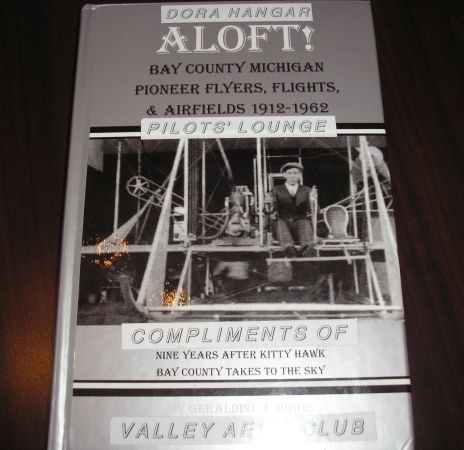 Geraldine Higgs, now in her late 80's, has been the unofficial historian for the Clements airport. Her book is available at the Bay County Historical Museum.
---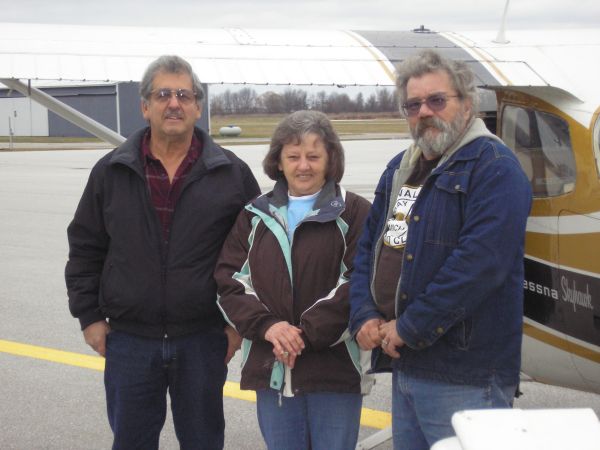 Valley Aero Club members (from l/r) Charlie Smith, Nancy Smith and Vice President of the Club,
George LaPorte, served as my tour guides for the day.
The Valley Aero Club based at James Clements Airport, was originally established by pilots. The club is now open for pilots and enthusiasts alike. There are currently approximately 40 active members of this organization and new members are always welcome.
The Valley Aero Club is associated with such popular activities as the annual Father's Day fly-in fundraiser breakfast, which generally serves 600 people or more in the main hangar.
The Club's efforts have helped purchased necessary items for the Administration Building, such as furniture and office equipment. They have also been instrumental in such things as new runway lights, donations to the Airport Foundation and repairs to hangars.
Total donations from the Valley Aero Club to the City of Bay City through James Clements Airport are extensive (I personally saw a 3 page list) and are too numerous to list here.
---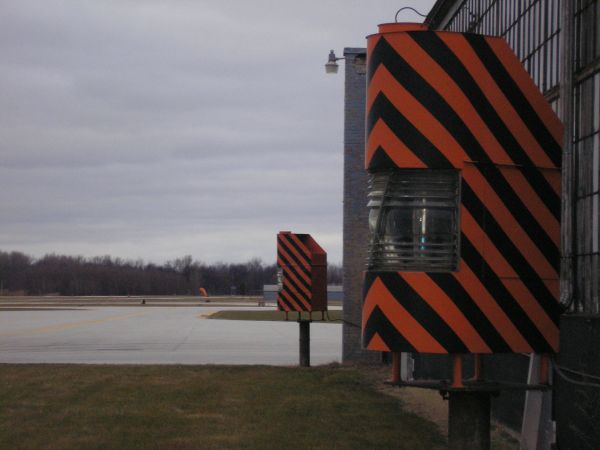 Recently restored historical marker lights
---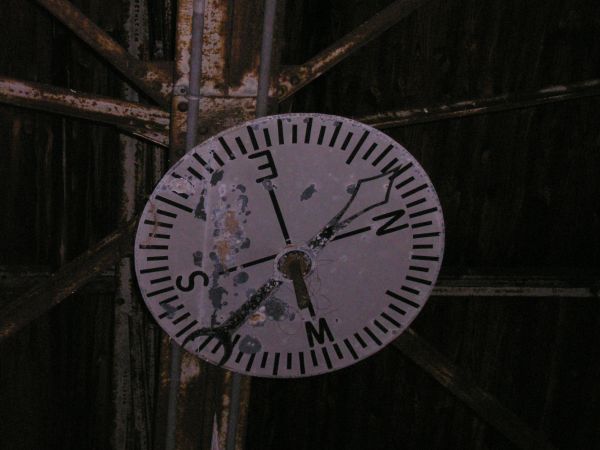 Original wind dial, before wind socks came into use, on ceiling of main hangar
As I sat and talked with some of the longtime members in the Pilot's Lounge, Clifford Bluemlein, Donald DeShane and Bruce Lange, it was easy to feel their enthusiasm for Clements Airport and their love of flying in general.
They spoke with pride about their collective 200+ years experience with the Club and the many innovative and remarkable things they have been able to accomplish.
From a new Community Service program now available in Central High School, that allows students to serve at the airport for credit of service hours, to Wings of Mercy pilots flying medical patients in need, this group of flying enthusiasts and pilots have done much more than many of us have realized.
If I walked away with any sense of what this group is about, it's that they love all things aviation related. They would love to see our young generation get involved and help maintain the growth and viability of this airport.
---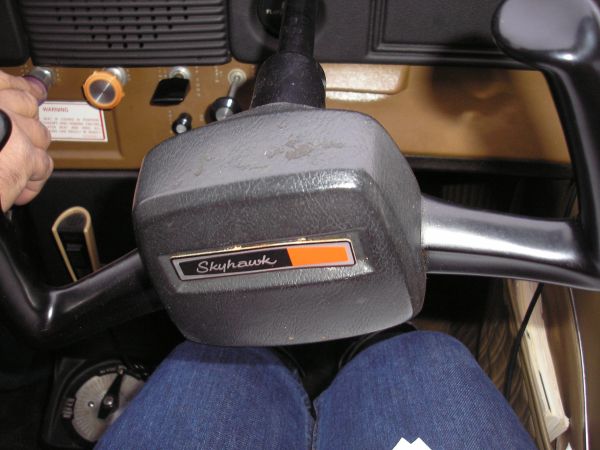 My first time in a Cessna...there's not much leg room!
An unexpected bonus to my day, obviously, was the plane ride Charlie Smith so graciously offered me.
We communicated by headphones and microphones during my ride on this somewhat gloomy (and COLD) day, but I still managed to get a beautiful view of our City from some 2500 or so feet.
At one point, Charlie asked me, " So, what is any different riding in this, than a car?" He smiled and went on "It's a little bumpy, just like a car ride, but not much different than that".
I have to admit, he's right, even though it was a little higher up in the air and over 100 mph!
But, it really was an exhilarating feeling and I can understand how people catch the flying bug. The smile couldn't be wiped off my face all day. If you ever have the opportunity to take a ride like this, I HIGHLY recommend it.
---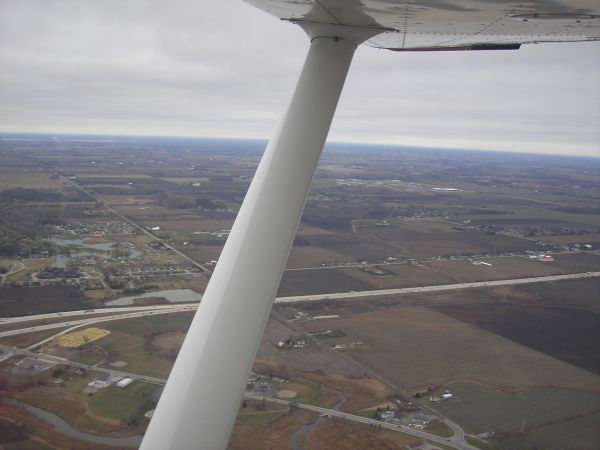 View of Bay City from above
---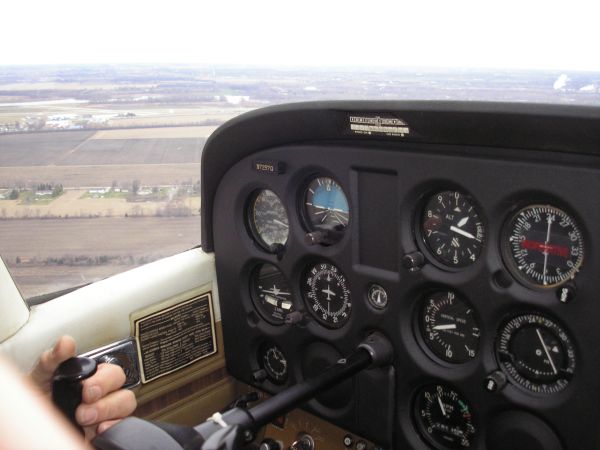 Charlie's capable hands and experience,
meant for a nice easy take off and landing, as well as a smooth ride
---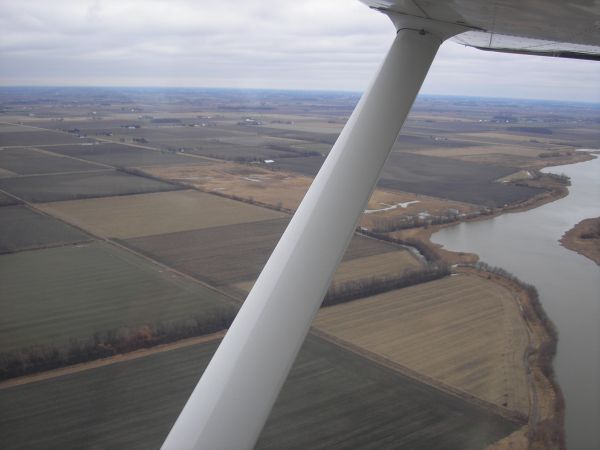 View of Saginaw River
If you would like to get involved,
The Valley Aero Club
meets at the Administration Building at 614 River Rd., Bay City, MI, on the third Monday of each month. Contact the airport office at 895-8991 for more information.
---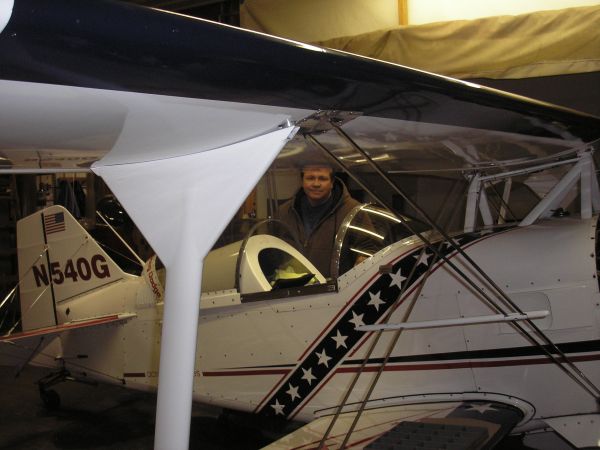 Airport Manager, Doug Dodge, by his pride and joy he flies in air shows. Acro Specialties, is another building on site. Acro specializes in custom parts.
---
(Prior Story) Community Article 06607 (Next Story)
"The BUZZ" - Read Feedback From Readers!
Geraldine42 Says: On January 10, 2012 at 09:31 AM

Dear Diane, Your article about flying at James Clements Airport Was wonderful. The pictures were splendid, and your sincere appreciation for the history and contributions of the airport touched my old heart: I am 82. James Clements Airport has been the focus of my historic research for about 30 years, so I guess it's ok if I make a few suggestions that would make your story accurate as well as it is delightful. The airport hangar is not on the National Register, The Airport Administration Building is. The Ad Building was never a farmhouse for anyone. It was built to be the Administration Building for the new Airport. James Clements did die in France in World War I of a flu called the Spanish Lady that swept the whole world killing 30 million people. It was the worst pandemic of modern times.
AS a former pilot I hope you will return and take flying lessons. It's a blast! Gerry Higgs
sillykelly2000 Says: On January 10, 2012 at 03:44 PM

Thank you so much for the clarifications Geraldine! I knew I should have bought your book!

I apologize for the discrepancies. I fact checked best I could from story archives on Bay-Journal. I appreciate you taking the time to set us all straight.

I really enjoyed my experience and could picture myself "behind the wheel" sometime in the future.

Sincerely,
Diane
---

Diane Szczepanski




Business-woman by day, confessed boot addict by night and 'wanna-be' writer, music lover and proud Mom of an awesome guitar playing, teen son.

More from Diane Szczepanski
---
Send This Story to a Friend!
Letter to the editor
Link to this Story
Printer-Friendly Story View
---
--- Advertisments ---