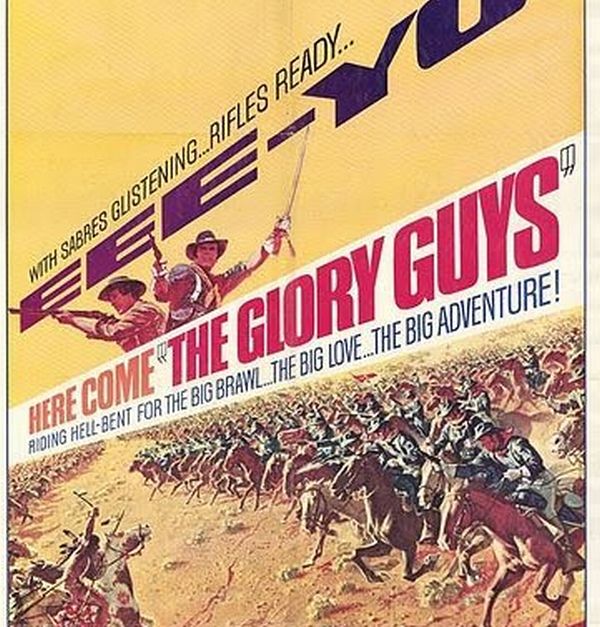 Movie poster publicized screen epic based on book by Hoffman Birney.
---
Birney Descendant Wrote Western Novels, History of Mormons
January 8, 2012 Leave A Comment
By: Dave Rogers
Western writer Hoffman Birney, Jr., a direct descendant of Bay City pioneer James G. Birney, won perhaps more fame than his antecedent through his books.
James G. ran for President twice on the anti-slavery Liberty Party ticket, the second time in 1844 while he lived in Lower Saginaw, slated to become the village of Bay City in 1859.
A new book from Michigan State University Press, "Apostles of Equality: The Birneys, the Republicans and the Civil War," by this columnist, seeks to rescue James G. Birney from virtual political obscurity and credit his offspring for their heroic Civil War deeds.
Hoffman Birney Jr. was the grandson of Maj. Gen. William Birney, son of the local politician and a Civil War leader. His son, Herman Hoffman "Topper" Birney, great-grandson of William, is a prominent civic leader in Huntsville, Alabama.
Although Huntsville was the birthplace of Gen. William Birney, the descendants made that city their home for a different and ironic reason: Hoffman Birney Jr.'s first occupation after serving in World War I was at the U.S. Army Ballistic Missile Agency in Huntsville.
Topper Birney commented: "This was not his first occupation. He was a reporter with one of the Philadelphia newspapers and then quit that job to begin his writing career. When WWII broke out, he tried to enlist but was not accepted because of his age so he became a technical writer with the War Department to help with the war effort. My father was intensely patriotic. After the war, because he wanted to return to the west, he accepted a position with the army's newly formed rocket team in El Paso, Texas. Dr. Wehrner Von Braun was a prominent member of this team)."
Hoffman Birney, Jr., who also wrote under the pseudonym David Kent, got one of his stories to Hollywood seven years after his death in 1958.
"The Glory Guys," a thinly disguised rehash of Custer's Last Stand, was based on his book "The Dice of God."
An online reviewer comments: "The Glory Guys is a 1965 motion picture based on the novel The Dice of God by Hoffman Birney, Jr.
"Filmed by Levy-Gardner-Laven and released by United Artists, it stars Tom Tryon, Harve Presnell, Senta Berger, James Caan and Michael Anderson, Jr.
"The film's screenplay was written by Sam Peckinpah long before the 1965 film was made. The director was Arnold Laven. Riz Ortolani composed the score and the title song.
"Though a fictionalized Western based on George Armstrong Custer's 7th Cavalry Regiment at the Battle of the Little Big Horn, the film is almost a generic war story covering the enlistment, training, and operational deployment of a group of recruits that could take place in any time period.
"The big scale film was made in Durango Mexico with large amounts of mounted extras with the final battle scene choreographed on 20,000 acres of land. The titles were drawn by Joseph Mugnaini for Format Films. Cover versions of the title song were done by Al Caiola and sung by Frankie Laine."
Hoffman Birney was born in Philadelphia in 1891 and attended Dickinson College, Carlisle, PA. He served as a second lieutenant in the Army infantry and aviation section in World War I and also was an editor in the Army's rocket research and development department.
As a civilian he was deputy chief of reports and publications in the Army's ballistics department in Huntsville. Thus, the family was relocated to the place where their ancestor William had been born in 1819. His father James G. had been a plantation owner and lawyer in Huntsville, residing 15 years and becoming an early leader of Alabama statehood. He also was an adviser to the founders of the University of Alabama and helped recruit the first officers and faculty.
Hoffman Birney started writing in 1927 and had nearly 30 books published. His works included "King John of the Mesa," "Desert Dudes," "The Masked Rider," "Vigilantes," (a series in the Saturday Evening Post), "Canyon of the Lost Waters," "Eagle in the Sun," and "Stranger in Black Butte."
He was also Western novels critic of the New York Times for 15 years. He was an authority on old-time rifles and pistols and was said to be a stickler for authenticity who "sometimes pounced on a writer who had his hero toting a gun which hadn't even been made."
Topper Birney observes: "He often criticized Zane Grey saying "he would put a giant cactus on the rim of the Grand Canyon if that would help his story. The giant cactus only grows in southern Arizona and Mexico. And, in 1953, Daddy received the 'Golden Spur Award' from the Western Writers of America for being the best western book reviewer."
His father's book, "Zealots of Zion: A biography of the Church of Jesus Christ of Latter Day Saints," may have been his most serious work.
Hoffman Birney Jr. wrote: "The history of Mormon pioneering is a saga of the soil; the epic of a people without humor or its saving grace, whose dauntless perseverance was the stubborn folly of a Casabianca, whose religion was as grimly austere as that of any medieval ascetic brotherhood."
Birney punctuated that introduction with a statement that the Mormons had expelled a member for swearing at his oxen pulling his wagon on the trip West.
Hoffman Birney died in 1958 and is buried in Arlington National Cemetery along with his wife, Marguerite B. Birney, who died at age 72 in 1975. Their graves are next to that of his father, also named Herman Hoffman Birney, who was a medical officer in the U.S. Army and who died in 1926. His wife, Elizabeth C., who died in 1935, also is buried with the family in Arlington. ###
---
(Prior Story) Arts/Theater Article 06639 (Next Story)
---

Dave Rogers




Dave Rogers is a former editorial writer for the Bay City Times and a widely read,
respected journalist/writer in and around Bay City.
(Contact Dave Via Email at carraroe@aol.com)

More from Dave Rogers
---
Send This Story to a Friend!
Letter to the editor
Link to this Story
Printer-Friendly Story View
---
--- Advertisments ---