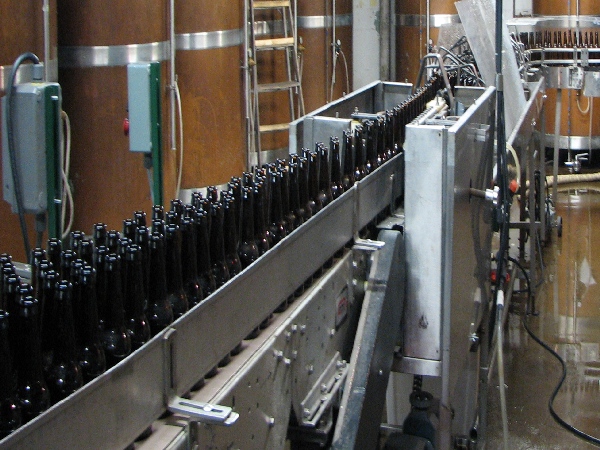 Empty Bottles On Their Way To Be Filled
(All photos courtesy of George Lynch, Great Lakes Bay Advertising)
---
Look Mom! I'm a Beer Bottler!
Tri-City Brewery Bustles on Beer Bottling Day
February 26, 2012 1 Comments
By: Diane Szczepanski
I'm not certain what I expected when I inquired about doing a story at our local brewery,
Tri City Brewery
, located at 3020 Water St. in Bay City, MI, and Kevin Peil, President, suggested I come on a bottle run day.
I was unprepared the Saturday morning I visited for the hub of activity I encountered. However, once I discovered they were bottling 170 cases of the
"Hell's Half Mile'
and 100 cases of the
'Phelan'
beer varieties, it made perfect sense.
I knew Tri City Brewery was founded by a group of local home brewers in 2007 and had been increasing in popularity ever since.
I also knew they are the official Microbrewery at the
'Great Lakes Loons'
baseball stadium in Midland, MI.
But, I was about to learn what it took to get the product from keg to bottle and in my grateful hands.
---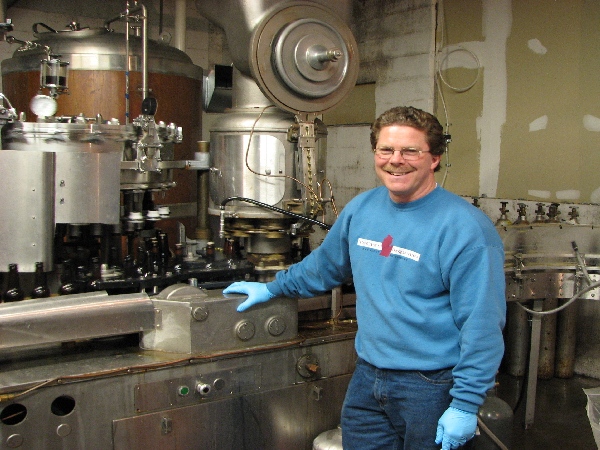 Kevin Peil, President of Tri City Brewery, mans his spot on the bottle line.
---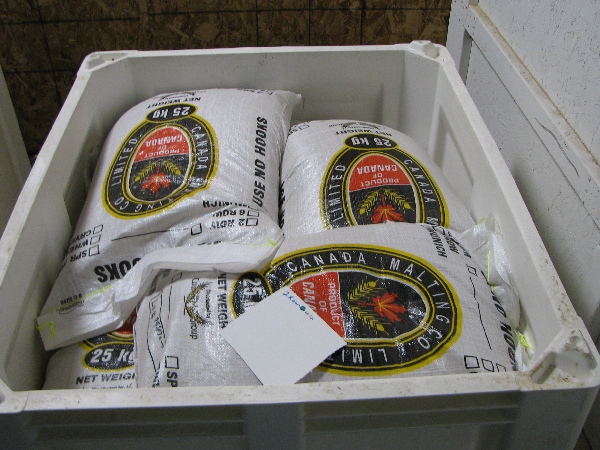 It all starts with a good brew mix.
---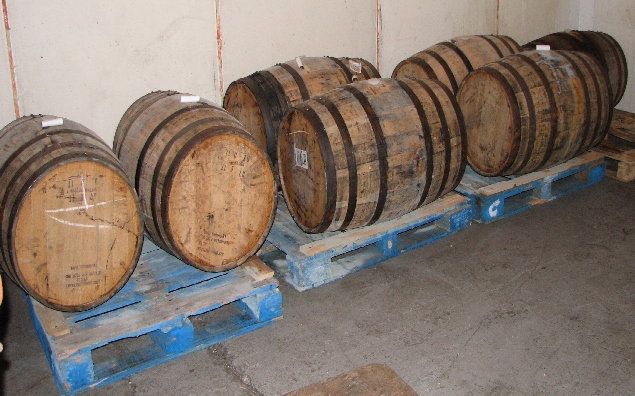 Oak barrels hold the delicious beer.
---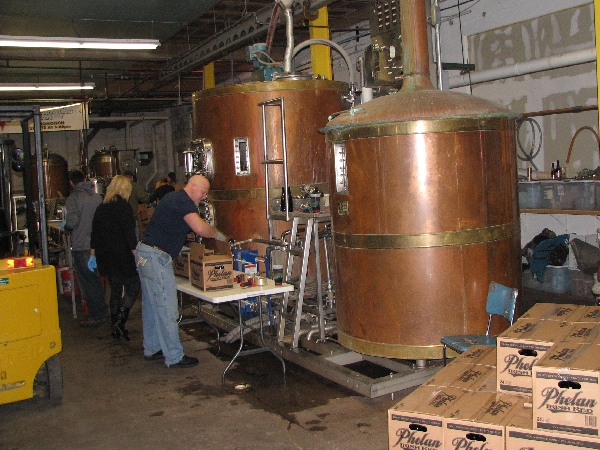 The bottling area is a bustle of activity.
The volunteer team of workers were everywhere and they were hustling!
It begins at the staging area, where bottles are washed and sanitized, then set by hand onto the conveyor belt, for their trip to the filling machine.
From there it travels thru the filling station, on to the labeling area, with a short trip to the stacking crew.
Once cases are filled, they are carried to another area to be taped and loaded onto the wooden pallets. They are then ready to send to the loading dock.
---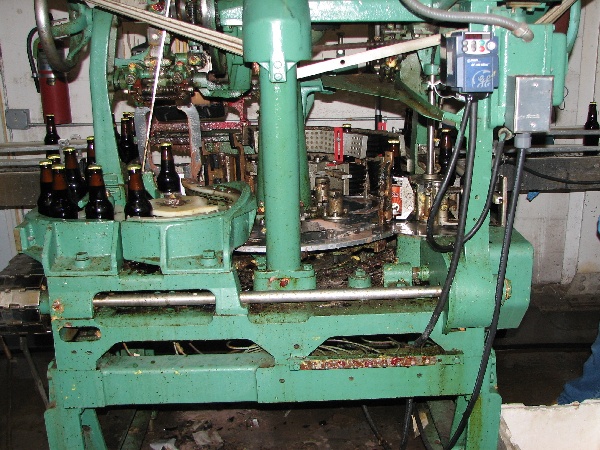 Another key location is the labeling area.
Tri-City Brewery has a willing crew of volunteers who are comprised of family and friends that heed the call and come to help out on a bottle run day.
There are father and son teams, husband and wives and a variety of friends who've come to lend a hand.
Some just came to watch the process while sampling a beer.
Andy Frye "came to check things out" and brought his brother Fred Frye, here from Ann Arbor, who remarked, "Any time you're standing with a beer in your hand, it's a good day"
Bottling occurs roughly every 3 weeks and there are also days kegs are filled and stored.
---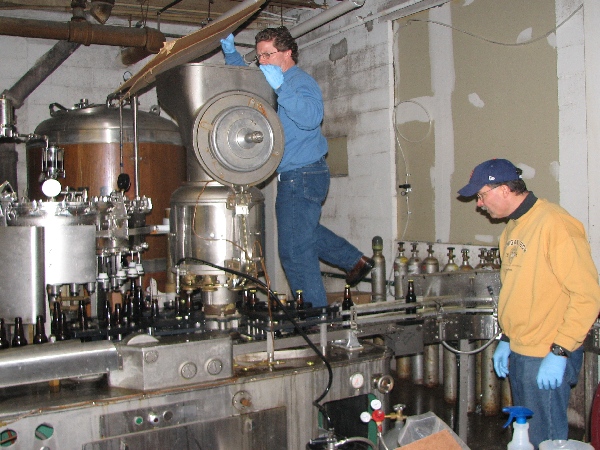 Inspecting a minor glitch.
---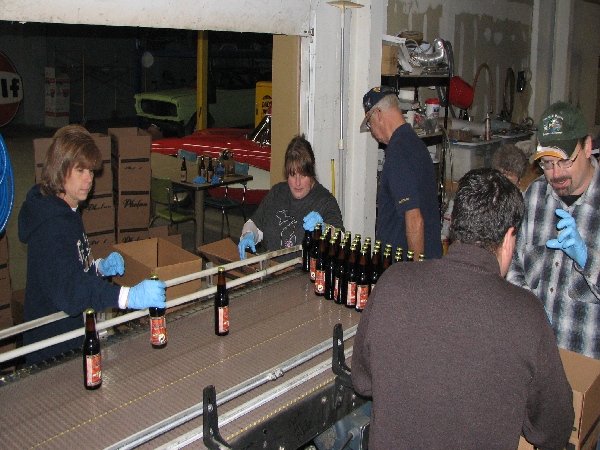 Bottles eventually make their way into cases, thanks to the crew of volunteers at the end.
There were smiles and laughs all around and the atmosphere friendly, as I got to try my hand at a couple of the stations on the line.
The crew moved like a well-oiled machine and in spite of the high spirits, everyone had a job and that job had to be done quickly, so as not to hold up the next process in the line.
---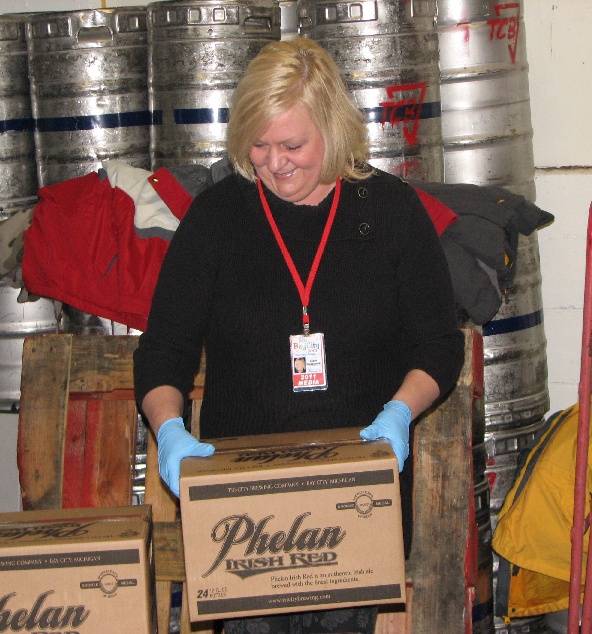 This stack of cases Phelan beer will be very tall by the time the bottle run is over.
---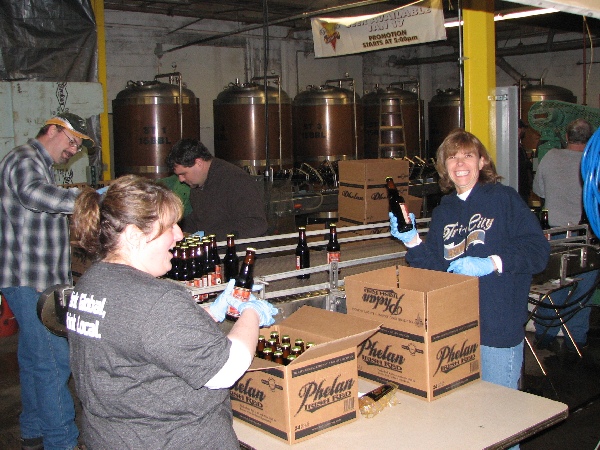 The volunteer crew stacks bottles into cases for shipping.
Tri City Brewery is available in many places and is currently in over 40 places in our local area alone, including,
Ideal Party Store, Old City Hall Restaurant, World Cafe, Hooligans,
and
Doubletree's Riverfront Restaurant,
to name a few.
---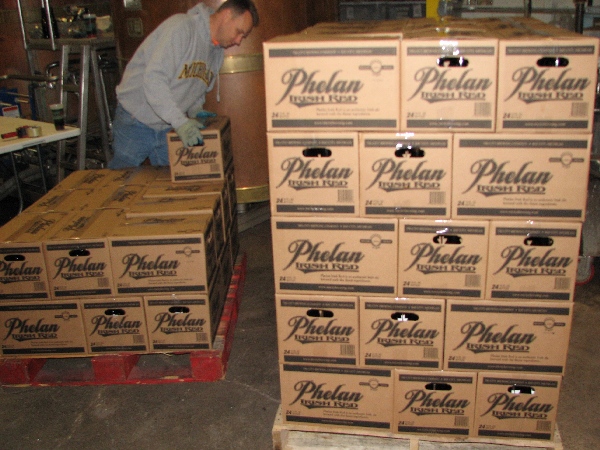 Rob Golombeski stacks cases of Phelan.
---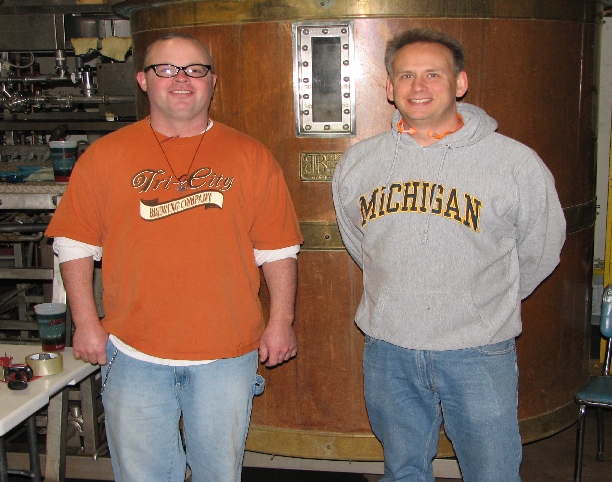 Joe Hackett, Sales and Rob Golombeski, take a quick break for a photo.
The Tap Room, which opened to the public about 6 weeks ago, has caught on and become very popular already. Joe Hackett, Sales at Tri City Brewery, has further plans.
"We currently have
'Vinyl Night'
on Thursdays from 6p-10p and duel DJ's Ray Larkin and Jim Brown", said Hackett. He added, "The public is welcome to bring their albums".
He also mentioned he is working on a opening a lounge atmosphere area, where one could "Brew and View", according to Joe. He added, "We'd like to provide the kind of place people could watch tv, eat popcorn and of course, drink beer".
Tap Room hours are currently:
Thursday 4p-10p
Friday 4p-11p
Saturday 4p-11p
Tri City Brewery also offers a 'Mug Club' entitling its club members to a variety of specials. Membership is $25 per individual or $40 a couple for 1 year.
It saves it members .75 cents on every pint, $1 on a 6-pack or growler fill brought into the tap room and Joe said, "Even more perks are in the works".
For more news, where they will be at special events and other for further information regarding the Tap Room events, check out their website at:
www.tricitybrewing.com
---
(Prior Story) Community Article 06714 (Next Story)
---

Diane Szczepanski




Business-woman by day, confessed boot addict by night and 'wanna-be' writer, music lover and proud Mom of an awesome guitar playing, teen son.

More from Diane Szczepanski
---
Send This Story to a Friend!
Letter to the editor
Link to this Story
Printer-Friendly Story View
---
--- Advertisments ---