Amelia Earhart Spy Plot Involved Bay City's Gen. Westover, Says NatGeo Film
February 18, 2012 1 Comments
By: Dave Rogers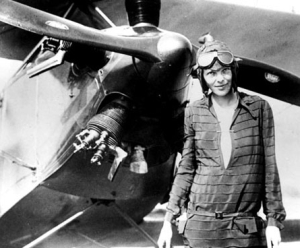 Amelia Earhart, America's most famous female pilot.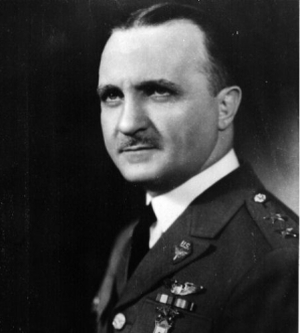 Maj. Gen. Oscar Westover
(Bay City Native.)
Bay City native Maj. Gen. Oscar Westover now is reported to have been part of a spy plot involving famed aviatrix Amelia Earhart.
The National Geographic Channel is broadcasting a documentary about the fate of Earhart on her star-crossed 1937 flight supposedly to Howland Island in the Pacific on one leg of an around-the-world route in a twin-engine Lockheed Electra.
Theories about her fate and that of navigator Fred Noonan include:
The pair died when the plane ran out of gas and crashed in the water;
They landed on an island and perished of thirst;
The plane bypassed Howland and made it to the Marshall Islands where they were captured by the Japanese, charged with being spies and either were executed or died under mysterious circumstances.
The Marshall Islands theory involves an alleged secret plan by President Franklin D. Roosevelt to have Amelia, a close friend of his family, gather intelligence on Japanese military positions in the Pacific islands.
FDR advisor Bernard Baruch and Maj. Gen. Westover supposedly met with Earhart to plan her flight that would yield intelligence about Japanese positions in the islands.
The script of the NatGeo documentary says: "Spy theorists think the plot was worked out at a secret meeting at March Air force Base in Riverside, California between Earhart, Baruch and the chief of the army air corps, Major General Westover. The purpose of the meeting obviously was not to have afternoon tea."
Westover was an amazing Horatio Alger type story in the military. Descended from a successful Bay City lumbering family, he joined the Army as a private in 1901, according to local aviation historian Geraldine Higgs in her book "Aloft: Bay County Michigan Pioneer Flyers, Flights, & Airfields 1912-1962."
Westover was born in Bay City in 1883. His military service began as an enlisted man in the U.S. Army from 1901 to 1902, when he was appointed to the U.S. Military Academy. He graduated in 1906 and was commissioned a second lieutenant in the infantry. Westover was promoted to first lieutenant on April 13, 1911; to captain on July 1, 1916; and to major on Oct. 20, 1917.
In 1919 Captain Westover was detailed to the Aviation Section, Signal Corps, and in 1920 transferred to the Air Service with the rank of major. (He had previously been promoted to lieutenant colonel and colonel.) Westover attended the Air Service Balloon School in 1921, the Air Service Airship School in 1922, the Air Service Primary Flying and Advanced Flying Schools in 1923, the Air Corps Tactical School in 1927, and Command and General Staff School to January 1932, both as a student and as an instructor. As a result of various courses, Westover was awarded aeronautical ratings as a balloon observer, airship pilot, airplane pilot, and airplane observer.
Rising to brigadier general, he directed the nation's air mail service after it had been affected by a scandal over private contracts. His success led to promotion as major general and first chief of the Air Corps Dec. 22, 1935.
On September 21, 1938, Major General Westover's distinguished military career came to a tragic end, when the two-seat Northrop aircraft he was flying crashed in Burbank, California.
On December 1, 1939, the Northeast Air Base was renamed to Westover Field, in honor and memory of the late Air Corps Chief.
The NatGeo documentary noted that prior to World War II spying was not tolerated. Espionage was considered an act of war. But FDR had few other options to find out what the Japanese were up to militarily around the Pacific.
The documentary pointed out that only a year after Earhart disappeared, Roosevelt sent his friend Vincent Astor on a similar mission: to sail through the Marshall Islands on his yacht and report on any Japanese military presence.
Spy theorists suspect the Earhart plot was hatched soon after her first around the world attempt came to a crashing halt at Luke Airfield in Hawaii on March 20, 1937.
Earhart had completed the first leg of her journey flying westward from Oakland, California to Hawaii. The second leg over the Pacific would take her from Honolulu to Howland Island. On take off the Electra spun out of control and crashed. Earhart was lucky to get out alive.
Her airplane was shipped back to California for two months of repairs. During the downtime one theorist believes the U.S. military took over logistics and funding for her second attempt, but there were strings attached.
After Maj. Gen. Westover died he was lauded by the President and military leaders as the man who created the modern Air Force. He was succeeded by Gen. "Hap" Arnold.
A wild variety of theories have surfaced about the fate of Earhart and Noonan, many emerging in recent years. Among the latest claims about Earhart's final resting place were made in a documentary on the Discovery Channel in 2010.
'After 22 years of rigorous research and 10 grueling expeditions, we can say that all of the evidence we have found on Nikumaroro is consistent with the hypothesis that Earhart and her navigator Fred Noonan landed and eventually died there as castaways,' said Ric Gillespie, executive director of The International Group for Historic Aircraft Recovery (TIGHAR).
Read more: http://www.dailymail.co.uk/news/article-1338808/Amelia-Earhart-Will-bone-fragment-finally-solve-mystery-happened-aviator.html#ixzz1mq5SlPKL
---
(Prior Story) History Article 6756 (Next Story)
---

Dave Rogers




Dave Rogers is a former editorial writer for the Bay City Times and a widely read,
respected journalist/writer in and around Bay City.
(Contact Dave Via Email at carraroe@aol.com)

More from Dave Rogers
---
Send This Story to a Friend!
Letter to the editor
Link to this Story
Printer-Friendly Story View
---
--- Advertisments ---