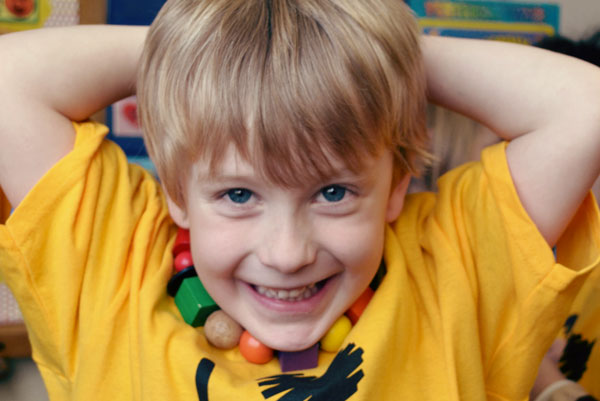 Trent Phillips shows off his string of beads during his experience as a kindergartner.
---
Making a Successful Transition from Preschool to Kindergarten
Zion Lutheran School's Pam Drzyzga is Up to the Challenge
February 26, 2012 Leave a Comment
By: Stephanie Meyer
Making the transition from three or four half days of preschool to five full days of kindergarten can be overwhelming and a little stressful to a child who relies on structure for stability. Ms. Pam Drzyzga, kindergarten teacher at Zion Lutheran School, is an 11 year veteran of dealing with this exact topic.
Drzyzga's approach to helping the little newcomers feel welcome starts with laughs and getting to know them on a personal level. "I try to use humor and I try to get to know them personally," says Drzyzga, "If I can talk to them about things they like to do and get to learn things about them like their favorite color, it is easier for them to be here and to feel more comfortable."
| | | |
| --- | --- | --- |
| Ms. Drzyzga gives the classs instructions during "K for a Day." | Che Arocha shows how much fun he is having in kindergarten. | Keegan Schwartz picks special colors for his worksheet. |
With her years of experience as her guide, Drzyzga is able to fluctuate the day to keep the children interested. "After September and the first of October I start to see the children drag after lunch so I try to save the lighter topics for then," says Drzyzga. "I try to break the day up so it isn't so long."
For Drzyzga, another weapon in her arsenal to create the familiarity and decrease the fear of the unknown is the "K for a Day" Program offered at Zion Lutheran School. The 4 year old preschool class gets to experience just what being a kindergärtner entails by spending an entire day with Drzyzga going through the curriculum including math, science, and social studies and for some a first trip to the cafeteria to get their own lunch.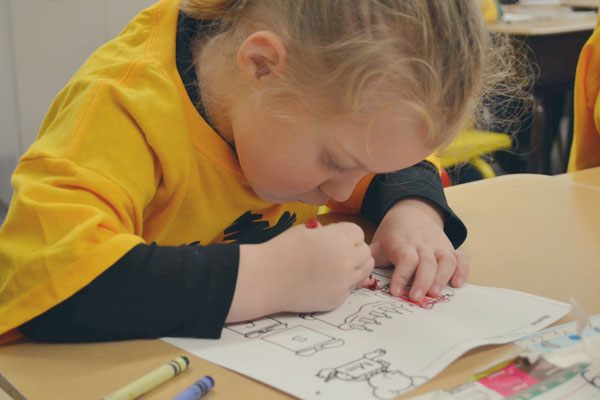 Maddie Campbell concentrates on finishing her worksheet.
(MyBayCity Photo by Stephanie Meyer)
| | | |
| --- | --- | --- |
| Colin Meyer, Trent Phillips and Blake Volk have fun during break time stringing beads. | Ms. Drzyzga gets on the floor to build with the kids during "K for a Day." | Perrin Dimmitt and friends chomp like an alligator during music time. |
Ultimately, Drzyzga believes the key to a successful transition into kindergarten starts at home. "Parents need to talk to their children about school in a positive light and reassure them that it is going to be fun," says Drzyzga. Drzyzga encourages parents to help their children by making sure they get sleep and by creating an environment that encourages independence. "Parents can help by making sure their children have a good night's rest for sure, but also by helping their children be more independent," says Drzyzga, "Making them put their own shoes on or picking up after themselves will help them at school."
In the grand scheme of their little lives, making the transition to all day kindergarten will be a pretty major event. Even if a few tears are shed in the beginning, Drzyzga ensures that it does not take long after the parents leave for the children to get back to their happy-go-lucky selves. Heeding to Drzyzga's advice to communicate school in a positive light, make sure your children have plenty of rest, and creating an environment of independence will all help in your efforts to make kindergarten a success.
---
---
---
Send This Story to a Friend!
Letter to the editor
Link to this Story
Printer-Friendly Story View
---
--- Advertisments ---