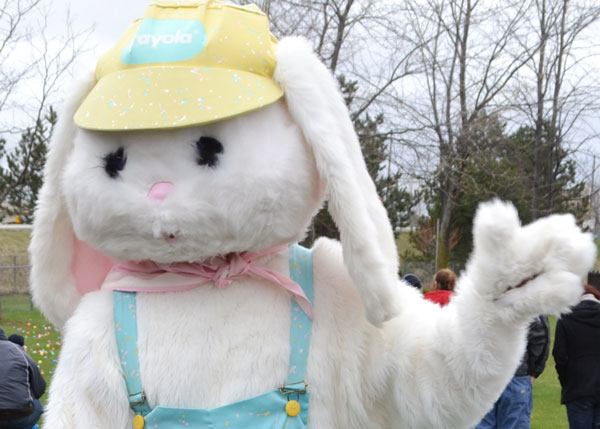 This Osterhase welcomed children to Cornfest Park for the 35th Annual Auburn Jaycees Easter Egg Hunt
---
The Story of the Osterhase and Why Bunnies Lay Eggs
April 1, 2012 Leave a Comment
By: Stephanie Meyer
You can't go into a store and not be bombarded with rows of pastel candies, cute little bunnies and chicks, and Easter baskets galore. The Easter season is upon us and with it comes all of the traditions passed on from generations including dying Easter eggs and lining up for the Easter egg hunt.
It wasn't until the Cadbury bunny that I really started wondering why is the Easter bunny laying eggs, that's not right. And why are we sending children out to the fields to hunt for sweets in plastic eggs? Sometimes we get caught up in the tradition and forget to ask why.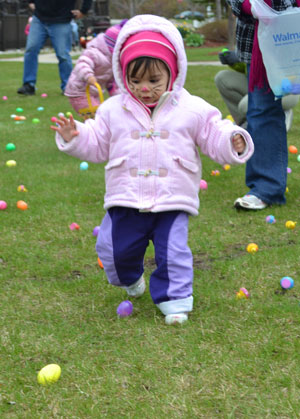 A bunny faced Lili Villarreal sets her sights on a yellow egg.
(MyBayCity Photo by Stephanie Meyer)
The association of a bunny and eggs can be connected to the German Goddess of Spring, Ostara(Eastre). According to the Encyclopedia Mythica:
"In ancient Anglo-Saxon myth, Ostara is the personification of the rising sun. In that capacity she is associated with the spring and is considered to be a fertility goddess. She is the friend of all children and to amuse them she changed her pet bird into a rabbit. This rabbit brought forth brightly colored eggs, which the goddess gave to the children as gifts."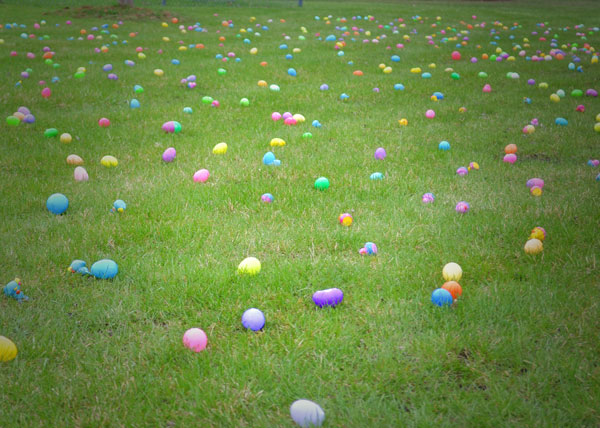 A sea of eggs allowed each little one to walk away with a bag full.
(MyBayCity Photo by Stephanie Meyer)
How did this mythology make its way to our Easter baskets on Easter Sunday? After doing some digging it appears that the good German settlers in the Pennsylvania Dutch country are to thank for bringing this wacky bunny laying, egg hunting tradition to the United States in the 18th century. However, it was not widely accepted until after the Civil war.
Children would decorate multi-colored nests and put them in isolated areas of their homes or gardens and if they were good, the Osterhase would leave brightly colored eggs in their nests. Over time the tradition slightly changed and the Easter basket took the place of the nest and candies, chocolates and gifts have taken the place of the eggs.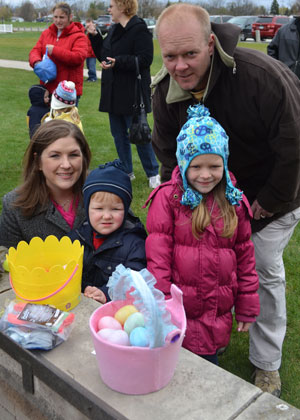 The Bridges family, Toby, Sheila, Rachel, and Mason dig
through the fruits of their hunt during this fun family event.
(MyBayCity Photo by Stephanie Meyer)
If you would like to continue the longstanding tradition of the Easter egg hunt, below is a list of events taking place in the tri-city area. This year you can do it with a little bit of insight into this fun, yet very random, family activity.
Bay City
:
Bunny Hop Egg Hunt @ Bay City State Recreation Area
Saturday, April 7 @ 11 a.m. - noon
RSVP call 989-684-6316
Midland:
Easter Egg Hunt @ Midland Evangelical Free Church
Saturday, April 7 @ 10 a.m.
Ages 0-12
University Center
:
RSVP by April 3
Underwater Easter Egg Hunt & Games @ Delta College
Friday, April 6 @ 1 p.m. - 3 p.m.
Saginaw
:
Celebrate Libraries Egg Hunt @ Butman-Fish Library
Saturday, April 7 @ 2 p.m.
Saginaw
:
Easter Egg Hunt @ Saginaw County Court House
Saturday, April 7 @ 12 noon
FREE - Ages 0-9
Frankenmuth
:
Legions Easter Egg Hunt @ Heritage Park
Saturday, April 7 @ 10 a.m.
FREE - Ages 1-8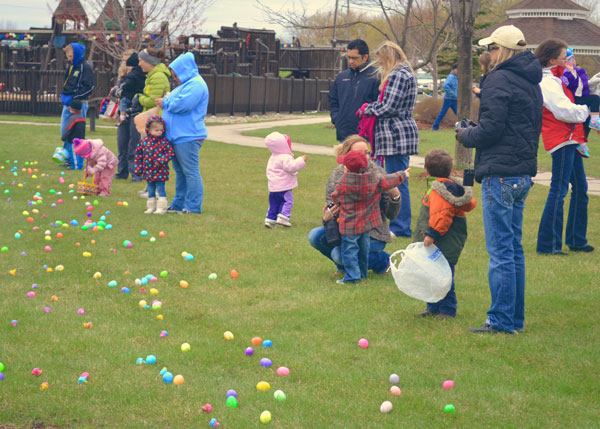 Groups of parents await the horn to release their excited children.
(MyBayCity Photo by Stephanie Meyer)
---
---
---
Send This Story to a Friend!
Letter to the editor
Link to this Story
Printer-Friendly Story View
---
--- Advertisments ---