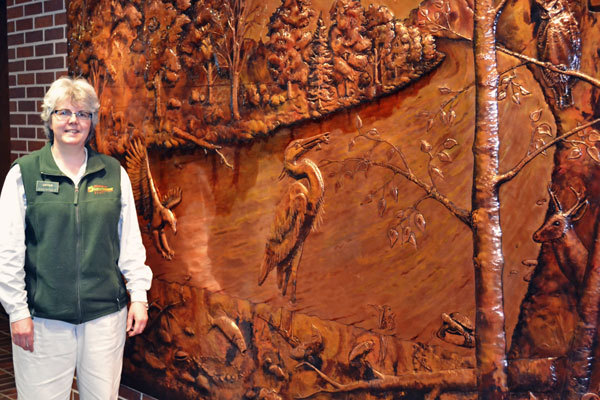 Senior Naturalist, Janea Little, stands in front of a depiction of the beauty of the Chippewa Nature Center.
---
Bugs and Plants and Trees! Oh My!
Chippewa Nature Center Ignites the Curiosity of the Outdoors
March 25, 2012 1 Comments
By: Stephanie Meyer
Since the 1960's, the staff and volunteers of the Chippewa Nature Center in Midland have been teaching visitors how to take the ordinary in our backyards and make them extraordinary. The Chippewa Nature Center is a massive private, non-profit organization on over 1300 acres including 14 trails(including one bike trail), multiple rivers and ponds, and various educational exhibits. The center is open 7 days a week with most programs being free to the public, but donations are graciously accepted.
Janea Little, Senior Naturalist, is a 24 year veteran with the Chippewa Nature Center and her job alone could help some understand the wide variety of services and educational programs the center has to offer. A day in the life of Little could include anything from fielding calls on how to handle baby bunnies, to leading a kayak trip down the river, to taking a group of bird watchers through the trails. "We are striving to get people connected and excited about nature and helping them feel confident," says Little, "If people are lost, overheated, and getting bit by mosquitoes, they are not going to like nature very well."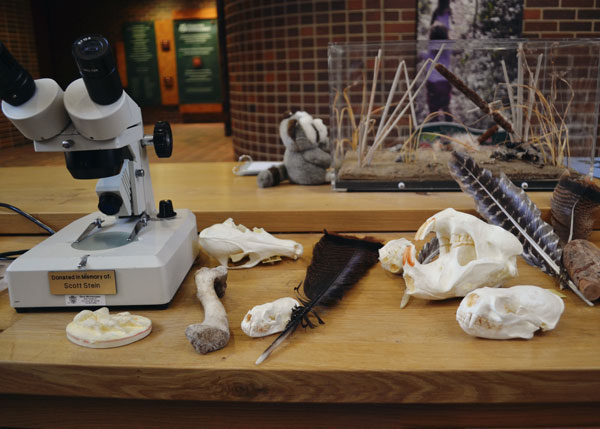 Tables are full of items for the hands-on explorer.
(MyBayCity Photo by Stephanie Meyer)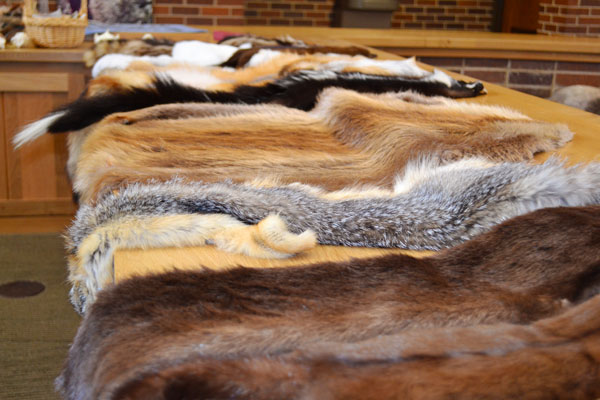 A variety of animal pelts are displayed in the nature discovery area.
(MyBayCity Photo by Stephanie Meyer)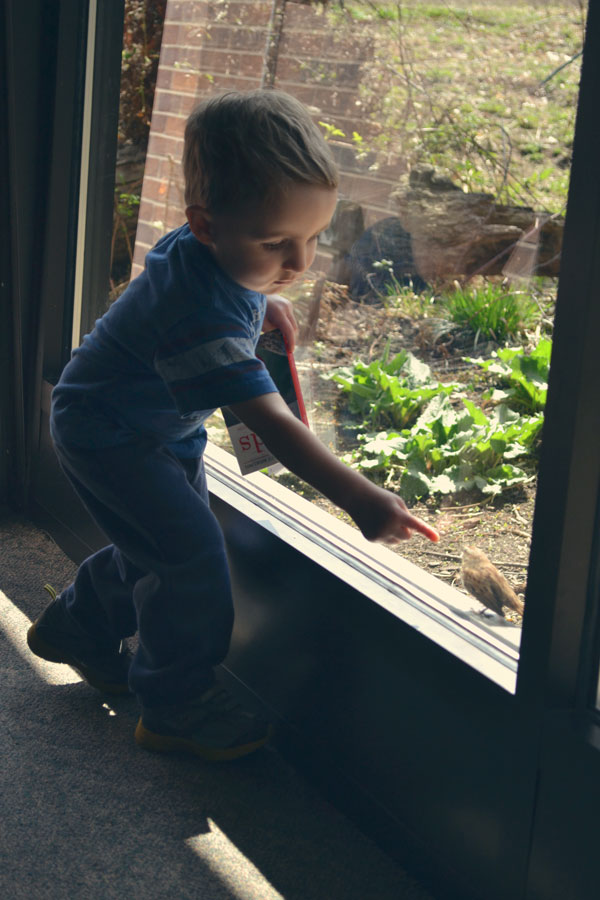 With his bird book in hand, Cameron Randall points out his finds in the nature observatory.
(MyBayCity Photo by Stephanie Meyer)
On any given day, the Visitor's Center alone has enough to keep the family entertained with an Ecosystem Gallery, a plethora of hands on exhibits with animal pelts, microscopes, and a very popular children's area that includes puppets, puzzles, and books just to name a few.
However, a draw for people to the Chippewa Nature Center are the special events and programs. The Sugarhouse has been open every weekend in March and will continue through the 31st. Even though the unseasonably warm weather has ended the season prematurely, families can still come and learn about the procurement of the sap from the sugar maple trees and the boiling process to create the maple syrup.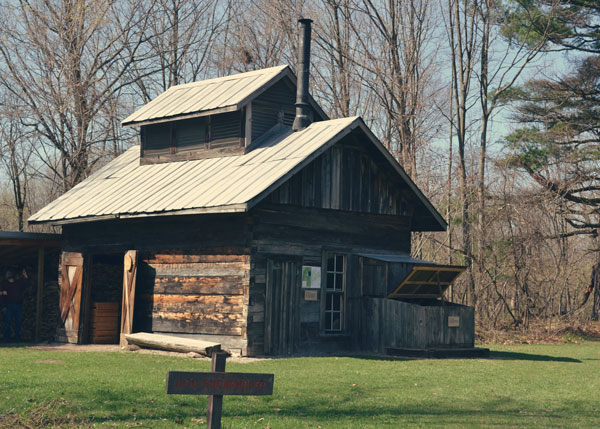 The 1870's replica of a sugarhouse produced 30 gallons of maple syrup this year.
(MyBayCity Photo by Stephanie Meyer)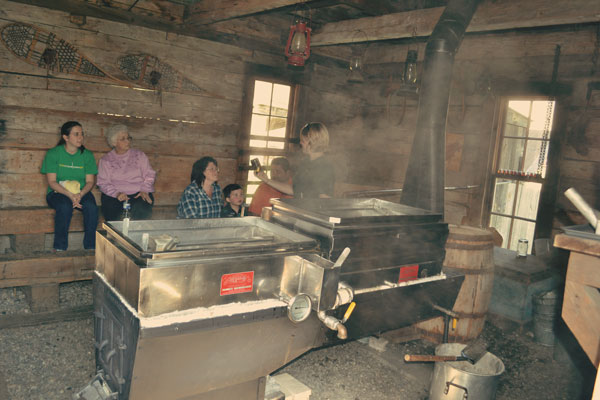 Steam billows through the sugarhouse as water is boiled out of the sap to reveal the sweet maple syrup.
(MyBayCity Photo by Stephanie Meyer)
If you are looking for something to do over spring break, Spring Exploration Days will be held March 31st-April 18th. This will include self-guided stations, scavenger hunts, and take home crafts.
For the parents who have no idea how to introduce nature to your little ones, the Wee Stroll program for 6 months-2 year olds is perfect for you. This group meets monthly on Fridays and has no fee or registration. Little explains that this program is full of tips and tricks for parents to gain confidence in their knowledge of the outdoors and helps kids become comfortable in nature. "This program will help parents who are scared of spiders learn how to react around their children," states Little as an example.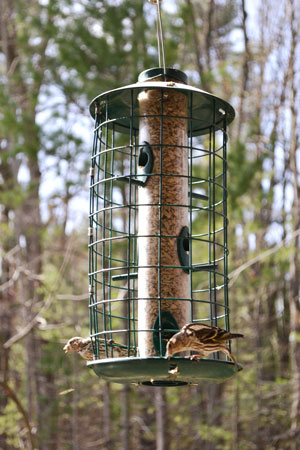 Bird feeders hang in front of the observatory bringing you face-to-face with nature.
(MyBayCity Photo by Stephanie Meyer)
Additional family fun programs include a monthly preschool story hour geared for 3-5 year olds (Little assures that younger or older siblings are always welcome), the Nature for Youth program offers nature fun for 5-9 year olds, the Homestead Farm is open on Sundays from Memorial Day to Labor Day where children can explore the farm and pet the animals, and summer camps are designed for children from 3-15 years old.
If you have never experienced the Chippewa Nature Center for yourself, Little wants you to know that there is a place for you there. "If you like solitude and quiet places, there are ponds and rivers to sit quietly by yourself," says Little, "but if you like to be around people there is always a program to take part in or people to talk to." Check out the Chippewa Nature Center website for a complete listing of hours, information and up-coming activities at www.chippewanaturecenter.com or call 989-631-0830.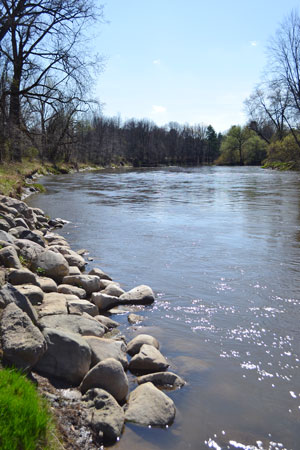 Serene rivers offer ample locations for quiet relaxation or long walks with a view.
(MyBayCity Photo by Stephanie Meyer)
---
---
---
Send This Story to a Friend!
Letter to the editor
Link to this Story
Printer-Friendly Story View
---
--- Advertisments ---