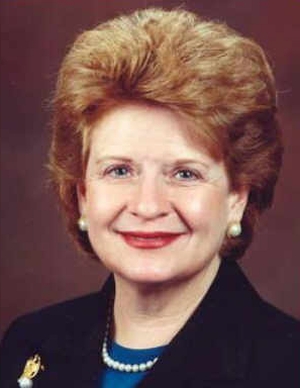 Sen. Debbie Stabenow (D-MI)
---
Sen. Stabenow Plants "Grow It Here, Make It Here" Economic Initiative
April 8, 2012 1 Comments
By: Dave Rogers
"When we grow things and make things in Michigan, we create jobs in Michigan." --U.S. Senator Debbie Stabenow


MyBayCity.com recently noted in an article that one of the foremost agriculture pioneers in Michigan was none other than Henry Ford, who grew up on a farm and experimented with ways that soy-based products could be used in automobiles.
Now Sen. Debbie Stabenow (D-MI) has these comments: "Thanks to Ford, farmers in Michigan started planting more soybeans to keep up with his demand and by the 1940's, there were two bushels of soybeans in every single Ford car- from the paint to the plastic gas pedals."
Sen. Stabenow pointed out that today's business leaders are building off the work of Henry Ford, uniting the two largest sectors of our economy -- manufacturing and agriculture. "Across our state, entrepreneurs are using new technologies to make things in Michigan with Michigan-grown products," said the senator, adding:
"These innovators are substituting agriculture crops like soybeans and corn wheat for use in manufactured goods as alternatives to petroleum, reducing our dependence on foreign oil. Soybeans are in new electric cars rolling down the assembly line today. These bio-based products are not just for cars though. They are also cleaning products, soaps, insulation, plastics, and fabrics -- products Americans buy every day."
Senator Stabenow is committed to supporting these Michigan innovators to spur new job growth through her "Grow It Here, Make It Here Initiative." She explains the initiative will:
Create a new tax cut for Michigan companies that invest in new facilities or purchase equipment to manufacture bio-based products. Specifically, the initiative will allow companies to qualify for up to a 30 percent tax credit to help finance investments in new, expanded, or re-equipped bio-based manufacturing, creating new jobs. Only companies that manufacture these products in America will be eligible for this incentive.
Increase access to capital for bio-based manufacturers by expanding the U.S. Department of Agriculture's (USDA) Biorefinery Loan Guarantee Program, so bio-based manufacturers have access to loans to help finance new operations or expand existing ones.
Strengthen the Biopreferred Program, which certifies and labels products so consumers can choose to purchase goods made of agriculture materials, and provides a preference for these products for government purchases.
Her initiative also calls for greater accountability in the initiative, including auditing and compliance activities to ensure the integrity of the certified label. USDA's Biopreferred Program offers over 8,900 bio-based products, including 540 products made by 90 Michigan companies.
The initiative also spurs the commercialization of new agricultural innovations by streamlining and focusing resources to help new bio-based projects move from the development to the commercialization phase, also known as the 'valley of death' since far too many good ideas do not make it out of this phase.
Her initiative focuses the USDA's Biomass Research and Development Initiative on the commercialization of bio-based products -- bridging this gap to help accelerate the bio-based industry.
For more information about Senator Stabenow's "Grow It Here, Make It Here Initiative," please visit stabenow.senate.gov ###
---
"The BUZZ" - Read Feedback From Readers!
irenedinauer Says: On April 09, 2012 at 09:17 AM

U.S. Senator Debbie Stabenow and U.S. Small Business Administrator Karen Mills are coming to Delta College TODAY, April 9, 2012, from 2:30 to 4:30 p.m. for, A Forum on Small Business Resources Providing Access to Capital Markets & Export Assistance. To register, call the Great Lakes Bay Regional Alliance at (989) 695-6100 or register online at http://www.misbtdc.net/workshop.aspx?ekey=50320078

Free to attend at Delta College, 1961 Delta Road, Lecture Theater G160, University Center, Michigan
---

Dave Rogers




Dave Rogers is a former editorial writer for the Bay City Times and a widely read,
respected journalist/writer in and around Bay City.
(Contact Dave Via Email at carraroe@aol.com)

More from Dave Rogers
---
Send This Story to a Friend!
Letter to the editor
Link to this Story
Printer-Friendly Story View
---
--- Advertisments ---