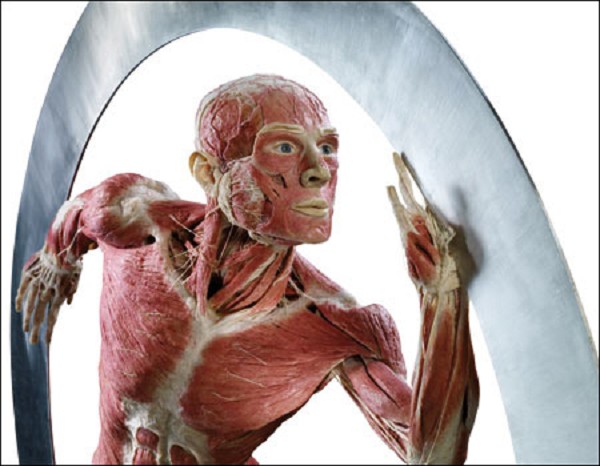 The BBC in the United Kingdom used this image to promote a 2008 Body Worlds exhibit at the Museum of Science and Industry in Manchester.
---
BODIES HUMAN: Display Opens Sunday at Dennos Museum in Traverse City
Former Bay City Company Involved in Anatomical Preservation Process
(EDITOR'S NOTE: The Ticker News in Traverse City, Michigan, today broke a story about a controversial bodies exhibition that was arranged by former Bay Cityan Daniel Corcoran, president of Corcoran Labs. Previous MyBayCity.com stories about the process of plastinization of bodies (polymer preservation) using Dow Corning Corp. chemicals can be accessed through the search function.)


"Bodies Human:Anatomy in Motion," an educational display featuring about 100 preserved human bodies, opens Sunday July 15 at Traverse City's Dennos Museum Center.
The Dennos Museum Center at Northwestern Michigan College is a premier cultural facility in northern Michigan.
A benefit reception is slated Saturday night marking the Dennos Museum's 20th year and also recognizing the Traverse Health Clinic. Tickets are $40 per person and include food, wine, entertainment, and exhibits.
The exhibit opens Sunday, July 15; tickets are $15 per adult, $12 for children, or $10 for museum members. "Bodies Human" exhibit will continue at Dennos Museum through the month of August.
Lynx Exhibits, of El Paso, Texas, the company providing the displays, explains the preservation process and rationale behind the exhibit:
"The aim is to educate and excite the public about the inner workings of the human body and to show the effects of poor health, good health and lifestyle choices.
"Plastination is a technique that halts decomposition and preserves anatomical specimens for scientific and medical education. The process extracts bodily fluids and replaces them with reactive plastics."
Bodies are posed as if in motion, allows the viewer to relate the body to real life situations, providing an educational appeal according to the exhibitor.
Lynx says nearly 20 million people, including young children, have viewed similar exhibitions around the world, noting: "It is important to note that the exhibit includes full-body plastinates with exposed genitals. We recommend the exhibit for school groups in Grades 5 and up."
Children under 13 must be accompanied by responsible adults during their visit. The decision is left to the discretion of the parent.
The exhibit featuring 100 authentic human specimens, transparent body slices, and several whole bodies" was photographed by The Ticker News as trucks arrived and crated bodies were being unpacked.
Ticker writer Linda Twardowski explained: "Bodies Human is a traveling exhibit of bodies and organs that have been preserved through a "plastination" process that replaces bodily fluids with reactive plastics. The result is an educational, scientific presentation that showcases the real human body up close and personal."
Dennos Museum Executive Director Gene Jenneman said: "This is a really unique opportunity for people here in northern Michigan to experience this rare exhibit -- to see parts of a real human body up close, and also to learn about specific diseases and what makes a body healthy."
The display includes a soccer player doing a windmill kick, a discus thrower, a stroke damaged brain, and a cancerous heart.
The plastinization process was invented by German scientist Dr. Gunther Von Hagens in 1981. He has been involved in several exhibitions that have attracted millions to cities worldwide.
Established in Bay City in 1996, Corcoran Laboratories is a provider of plastic preserved bodies to hospitals, medical schools and universities. (www.cor-labs.com)
In 1989, the University of Michigan succeeded in plasticizing an entire body for the first time in North America, according to a New York Times article in 2000. Dr. Roy Glover, associate professor of anatomy at U-M, collaborated with Mr. Corcoran to perfect an improved process using Dow Corning products and put together a small exhibition.
Northern Express, northern Michigan online newsweekly, reported in 2008 that Corcoran contracted with Premier Exhibitions to process and preserve human bodies for its "BODIES -- The Exhibition," according to a Securities and Exchange Commission filing in April 2005.
Chinese who have been executed and deceased homeless Russians reportedly are the main source of the bodies used in the exhibitions and in the business of providing specimens. Some cities like Seattle, Washington, have banned exhibits because of protests by human rights groups over use of unidentified bodies. ###
---
(Prior Story) Health/Fitness Article 7177 (Next Story)
---

Dave Rogers




Dave Rogers is a former editorial writer for the Bay City Times and a widely read,
respected journalist/writer in and around Bay City.
(Contact Dave Via Email at carraroe@aol.com)

More from Dave Rogers
---
Send This Story to a Friend!
Letter to the editor
Link to this Story
Printer-Friendly Story View
---
--- Advertisments ---