Look! . . . Gas Is 'DOWN' to $3.68 Per Gallon
April 15, 2012 Leave a Comment
By: O. J. Cunningham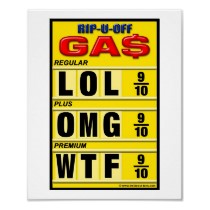 We've been played by the gasoline and oil companies.
I bought gasoline on Henry Street middle of last week at $3.62 per gallon. I actually thought (just for a second) that I was getting a good deal.
The way prices for petrol have been fluctuating since the beginning of the new year, it's amazing that any of us have a firm handle on what gas prices should actually be expected to be.
Sometimes, I think that there's just some big wheel somewhere in Big Oil, USA that someone spins every night at midnight to select the price for tomorrow's gas.
The wheel would probably look something like Bob Barker's Wheel (Now Drew Carey) on the Price Is Right.
I used to just buy gas when the gauge showed less than a quarter of a tank . . . That's stupid in this price gouging gas economy.
If you buy gas when you need it the most . . . chances are you'll be forced to pay big bucks because it'll be Saturday and the price always seems to be highest on Friday-Saturday-Sunday. (Is that true? Or . . . Am I just imagining it.?)
No matter . . . because now I buy gas whenever the price is below $3.75. Kinda like dollar cost averaging as it pertains to a retirement 401K account.
One thing sure . . . If anyone's tank (mine or yours) is running on fumes . . . Nobody's gonna take time to shop for a "better" price.
Last week, I saw the strangest thing on Center Avenue out in Essexville. One station's price was $3.97 per gallon and the next station down the road (just a block away) was $3.65.
Do the math . . . 20 gallons at 30 cents cheaper is $6.00. I drive more than the average Joe . . . I buy almost 20 gallons per week. That's maybe six (6) bucks a week for 50 weeks = $300 -- certainly not chump change by any standard. My Point: It pays to think about how much you pay and when you buy.
My suggestion: Always be willing to stop for cheaper gasoline pricing.
Oh yeah . . . I forgot to mention . . . If gas is over $3.95, NEVER buy more than $10 worth . . . Buy what you need and keep your eye out for a better gas price . . . Cuz tomorrow, it's gonna be lower . . .
Depending on who's spinning the gas price wheel.
---
---

O. J. Cunningham




O. J. Cunningham is the Publisher of MyBayCity.com. Cunningham previously published Sports Page & Bay City Enterprise. He is the President/CEO of OJ Advertising, Inc.

More from O. J. Cunningham
---
Send This Story to a Friend!
Letter to the editor
Link to this Story
Printer-Friendly Story View
---
--- Advertisments ---