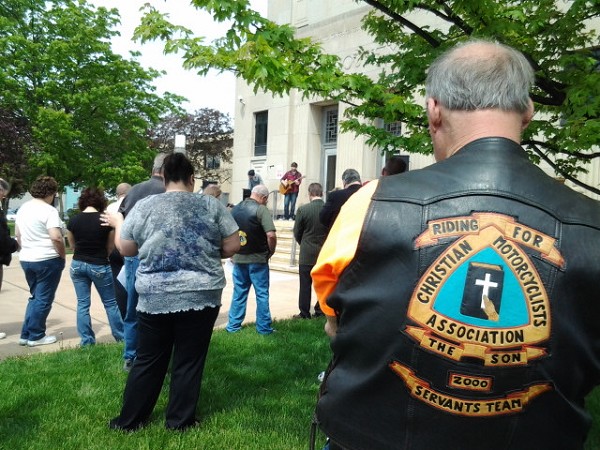 Representatives from The Christian Motorcyclists Association were on hand for National Prayer Day! (MyBayCity Photo by Josh Sharrow)
---
Locals Gather For Day of Prayer Celebration at County Building
First Thursday in May Is a National Day of Prayer
Members of Bay Valley Christian Church, Bay City Wesleyan Church, Fraser Road Church of God, New Life Missionary Church, Lighthouse free Methodist Church, Bay City River of Life Church, & Riverwalk Baptist Church were all on hand for National Day of Prayer Bay County. Assembled together on the Bay County Building steps to praise the lord.
National days of prayer have a long-standing and significant history in American tradition. The Supreme Court affirmed the right of state legislatures to open their sessions with prayer in Marsh vs. Chambers (1983).
The National Day of Prayer is a vital part of our heritage. Since the first call to prayer in 1775, when the Continental Congress asked the colonies to pray for wisdom in forming a nation, the call to prayer has continued through our history, including President Lincoln's proclamation of a day of "humiliation, fasting, and prayer" in 1863. In 1952, a joint resolution by Congress, signed by President Truman, declared an annual, national day of prayer. In 1988, the law was amended and signed by President Reagan, permanently setting the day as the first Thursday of every May. Each year, the president signs a proclamation, encouraging all Americans to pray on this day. Last year, all 50 state governors plus the governors of several U.S. territories signed similar proclamations.
1952 - Harry S. Truman declares a National Day of Prayer and signs into law an annual observance there of - United States Congress passed Joint Resolution 382 on April 17, 1952/ President Truman signs Public Law 82-324 (Public Law 82-324; 66 Stat. 64 -April 17, 1952).
1988 - Ronald Reagan signs into law the designation of the first Thursday in May as the annual observance for the National Day of Prayer - President Reagan signs Public Law 100-307
January 25, 1988, in the Second Session of the One Hundredth Congress Public Law 100-307 - May 5, 1988).
1998 - The President shall issue each year a proclamation designating the first Thursday in May as a National Day of Prayer on which the people of the United States may turn to God in prayer and meditation at churches, in groups, and as individuals.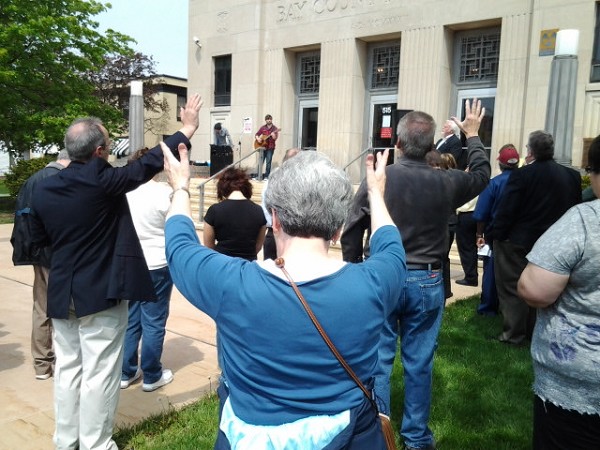 Beautiful weather for the 2012 National Day of Prayer!
Photo by Josh Sharrow
© MyBayCity.com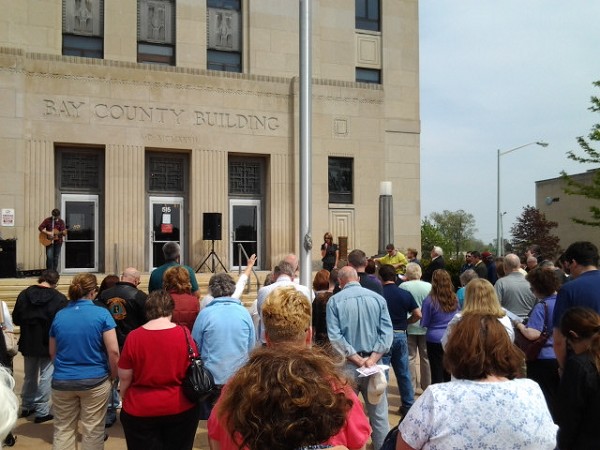 Pastor Patty Mudd - Bay Valley Christian Church delivers a prayer based on Marriages & Family.
Photo by Josh Sharrow
© MyBayCity.com
---
---

Josh Sharrow




Sharrow is the Sales Manager, columnist, writer, coffee maker for O.J. Advertising and an on-air personality for 98 KCQ.

More from Josh Sharrow
---
Send This Story to a Friend!
Letter to the editor
Link to this Story
Printer-Friendly Story View
---
--- Advertisments ---