Jim Crow Museum Opens to Teach Tolerance Near Former Black Resort Idlewild
Lake County's Yates Township is Economic Revitalization Focal Point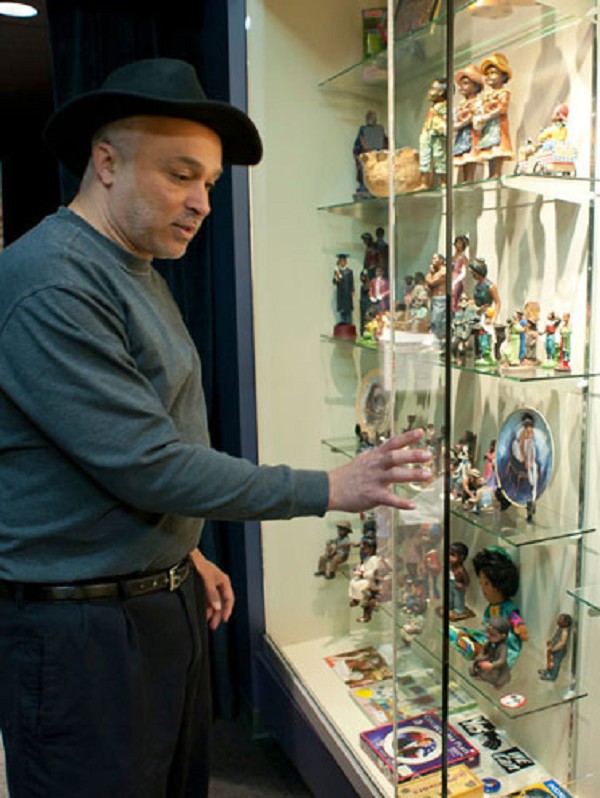 David Pilgrim shows objects on display at the Jim Crow Museum at Ferris State University, Big Rapids.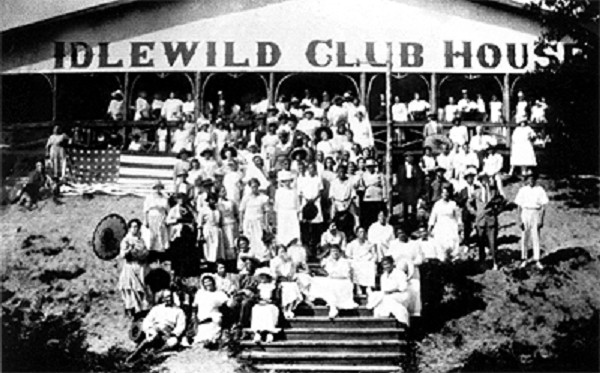 Resort vacationers gather near old clubhouse during heyday of Idlewild. (Michigan State University Museum)
A museum of racist artifacts was opened recently at Ferris State University, Big Rapids.
Not far away is the nation's largest black resort, an abandoned vestige of the days of "Jim Crow," where planners are working to find a use for its rundown buildings, pristine wooded acreage and natural resources.
The $1.3 million gallery, called The Jim Crow Museum of Racist Memorabilia, houses thousands of pieces that depict stereotypes of African-Americans from the days of slavery to the 2008 presidential election.
The museum explains: "Jim Crow was the name of the racial caste system which operated primarily, but not exclusively in southern and border states, between 1877 and the mid-1960s. Jim Crow was more than a series of rigid anti-black laws. It was a way of life. Under Jim Crow, African Americans were relegated to the status of second class citizens. Jim Crow represented the legitimization of anti-black racism."
The museum is within 40 miles of Baldwin, where one of the nation's largest resorts for blacks sprang up after the so-called "Red Summer of 1919." Race riots occurred in Chicago, Washington, D.C., and Arkansas that summer.
Blacks fleeing the cities had nowhere to go for vacations, so entrepreneurs including Dr. Daniel Hales Williams, Chicago cardiologist and surgeon, developed the Idlewild Resort, a 3,000 acre retreat in Lake County.
State and federal efforts are underway to find a use for the Idlewild acres. A National Resource Team planning report in 2011 was the first step and involved prominent blacks and other leaders from around Michigan. Team Leader is Everett L. Fly, landscape architect, of San Antonio, Texas. Mr. Fly is recognized nationally for his original, "Black Settlements In America" research and its applications in historic preservation, community planning, urban design, humanities and arts disciplines.
"Idlewild is the largest land based historically African American resort ever assembled in the United States," states the report. Idlewild is one of the six most complete African American resorts remaining in America. It is a rare and valuable national resource with physical and cultural significance."
Economic revival efforts are focusing on Yates Township, where Idlewild is situated. The report continues: "Stewardship, protecting and maintaining Idlewild's natural setting (forest, lake water, animals, insects, plants, and soils), will be essential for human health and safety. The Pere Marquette River, a designated National Scenic River, Lake Idlewild, Little Lake Idlewild and Paradise Lake offer unique tourist potential."
Dr. Williams in 1893 became the first surgeon in the United States to perform open-heart surgery. Dr. Dan, as he was later called in Idlewild, and some of his associates from Chicago, Cleveland, and elsewhere, were among that first group of African American professionals to join the Idlewild Resort Company's excursion during that period.
Professor Ronald Stephens of the University of Nebraska noted that the resort actually started in 1915. "Because Northwest Michigan represented a likely location to establish a resort for African Americans, white land developers Erastus Branch and his wife, Flora, and Adelbert Branch and his wife, Isabelle, from White Cloud, Michigan, and Wilbur M. Lemon and his wife, Mayme, and A.E. Wright and his wife, Modolin, of Chicago, organized the Idlewild Resort Company (IRC)."
In his book, "Idlewild: The Black Eden of America," Mr. Stephens states: "Idlewild, by then known throughout Black America, had become one of the few places middle class African Americans could find peace of mind, and could escape systematic practices of racism and discrimination in the United States. A massive infusion of African American professionals and their families from such cities as Chicago, Detroit, Cleveland, and St. Louis migrated to Idlewild, Michigan, leaving behind the aftermath of the Chicago Red Summer in July of 1919."
The gallery at Ferris State stemmed from the personal collection of its curator and vice president of the university's Diversity and Inclusion Office, David Pilgrim, who is black.
"I started collecting when I was a child growing up in Mobile, Alabama. I broke the first piece because it offended me when I was 12 or 13 years old," Pilgrim told KPCC Public Radio in Pasadena, California.
It was only later while attending Jarvis Christian College in Hawkins, Texas, a historically black college that Pilgrim realized the educational power of his collectibles.
"I thought to myself, well, if I show the objects then it will at least serve as good visual aids when I travel around giving presentations. What started as visual aids evolved into a couple thousand piece collection that I donated to the university, since then we've acquired I think another 7,000 pieces," he said.
The museum's name Jim Crow, refers to laws of segregation that lasted well into the 1960s. The exhibit also includes racist paraphernalia from modern days. Much of it including derogatory depictions of President Barack Obama.
Pilgrim says public feedback about the museum has been largely positive, with most people understanding that these objects represent our history, even if they're difficult to look at. Robert Clegg of the Center for Equal Opportunity says it's important to remember just how far the U.S. has come from those days.
"We shouldn't let the racism of America's past blind us to the enormous progress that the country has made," said Clegg. "I think that having conversations about race is important, but I think that it's not the case that Americans don't talk about race. I think we talk about race all the time."
###
---
(Prior Story) History Article 007027 (Next Story)
---

Dave Rogers




Dave Rogers is a former editorial writer for the Bay City Times and a widely read,
respected journalist/writer in and around Bay City.
(Contact Dave Via Email at carraroe@aol.com)

More from Dave Rogers
---
Send This Story to a Friend!
Letter to the editor
Link to this Story
Printer-Friendly Story View
---
--- Advertisments ---