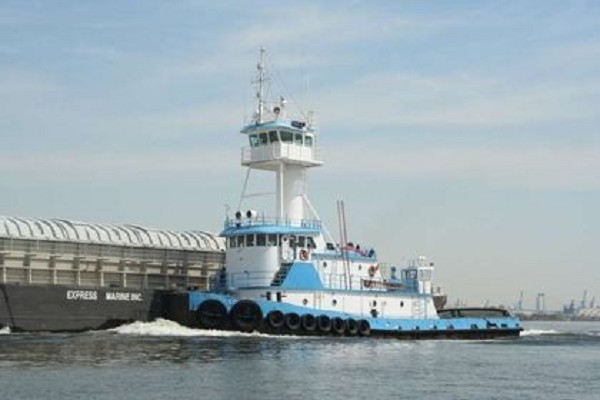 Tug Colonel, 106 feet, is underway to Bay City with ex-USS Edson, Vietnam era destroyer.
---
EDSON BREAKING NEWS: Destroyer Museum Ship Leaves Philadelphia Under Tow
July 19, 2012 2 Comments
By: Dave Rogers
Ship watchers report the ex-USS Edson, 418 foot long destroyer, left its moorings at the Philadelphia Navy Yard at 9:07 a.m. today (18 July).
The voyage can be tracked at: http://www.marinetraffic.com/ais/default.aspx?mmsi...


Reports are estimated time of arrival in Bay City is 3 August 2012 at 8 a.m. Ship watcher Michael Folsom commented via Twitter: "Exciting as USS Edson is being moved away from dock in Philadelphia."
Folsom reported the tug and ship are expected to be in the Thousand Islands area off New York and southeastern Ontario by the weekend.
The unmanned ship is being towed by the 106 foot long tug Colonel, operated by a crew from Dann Ocean Towing of Tampa, Florida. It is reportedly traveling about eight knots per hour.
The tug and its tow will have to negotiate miles of the Atlantic Ocean prior to making the run around Halifax, Nova Scotia, and up the St. Lawrence River to the Great Lakes. Channel 25 has posted a map of the route on its website.
The firm has a $750,000 contract to tow the destroyer 2,600 miles to Bay City. The tug carries about 70,000 gallons of diesel fuel, which the captain says is adequate to make the trip.
The Navy not only approved the ship after inspection but also extended the deadline for it to leave the dock in Philadelphia by one day.
Bill Harris, reporter with NBC-TV Channel 25, of Saginaw, and cameraman Mike Horne were in Philly on Tuesday night and interviewed tug skipper Capt. Perry Felarise.
"She's a nice old lady," Felarise commented to Harris during the interview.
Crew members besides the captain include: Mate Jim Kingsbury, ordinary seaman Mike Smith and able seaman Joe Elser.
"It's not every day we get to transport a vessel like this," said Seaman Elser. The Edson will become a permanent floating interactive museum that is expected to welcome numerous student groups among an estimated 80,000 visitors a year to the dock site in Bangor Township near Bay City's Independence Bridge.
According to unofficial reports, the ship may be tied up temporarily at the Wirt Stone Dock in Essexville if final mooring work is not completed and approved by the Navy by the time the destroyer arrives.
Crews from a Toledo area firm are slated to complete the anchoring and shore tie-downs that will use dozens of yards of huge chain already on the site.
The Colonel was built in 1978 by Quality Equipment of Houma, Louisiana (hull #154) for Tidewater Marine and was originally named Gulf Hawk.
The tug was later acquired by Zapata Gulf Marine where she retained her name. She was then acquired by Dann Ocean Towing of Tampa, Florida where she was renamed as the Colonel.
According to a posting on the firm's website, the Colonel is a model bow, twin screw tug powered by two EMD 12-645-e6 diesel main engines with Reintjes WAV 1850 reduction gears turning via 9(in) shafts two 108(in) diameter by 108(in) fixed pitch four bladed stainless steel propellers mounted in kort nozzles for a rated 3,000 horsepower.
The tug's electrical service is provided by two 75 KW generators driven by two 8v-71 engines. Her capacities are 92,000 gallons of Fuel Oil, 838 gallons of Hydraulic Oil, 2,500 gallons of Lube Oil, 838 gallons of Gear Oil, 8,300 gallons of Potable Water, and 7,986 gallons of wash water.
Her towing gear consists of an INTERcon DD-200 double drum towing machine outfitted with a primary 2,200(ft) of 2(in) towing wire, and a secondary 2,000(ft) of 2(in) towing wire.
---
(Prior Story) Community Article 007190 (Next Story)
"The BUZZ" - Read Feedback From Readers!
mv626 Says: On July 19, 2012 at 03:02 PM

Dann Ocean Towing is based in Tampa, Florida
fwiggles Says: On July 23, 2012 at 09:38 AM

I served on board the USS EDSON DD 946 From the Spring of 1969 to Dec. 11 1973. I came on board her as a FTG Seaman, and left as a FTG2. Did three WEST PAC.s on her! She is a GREAT LADY, but you did not want to make her MAD! She was build for one thing and she did it VERY GOOD! SHE WAS voted as a TOP GUN SHIP every time that SHE went to VIETNAM! I am glad that she has found a HOME where she will be cared for!

FTG2 Wiggles USS EDSON DD 946 1969-1973
---

Dave Rogers




Dave Rogers is a former editorial writer for the Bay City Times and a widely read,
respected journalist/writer in and around Bay City.
(Contact Dave Via Email at carraroe@aol.com)

More from Dave Rogers
---
Send This Story to a Friend!
Letter to the editor
Link to this Story
Printer-Friendly Story View
---
--- Advertisments ---