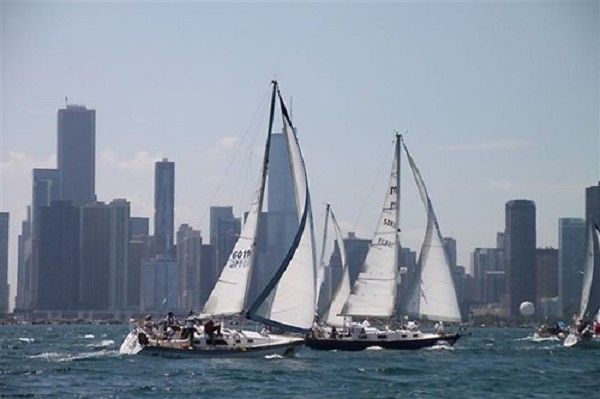 Start of Chicago to Mackinac sailing race in 2011 is depicted on Interlochen Public Radio's website.
---
Chi-Mac Sailors Now Must Carry Knives Because of WingNut's Tragedy
Stability Rules Also Upgraded for Yachts in Race Now Underway
(EDITOR'S NOTE: The only two local boats on the list of entries in the Chicago to Mackinac sailing race are Twisted, a JN40, with William H. Darbee and Richard K. Coates, and Strings, a Gougeon 40, with Jan Gougeon.)


The 104th Chicago to Mackinac sailing race is underway with 350 yachts in Lake Michigan headed north 333 miles toward Mackinac Island.
Thoughts and prayers no doubt are still prevalent in the minds of the 3,500 sailors because of a double tragedy last year.
Among new safety requirements, sailors in the Chicago-Mackinac sailing race are required to carry knives they can open with one hand as a result of two deaths in a capsized boat last year.
Mark Morley and Susan Mackowski-Bickel, both of Saginaw, had lashed themselves below decks of the WingNuts, a racer that capsized in a storm in last year's race. Had they been carrying knives, they may have been able to free themselves and survive, according to a U.S. Sailing investigation report issued recently.
Six other crew members on WingNuts who were above decks were rescued.
"WingNuts' radical, ultra-light design was cited as a key factor in the accident that claimed the lives of two sailors," according to Practical Sailor magazine.
Charlevoix County Sheriff Don Schneider, who investigated the tragedy, noted when issuing his 150 page report:
"If you've got a self-inflating PFD (personal flotation device), and you find yourself upside down in the boat, under the boat, that self-inflating PFD could cause your death, because it could keep you under the boat when you can't get our from under it," explained Schneider.
Also, the report says the surviving crew had a hard time freeing themselves because they were tethered to the boat.
"That tether, particularly in a sailboat where you've got all the sails, obviously, from our investigation, were all getting entangled from all the obstruction under there," said the Sheriff.
PFDs and tethers are needed safety elements for sailors, however the sheriff recommended modifications based on what happened to the crew of WingNuts.
The investigation by U.S. Sailing also resulted in an upgrading of the stability requirements for boats in the race.
U.S. Sailing's offshore committee and other race organizers, have been working with naval architects for the past six months on new safety requirements, said Lou Sandoval race chairman, owner of Karma Yacht Sales, Chicago, commenting: "The changes we have instituted compliment the approach to organizing a quality and safe race that have always been a part of the rich tradition of the Race to Mackinac.
"Sail boat racing is a dynamic sport and sailors learn to be versatile in their approach to life," said Sandoval. "There has been a high level of Interest in the 104th Race, which has been consistent with previous years."
Among the changes implemented for 2012 is the issuing of a minimum stability for a boat's eligibility to compete in the race. The handicapping rule used for the Race to Mackinac (Offshore Racing Rule-ORR) has adopted a new version of the Stability Index, as discussed in the US Sailing report of the 2011 Race.
The committee established a minimum Stability Index of 103. Changes were also made in personal and boat safety equipment, continuing sailor education and the vessel inspection process. All boats now also must have a GPS locater, the committee dictated.
The U.S. Sailing report, analyzing last year's tragedy, states:
"Among the over 345 boats entered in the race was WingNuts, a Kiwi 35 sport boat, sailed by a crew of eight, four of whom were co-owners. WingNuts was an extreme boat in many respects, including being very light for her 35 foot length, but her most differentiating feature was her flared deck which resulted in a beam of 14 feet, combined with a narrow beam at the waterline. This, combined with her large sail plan, made her exciting to sail but also a very tender boat."
"The conclusion was that the boat lacked the stability to withstand the weather encountered during the race," a Chicago sailing commentator observed. "WingNuts was the least stable boat entered and was caught in the worst squalls that hit the race, creating a perfect storm that caused the boat to overturn. The lack of knives to cut themselves free resulted in the two crew members getting caught underneath."
US SAILING has awarded an Arthur B. Hanson Rescue Medal to the crew of Sociable for their rescue of six sailors from WingNuts, a capsized yacht on Lake Michigan during a storm in the Chicago Yacht Club Race to Mackinac on the night of July 17-18, 2011. This Hanson Medal was awarded on Saturday, November 5 to Sociable's skipper, Robert Arzbaecher (Brookfield Wis.), and his crew at the race's awards dinner at the Chicago Yacht Club. The presentation was made by Janet Baxter, former President of US SAILING. Sociable's crew included Brian Adams, Amy Marshall, Cathy Patrick, Brian Nagle, Matt Younkle, Greg Adams, David Patrick, Pete Duecker, Adam Flanders, Chris Miotke and Max Riesing.
Chicago to Mackinac, the longest freshwater race in the world, takes multiple days for boats to finish. Over 350 boats with almost 3,500 sailors aboard set sail Saturday morning aiming to cross the finish line sometime Sunday or Monday.
The Mackinac Cup and Mackinac Trophy go to the boats with the best adjusted time. The Royono Trophy goes to the first boat to cross the finish line. Peter Thornton's il mostro, a Goetz Custom Boats Volvo 70-footer, is a favorite for the fast time this year and may even post the fastest race ever, depending on wind conditions. Thornton hopes to reclaim the Royono cup that he won in 2005 with a different boat, but has gone to Windquest in four of the past six years.
---
(Prior Story) Sports Article 007196 (Next Story)
---

Dave Rogers




Dave Rogers is a former editorial writer for the Bay City Times and a widely read,
respected journalist/writer in and around Bay City.
(Contact Dave Via Email at carraroe@aol.com)

More from Dave Rogers
---
Send This Story to a Friend!
Letter to the editor
Link to this Story
Printer-Friendly Story View
---
--- Advertisments ---