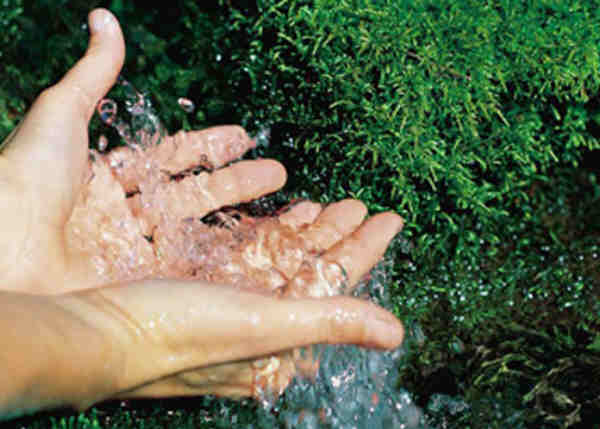 Construction of the new plant is projected to begin in 2013 and the plant would be completed and placed in operation in 2015.
---
BETTER WATER ON TAP! $59 Million Membrane Plant Construction Planned
Lake Huron Water from Whitestone Point to Come From Saginaw-Midland System
Lake Huron water from Whitestone Point is on the way to Bay City and Bay County.
Taste and odor problems with local water would be eliminated and rates would be more uniform although they would likely increase slightly.
The only question is: can officials pull off construction of a $59 million plant by the stated goal of 2015?
Tom Paige, manager of the Bay County Department of Water and Sewer, told county commissioners last week that plans are shaping for a new membrane filtration plant.
"Doing nothing is not an option," Mr. Paige said flatly. He stated the generally agreed upon opinion that residents are willing to pay a little more for higher quality water.
Construction of the new plant is projected to begin in 2013 and the plant would be completed and placed in operation in 2015, he said, if all goes well.
Commissioner Tom Ryder had pressed officials for an update, and Paige reported positive actions to secure a new supply from the Saginaw-Midland Water System drawing from the lake that seemed to satisfy Ryder's question.
Paige outlined goals:
High quality water;
Affordable cost rate structure;
Longterm stability. (A 40-year-payoff is planned.)
Although capital requirements will be higher, operation and maintenance of a membrane plant will be lower, estimated at $1.5 million per year, said Mr. Paige.
Two pipelines from Whitestone already run through the county and a junction station, with branches sending water west to Midland and south to Saginaw, is located on Three Mile Road next to the Monitor Township offices and hall.
Bay County has submitted plans to the Michigan Department of Environmental Quality along with a request for funds from a revolving fund for a bond issue through Bay County.
A public hearing on requests will be held by the DEQ in August, said Mr. Paige.
Savings for the proposed Bay County-Bay City plant could be as high as $400,000 per year if state assistance is received, said Mr. Paige. The savings could amount to $10 million over 25 years, he added.
Debt repayment would be rolled into the rate structure, he said, and wholesale rates would be the same although local communities would set their own rate structures.
A fixed debt fee would be financed through a readiness to serve charge, he said.
There is no expectation that extra water lines will need to be installed since growth in the area presently is flat, said Mr. Paige.
Robert Redmond, county financial-legislative aide, said the county board could approve the bond issue for the new plant without a vote of the public. He opined that a new plant will cost less than the old system and the present plan of operation.
If expansion is needed because of population growth, additional modules could be added to the membrane plant, he said. ###
---
(Prior Story) Government Article 7100 (Next Story)
---

Dave Rogers




Dave Rogers is a former editorial writer for the Bay City Times and a widely read,
respected journalist/writer in and around Bay City.
(Contact Dave Via Email at carraroe@aol.com)

More from Dave Rogers
---
Send This Story to a Friend!
Letter to the editor
Link to this Story
Printer-Friendly Story View
---
--- Advertisments ---