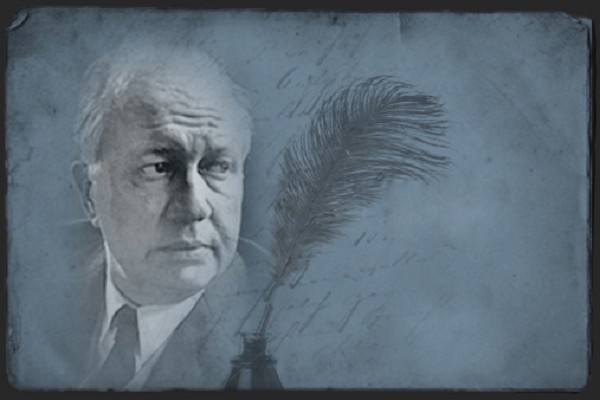 Theodore Roethke, Saginaw poet honored by series of events at Roethke Home Museum.
---
Spirit Bear Bullying Discussion Thursday Highlights Roethke Memorial Events
This year has seen an ongoing series of events honoring the life of Theodore Roethke, (1908-1963) Pulitzer Prize winning Saginaw poet.
The Theodore Roethke Home Museum is the childhood home of Mr. Roethke. Located at 1805 Gratiot Avenue in Saginaw, Michigan, the Roethke House has been preserved by the Friends of Theodore Roethke Foundation.
The Roethke House was designated a National Literary Landmark in 2004 in recognition of the profound impact Roethke had on American poetry and the influence his home had on his writing. A Michigan Historic Marker marks its location and the house is included in the National Register of Historic Sites.
Linda Robinson Walker recalls in a memoir published online by the University of Michigan:
"Otto Roethke was a baby in 1872 when his father, Wilhelm (later William), the former chief forester to German Chancellor Bismarck's sister in East Prussia, left with his wife, Bertha, and five children for Saginaw and established the Wm. Roethke Floral Co. Two of the sons, Karl (later Charles) and Otto, joined the business and built houses nearby.
"It is not surprising that Roethke's poetry displays a technician's knowledge of horticulture and focuses as much on the work required to raise them as on the flowers themselves," recalled Ms. Robinson. Allan Seager '28, who was a U-M English professor and Roethke's principal biographer (The Glass House, 1968; reissued by U-M Press, 1991) recounted the time that Roethke scoured a Vermont mountain to get a flower not because it was pretty, but because it was of professional interest.
When the Roethke home was put up for sale in 1998, his cousin Mary Ellen Roethke (l.), and Annie Ransford stepped in and bought it, allowing the Friends of Theodore Roethke Foundation to begin to raise money to purchase and restore it. The house is the center for a variety of readings, tours, poetry workshops and other cultural activities. Tax-deductible contributions can be made to the Friends of Theodore Roethke Foundation, 1805 Gratiot Ave., Saginaw, MI 48602, (517) 846-6435.
Roethke told the Saginaw News during a visit in 1949 that he had been lucky to come from Saginaw, where he could draw on "a whole field of imagery which has not been worked over" and, explaining the persistent motif of his father's greenhouses, said, "Any serious writer uses the imagery he saw and heard and felt about him as a youth. This is the imagery most vivid to him. It becomes symbolic."
Tours of The Roethke House are available. In addition, poetry readings, talks, workshops, and school programs are regularly offered. A year-long series of events, supported by major grants from the National Endowment for the Arts and the Michigan Humanities Council celebrated Roethke's Centennial in 2008-2009.
Friends of Theodore Roethke Foundation has been in existence for over ten years. Currently, the organization is working on capital funding to renovate the Roethke Home Museum, restore the adjacent Carl Roethke residence at 1759 Gratiot into a cultural/educational center with classrooms, and add a greenhouse pavilion for arts events.
Writing Workshops Numerous writing workshops have been offered at the Roethke House for elementary, secondary, and college students.
Oral History Projects Secondary students have interviewed Saginaw elders to prepare historic perspectives on Roethke's Saginaw, funded in part by the Michigan Humanities Council.
Poetry Readings Visiting poets, including those from the Rustbest Roethke Professional Writers Workshop, have read at the Roethke House.
Open Houses for Teachers Area teachers and participants in the Saginaw Bay Writing Project have toured and participated in specialized writing workshops.
Local History Local students learn about early 20th century Saginaw. Secondary German students participate in a German Christmas.
Upcoming events include:
Wednesday, June 27: Finding and Shaping your Narrative with Dr. Wilma H. Romatz and Dr. Gloria Nixon-John at Roethke House and Yards, 1805 Gratiot.
Artist and writer, Wilma Romatz, will remind us that Theodore Roethke was a master at observation, that he drew word pictures so clearly that readers can see, and feel, the details of his life experiences. Wilma will lead writers into drawing meaningful objects that will tap into their memories in a surprising way. She will also demonstrate how examining old photos can spark creativity in much the same way that walking into a greenhouse inspired Roethke. Author and educator, Gloria Nixon-John, will read from Learning From Lady Chatterly, her memoir in narrative verse. She will define and discuss this form as a viable option. Along the way she will share Roethke's proclivity toward narrative in his verse(even before it was fashionable). The writing participants are encouraged to dabble in their own narrative verse.
Thursday, June 28th, 2012 - 4-5 p.m. Touching Spirit Bear, a novel discussion at Roethke House, 1805 Gratiot. Rob Joslyn, English teacher at White Pine Middle School, will lead a conversation about Touching Spirit Bear, a novel about bullying by Ben Michaelsen. Discussion will highlight novel's main themes and launch family dialog and summer reading. Families are encouraged to attend.
JULY Tuesday/Wednesday/Thursday, July 17th-19th, 24th-26th and July 31st-August 2nd - 9:30am-11:00am Summer Language Arts Review; $15 per student for nine sessions. Scholarships available. Roethke House and Yards, 1805 Gratiot For neighborhood elementary students entering grades K-4. Friends of Theodore Roethke, in keeping with their mission "to promote the literary legacy of Theodore Roethke...for educational opportunities," will offer a summer language arts/reading program using review books published by Tri-C Publications in accordance with the National Standards of Teachers of English. Reading Review Booklets given to students who have completed reading workshop sessions. Motion activities and crafts taken from poet's 1920s era in his historic house and yard.
Tuesday, July 17th, 2012 - 2-3 p.m., Party at the Zoo; Children's Zoo Amphitheater at Celebration Square, 1730 S. Washington; Free with admission to Saginaw Zoo. Donations welcome.
Party at the Zoo, based on poem by Theodore Roethke and featuring the story of his goddaughter, Meg Walkenshaw Fuell to whom he dedicated this poem. There will be references to American Poet, a novel by Jeff Vande Zande, about Saginaw and the importance of saving the Roethke House. Collaboration between Bay Arenac Reading Council and Friends of Theodore Roethke. Party includes poetry reading, games and animal crackers to celebrate Theodore Roethke.
Tuesday, July 24th, 2012 - 7-8 p.m., Roethke's Letters from Home by River Junction Poets, Maxine Harris, Marion Tincknell, and Betty Van Ochten at Roethke House and Yards, 1805 Gratiot; registration and house tours begin at 6:30 p.m.
This program was presented at SVSU last November as part of the SVSU Roethke Prize; an earlier version was presented at Roethke House almost a decade ago. Roethke's letters show his feelings during Saginaw summers.
Thursday, July 26th, 2012 - 7:00pm-8:30 p.m. Celebrate Birthday Memories and Stories with Alfreda Harris at the Roethke House and Yards, 1805 Gratiot; registration and house tours begin at 6:30pm; birthday cake and ice cream; $10 per person or $15 per family.
Alfreda Harris, a professional storyteller, will present an intergenerational storytelling program, sharing personal and fictional birthday stories. Guests will have an opportunity to share a favorite birthday memory in a story circle. All will leave with a snapshot memory.
Tuesday, July 31st, 2012 - 6-7:00pm
Roberta Johnson will present a Roethke House Readers' Theater at the Roethke House and Yards, 1805 Gratiot.
Roberta Johnson, a retired administration Law Judge from California, has contributed to this community by presenting programs about women in history. She will explore the role of the audience to the artist to enhance experiential learning.
AUGUST Wednesday, August 1st, 2012 - 7:00pm-8:00pm Theodore Roethke's Death Day; Oakwood Cemetary, Gratiot and Midland Road; Gather for a candlelight grave walk to commemorate Theodore Roethke's life on the day he died with River Junction Poets and First Presbyterian Church, Roethke's home church. Donations welcome.
Wednesday, August 22nd, 2012 - 5:30-8 p.m.
Mike Mosher - "Creatives Conquered and Conquering, from Michigan to Memphis." at Roethke House and Yards, 1805 Gratiot; Registration and house tours at 5:30 p.m., dinner at 6 p.m.
Several original songs will be performed on the Roethke family piano by Prof. Mosher. In his talk, Mike Mosher, Professor of Art and Communication & Digital Media at SVSU, asks what we can learn about Roethke from investigations of the conditions of Elvis Presley, defeated by his depression, and that of a contemporary Michigan children's musician downstate, who creatively thrived once he got his bipolarity under control.
###
---
(Prior Story) Arts/Theater Article 7110 (Next Story)
---

Dave Rogers




Dave Rogers is a former editorial writer for the Bay City Times and a widely read,
respected journalist/writer in and around Bay City.
(Contact Dave Via Email at carraroe@aol.com)

More from Dave Rogers
---
Send This Story to a Friend!
Letter to the editor
Link to this Story
Printer-Friendly Story View
---
--- Advertisments ---