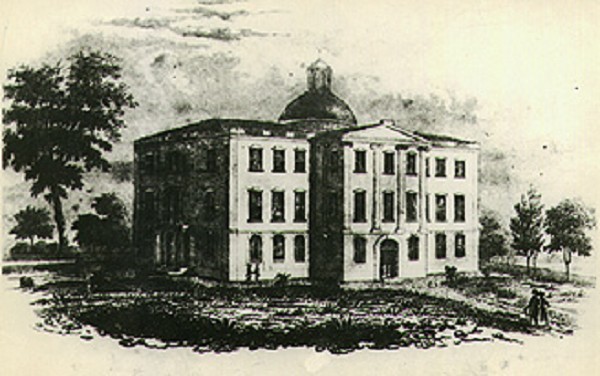 Construction of first Alabama state capitol was supervised by a young James Shearer, later a prominent Bay Cityan.
---
ALABAMA vs MICHIGAN: Football Game this Fall Not the Only Connection
Southern Racial Epiphany or Hidebound Bastion of "Segregation Forever!"
From all outward appearances, Huntsville, Alabama, is a model of new racial attitudes in the South.
Folks, black and white, are mingling (much as I reported last week about Florida), with no apparent reservations about race.
As I moved about town last week with my genial guide and host, Herman Hoffman "Topper" Birney, a popular Huntsville School Board member and great-great grandson of first anti-slavery Presidential candidate James G. Birney, I saw no signs of the old South of segregation.
The main enemy of Huntsville folks seems to be the rival football team from Auburn University; this is serious business. They say people have lost jobs just for being lukewarm about Crimson Tide gridiron chances.
By the way, for you football fans, the University of Michigan plays the national champion Alabama Crimson Tide the first game of the next season Sept. 1 in a showplace game in Dallas, Texas. They call it the Cowboys Classic and tickets start at $250 each, if you can get them.
Now, Huntsville folks say privately that things in the rural hinterlands may be more like the days when the notorious Gov. George Wallace stirred racial emotions in defeating Albert Brewer in 1970.
Alabamians describe that race as the nastiest they have ever heard of. Of course, they have not yet experienced all of the Presidential election campaign of 2012.
Sweetness and light may not prevail everywhere in Alabama as it does in economically booming Huntsville. There the federal Redstone Arsenal and the NASA Space Center, along with hundreds of contractors, have provided jobs we in mid-Michigan would die for.
Topper Birney's father, Hoffman Birney Jr., was an engineer with the federal missile program like his son. He worked with the noted German missile expert Wehrner Von Braun in Huntsville. He also wrote Western novels (see MyBayCity.com Jan. 8, 2012)
Although Huntsville was the birthplace of Gen. William Birney, the descendants made that city their home for a different and ironic reason: Hoffman Birney Jr.'s first occupation after serving in World War I was at the U.S. Army Ballistic Missile Agency in Huntsville.
Topper Birney commented: "This was not his first occupation. He was a reporter with one of the Philadelphia newspapers and then quit that job to begin his writing career. When WWII broke out, he tried to enlist but was not accepted because of his age so he became a technical writer with the War Department to help with the war effort. My father was intensely patriotic. After the war, because he wanted to return to the west, he accepted a position with the army's newly formed rocket team in El Paso, Texas. Dr. Wehrner Von Braun was a prominent member of this team."
Hoffman Birney, Jr., who also wrote under the pseudonym David Kent, got one of his stories to Hollywood seven years after his death in 1958.
"The Glory Guys," a thinly disguised rehash of Custer's Last Stand, was based on his book "The Dice of God."
Diane McWhorter, writing today in The New York Times, views her home state from a different perspective:
"Thanks to H.B. 56 (the "Beason-Hammon Taxpayer and Citizen Protection Act, "passed a year ago by the state's first Republican Legislature since Reconstruction, I am ashamed of being from Alabama.
"The contagion of Alabama's shame became apparent in April, during the oral argument before the Supreme Court on Arizona's immigration legislation, the test case for several similar state laws aimed primarily at Hispanics. All have been substantially blocked by federal courts, except Alabama's, most of which went into effect last fall, catastrophically achieving the goal Arizona calls --attrition through enforcement" -- also known as "self-deportation."
The Times commented in a headline: "If Alabama, the cradle of the civil rights movement, can retool Jim Crow as Juan Crow, what have we learned?"
Even in Huntsville there is still reluctance to acknowledge James G. Birney, who made major contributions to the state. He won anti-slavery provisions in the first Alabama Constitution, got Henry Clay to move the constitutional convention several hundred miles into Huntsville, was a member of the first state legislature and recruited key officials and faculty for the University of Alabama.
Birney's nomination to the Alabama Lawyer's Hall of Fame was blocked for years by a hidebound traditionalist and was not granted until 2009 after the stiff-backed historian had passed on to her great reward.
Topper Birney is seeking support to give more recognition to his famous ancestor; one idea is a historic marker on the building where his great-great grandfather had his law office.
Bay City's main connection with Alabama, although ancient history, may have been James Shearer's work in supervising construction of the first Alabama State Capitol in 1824 -- ironically when James G. Birney was active there in politics.
He was just 22 at the time he was in Alabama. He returned to Detroit where he established an engineering and construction firm, was an alderman and was active in raising funds for a Michigan troops in the Union Army for the Civil War.
Later Shearer was Bay City's most noted architect-builder, erecting three magnificent office structures on Center Avenue -- two of which still stand -- after the Civil War.
Michigan became a milestone in the long, tortured case of the Scottsboro Boys, wrongly accused of raping two white women on a train in 1931. As the case wound through the courts and one of the women admitted she wasn't raped, Haywood Patterson escaped jail and fled to Michigan.
In 1950, Michigan Gov. G. Mennen Williams refused to extradite Patterson. After a barroom fight in Detroit, Patterson was convicted of manslaughter and was sentenced to prison where he died of cancer a year later.
---
(Prior Story) Columns Article 7090 (Next Story)
---

Dave Rogers




Dave Rogers is a former editorial writer for the Bay City Times and a widely read,
respected journalist/writer in and around Bay City.
(Contact Dave Via Email at carraroe@aol.com)

More from Dave Rogers
---
Send This Story to a Friend!
Letter to the editor
Link to this Story
Printer-Friendly Story View
---
--- Advertisments ---