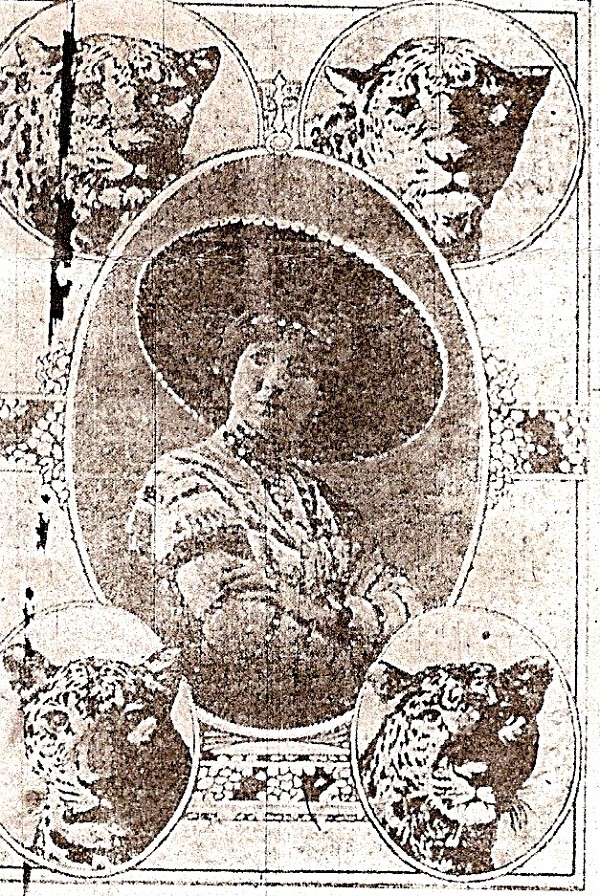 Dolores Vallecita was fatally injured as she trained her leopards for a Vaudeville show in Bay City's Old City Hall in 1925.
---
GHOST WALK: Join Local History Author Saturday Nights Story Stroll Downtown
Walks Scheduled July, August and Halloween in Downtown Bay City
Bay City has many great stories that people enjoy hearing.
These stories involve crime scenes, real events and urban legends dating back to the late 1800s that have grown with people's imaginations over the decades.
It's time they started hearing these fascinating tales again.
Tales of the Catacombs, Hell's Half Mile, tunnels on Third Street, the ghost of murdered Fabian Joe Fournier, the Leopard Lady killed in Old City Hall and others have emerged from the mists of time.
Especially visitors from out-of-town will be amazed at the kind of ghostly Bay City tales that delight listeners much as local stories entrance visitors to Charleston, South Carolina, Savannah, Georgia, Huntsville, Alabama, and St. Augustine, Florida.
Those towns, and many more including Detroit and Grand Rapids, have ghost tours of different varieties that have proven attractive to tourists. Reviving Bay City's Ghost Tour makes sense.
Involvement in historical tours through the Bay City Public Schools Community Education Program, State Theatre Ghost Tours, and tours of Pine Ridge and Elm Lawn Cemeteries has helped build up local lore.
Beginning Saturday, July 14, 2012 at 6 p.m., D. Laurence "Dave" Rogers, the author of the local history book "Ghosts, Crimes and Urban Legends of Bay City, Michigan" will conduct walking story tours of downtown Bay City.


Stories will include the alleged ghostly activities of slain lumberjack Fabian Joe Fournier at the Third Street dock in 1875, the sentencing at Federal Court of Anthony Chebatoris, last execution in Michigan in 1938; death of 11-year-old Robbie Waldo during City Hall construction in 1896; death of leopard trainer and Vaudeville performer Dolores Vallecita in Old City Hall in 1925 and other crimes, legends and local lore.
The walking tour will start on Water Street across from the DoubleTree Hotel-Bay City Riverfront, near the Delta College Planetarium. Parking is available on the street. Cost is $10 for adults and $5 for children under age 12 for the 90 minute tour, weather permitting. Walkers will have to sign liability release forms and parents will sign for children. Information is available from tour sponsor Historical Press L.L.C. at 989-686-5544.
Plans are to conduct these walking tours through July and August and to resume around Halloween for a week or two, weather permitting.
Appropriately to the tour, that is in the heart of what authors have termed "Hell's Half Mile" for many years. The half-mile on Water Street has been the subject of many books starting with "Shanty Boy or Life in a Lumber Camp" by John Fitzmaurice in 1895.
About the turn of the century Stewart Edward White came here and included local lore in several books including "The Riverman," "Blazed Trail Stories," "Call of the North" and others.
James Stevens, lumberjack author from Seattle, came in 1930, stayed for nearly a year and befriended local newspaper writers including Brig Young and Kittie Turmell and wrote the first "Paul Bunyan" book.
Later Stevens wrote "The Saginaw Paul Bunyan," documenting his assertion that the legendary hero was from Bay City. The claim that Bunyan was based on Fabian "Saginaw Joe" Fournier, murdered on the Water Street dock in 1875, was in an article he wrote for the American Mercury Magazine in 1936.
Stewart Holbrook came here in 1940, interviewed old timers in the saloons and went away with visions of wild lumbering days in Bay City. He named his book "Holy Old Mackinaw" after a notorious house of ill repute.
That book was a best seller that put Bay City on the map even though most of Holbrook's writing was apocryphal (that means made up). Holy Old Mackinaw sold 500,000 copies to servicemen in World War II alone; remember, these were pre-TV days and soldiers and sailors were desperate for entertainment in their trenches and aboard ship.
Actual events, as much as made up stories by crazy authors, are the basis of some of the GHOST WALK tales. The arrest of the two members of the Bonnie & Clyde gang at the Bay City Motor Company building in 1932 began a fantastic skein of events that led to the 13th and last execution in Michigan history.
Come along and hear the details and be amazed at things that happened in Bay City that few know much about.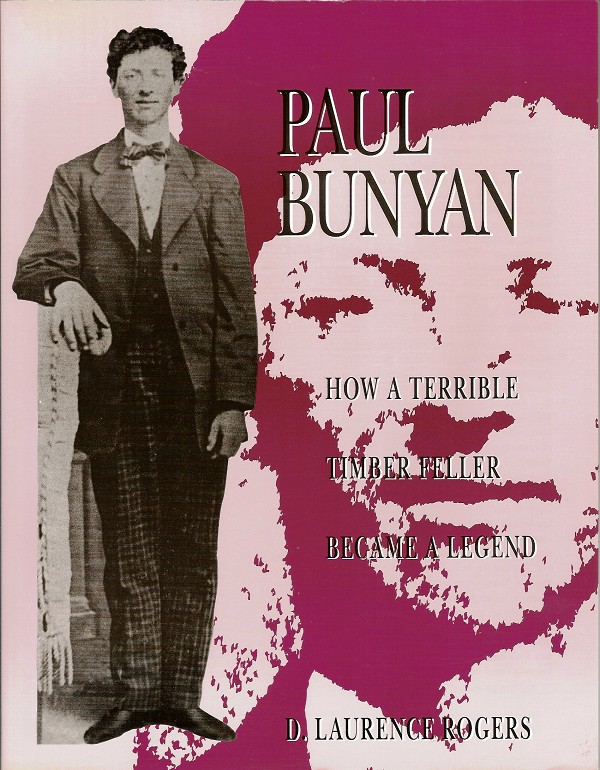 The origin of the Legend of Paul Bunyan is one the stories to be told on the Ghost Walk are included in this book, "Ghosts, Crimes & Urban Legends of Bay City, Michigan."
Photo by Dave Rogers
© MyBayCity.com
---
(Prior Story) Downtown Article 7101 (Next Story)
---

Dave Rogers




Dave Rogers is a former editorial writer for the Bay City Times and a widely read,
respected journalist/writer in and around Bay City.
(Contact Dave Via Email at carraroe@aol.com)

More from Dave Rogers
---
Send This Story to a Friend!
Letter to the editor
Link to this Story
Printer-Friendly Story View
---
--- Advertisments ---