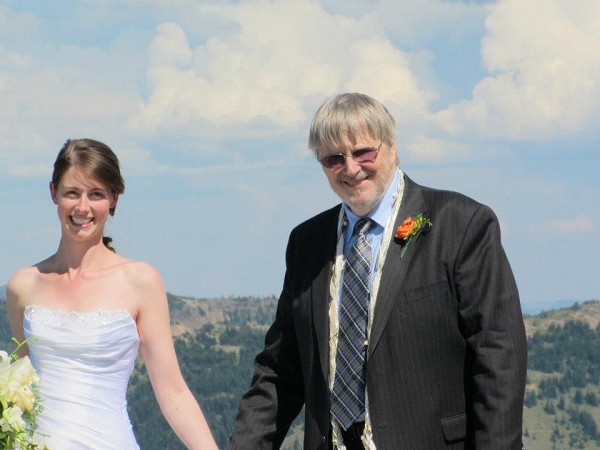 Jessica Joan (Cunningham) Reynolds and her VERY proud Dad,
---
Marrying Off My Daughter
Just Another Day in the Life of a Dad?
~NOT~
August 12, 2012 Leave A Comment
By: O. J. Cunningham
Just another trip to Seattle? NO!
Just another hot, sticky, humid week in August? I DON'T THINK SO!
Just another excuse to pack up your Grannies and gather your jammies and head West . . . Hallelujah . . .
No Sir!
Not this trip.
This is The Big One.
This is August 6, 2012 and there's marrying going on -- and the one getting married is an "only" daughter of the one and only O. J. Cunningham.
Before I get distracted, I gotta say this -- that Jessica and Zane (Husband) put on an amazing party for a hundred of their loving family members and closest friends.
I'm sure I probably put some money in the pot for the party -- my wife always tells me it's best I don't know how much -- but the planning and the flow of the days before the wedding and the ceremony itself was damn near flawless. HATS OFF TO ZANE AND JESS.
Jessica and Zane (Reynolds) had one of those destination-type weddings up on top of Crystal Mountain -- where you had to ride a ski gondola up the mountain to get to the ceremony.
You also had to fly 2/3 of the way across the USA and then drive two hours West of Seattle to get to the final wedding location.
This almost became tragic when an auto accident on the two-lane road from Seattle to Crystal Mountain was blocked for three hours on the morning of the wedding day . . . causing the late arrival of more than half the guests as well as a few late-arriving tuxedos.
Being "THE DAD,"
I was the last one to see Jessica alive
. . . as I liked to refer to those last few hours before the actual wedding ceremony.
Gotta tell ya . . . Jessica remained cool. There was very little "BRIDEZILLA" evident in my daughter as those last hours passed (seemingly) slower and slower as the waiting went on and on (seemingly forever.)
But in the end, the road cleared, the tuxedos arrived, the guests were all in place and my little girl and I rode up the gondola to the ceremony.
And there, with Mt. Ranier creating a most glorious backdrop, Jessica Cunningham became Jessica Reynolds.
All joking aside, I was never prouder of my family.
My son Chris and his wife stood in the wedding. My wife Donna found a way to get 86-year old Gramma Bea (Her Mom) across the country, through airport security and up that mountain -- Oxygen and all.
And our Jessica . . . our "Little Boo" said her "I DO" with all the certainty of a Supreme Court Judge swearing into office.
And we were all proud.
Bon Voyage . . . Jessica.
Have a wonderful, happy and full life with Zane Reynolds -- A very lucky man and a real good guy.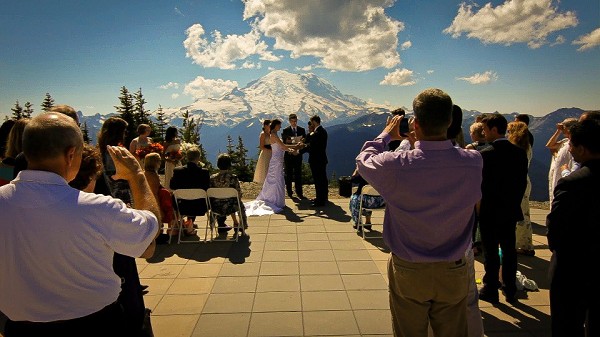 Jessica & Zane Reynolds -- Wedding Ceremony -- Mt. Ranier in the background.
August 6, 2012 -- Crystal Mountain, Washington
---
(Prior Story) Columns Article 7267 (Next Story)
---

O. J. Cunningham




O. J. Cunningham is the Publisher of MyBayCity.com. Cunningham previously published Sports Page & Bay City Enterprise. He is the President/CEO of OJ Advertising, Inc.

More from O. J. Cunningham
---
Send This Story to a Friend!
Letter to the editor
Link to this Story
Printer-Friendly Story View
---
--- Advertisments ---