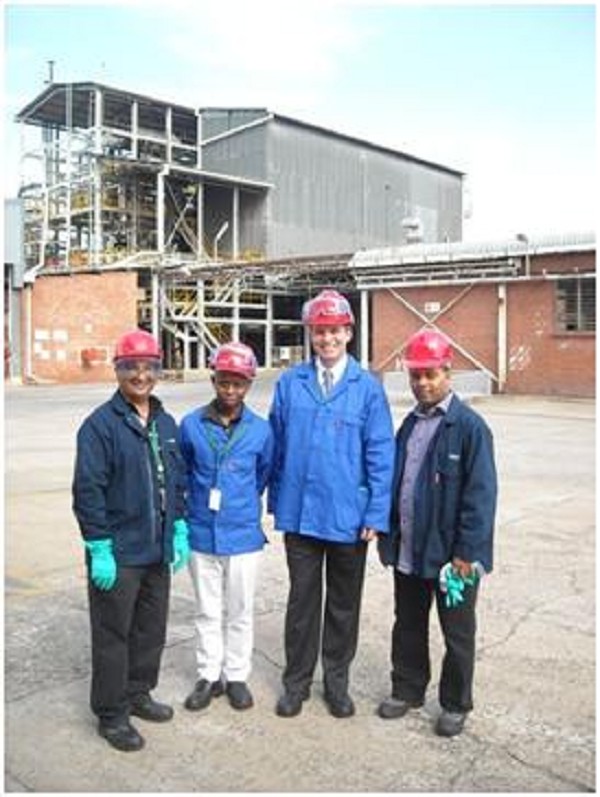 In celebration of Global Economic Statecraft Day, U.S. Consul General in Durban Taylor Ruggles, second from right, conducted an economic outreach visit to the head office for Dow AgroSciences in South Africa, located at their "Canelands"
---
Dow's Liveris Leads Worldwide Effort to Energize Advanced Manufacturing
"Make It In America" Concept Expanded Across the Globe by Chemical Leader
August 19, 2012 Leave A Comment
By: Dave Rogers
We in the tri-city area don't have far to look for leadership in the crucial area of manufacturing.
Andrew Liveris, CEO of The Dow Chemical Company, Midland, is leading a worldwide effort to restore advanced manufacturing.
"In many regions, manufacturing was once the lifeblood of economies," he says. "Today, in countries throughout the world, manufacturing has entered a new era. By need or demand, manufacturing is evolving to reflect struggling economies, emerging markets, modern technology and a new generation of workers. Businesses and governments alike recognize the need for strategic policymaking to enable innovation and the future of manufacturing in response to this changing landscape."
His native country of Australia and Europe are part of the plan and Mr. Liveris recently described how Africa's economy can be revitalized with manufacturing.
Mr. Liveris said Dow expects sales in Africa to at least double within three years as demand for its products including water-purification systems and building materials grows.
A new office in Nairobi will serve the East African region, Liveris said in an interview in the Kenyan capital. Dow, which has an annual capital investment budget of $2.5 billion, will initially spend an average of $30 million per year in Africa on areas including manufacturing facilities to grow its sales, he said.
A recent economic outreach visit to Dow AgroSciences demonstrated the positive role U.S. companies can play in helping develop the South African economy, transferring advanced skills to the South African workforce, and fostering a culture of adherence to some of the best ES&H (environmental, safety and health) manufacturing standards in the world.
"Enhancing and invigorating manufacturing also is critical to the European Union's competitive success in a globalized market," says Mr. Liveris.
"No area of manufacturing is more vital that chemicals, which act as enablers and building blocks for a diverse set of products which drive a range of industries, from high-tech to automotive. With a third of Dow's sales and a quarter of its workforce based in Europe, Dow strives in its daily operations to bring to bear advanced technologies and processes to help spur innovation and growth across the economy."
Dow is committed to help drive competitiveness and restore growth and prosperity to Europe. The Dow Advanced Manufacturing Plan for Europe (AMPE) is a practical framework that looks at a diverse set of EU policies and legislation in the areas of innovation, competitiveness, energy and climate, regulatory reform and trade. Through this road map the AMPE provides recommendations to help realize the objectives set in the pivotal EU2020 framework.
Through dialog and discussion, Dow hopes to encourage the EU to consider these concepts and actions, and above all, to form a holistic and actionable policy for the future of Advanced Manufacturing in Europe. "Together we aim to help deliver smart, sustainable and inclusive growth for Europe," says Mr. Liveris.
Dow is a global pioneer in the creation and development of innovative technologies and solutions to address many of the world's greatest challenges. With more than 52,000 employees in 37 countries, Dow is uniquely qualified to help governments, world leaders, industry groups and fellow businesses address the wide spectrum of laws, regulations and policies that affect the marketplace and the regions in which we operate.
Dow believes that a clear road map is vital for countries, regions and the global community to drive the future of advanced manufacturing.
Dow's Advanced Manufacturing Plans provide policy insights and actionable recommendations for government and policy stakeholders to re-invigorate economies, reform regulations, enable long-term trade policies, educate a 21st century workforce, create a cleaner energy future and cultivate a more competitive marketplace.
Through sound policymaking and commitment from both public and private sectors, the world's leading manufacturing regions can begin a sustainable path to a more prosperous future -- enabled by advanced manufacturing.
"Make It in America: The Case for Re-Inventing the Economy," told through the voice of Dow Chairman and Chief Executive Officer Andrew N. Liveris, is a book combining the best thinking on how to drive economic growth from Dow employees working in areas such as government affairs and public policy to legal, finance and R&D, with Liveris' own perspectives and experience of running one of the largest global companies.
The result is a set of practical policy solutions and business strategies on how to reinvent and grow America's manufacturing sector for the twenty-first century.
All proceeds from the sale of this book will go to The Dow Chemical Company Foundation, which serves Dow's philanthropic needs by providing charitable gifts to eligible non-profit organizations that contribute to community success, support sustainability, foster science in society and stimulate innovation.
"American manufacturing is clearly at a crossroads," Liveris said. "While manufacturing was once the lifeblood of U.S. economic growth, our country"s reduced manufacturing strength has played a role in a high unemployment rate, unsustainable federal and state spending and a massive -- and growing -- federal deficit. We as a country need to redefine what it means to say "built in the USA," and in so doing, reinvigorate the economic growth engine the manufacturing sector can be."
Manufacturing employs nearly 13 million people in the U.S. and 6 million in related fields. In fact, no other sector performs more R&D, drives more innovation, exports as much or contributes more to our nation?s economy than the manufacturing sector. Yet since 1990, the U.S. has lost 3 million manufacturing jobs -- almost 20 percent. With these jobs went American leadership in many sectors, new research and development and too often, whole communities.
"America needs an integrated and strategic approach that will incentivize manufacturers to create the jobs of the future," Liveris said. "The patchwork of incentives launched to address the recession has not turbo-charged the private sector growth engine of the world's largest economy. Many more permanent private-sector jobs are needed quickly, but unfortunately we see deep-rooted economic and policy headwinds that discourage good private job formation."
"Make It in America" advocates how these issues can -- and must -- be addressed, and presents a clear path forward (Dow's Advanced Manufacturing Plan for America) on national public policy issues including:
New infrastructure
R&D that?s cutting edge
Education that leads the world
A pro-trade policy that creates a level playing field with limited tariffs and barriers to entry
An alternative energy strategy that will secure the abundant energy that industry needs to remain competitive
Regulatory reform
U.S. tax policies that support manufacturing ? not mitigate against it
Reform in civil justice needed to support advanced manufacturing and end lawsuit abuse
"America's greatest, most productive and most prosperous days are not behind us, but ahead of us," Liveris said. "Now is the time to take back our future."
---
(Prior Story) Business Article 7287 (Next Story)
---

Dave Rogers




Dave Rogers is a former editorial writer for the Bay City Times and a widely read,
respected journalist/writer in and around Bay City.
(Contact Dave Via Email at carraroe@aol.com)

More from Dave Rogers
---
Send This Story to a Friend!
Letter to the editor
Link to this Story
Printer-Friendly Story View
---
--- Advertisments ---