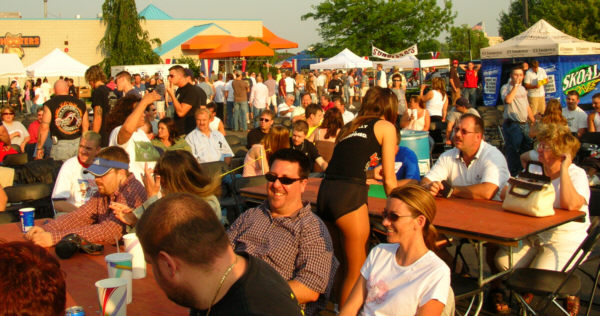 A fight crowd of over 3,000 were on hand to see seven great bouts of
Toughman Professional Boxing at Hooters on June 30th
---
Pro Boxing Fireworks Before The Bay City Fireworks
2 Day Boxing Event Packs in Thousands to Hooters of Bay City
July 5, 2006 Leave a Comment
By: Julie McCallum, Entertainment Editor
(Above) Mike Walther - On His Way to a 2nd Round KO of his Opponent Lonnie Pieffer.
(Video and all photos by Julie Munger, Senior Staff, MyBayCity.com)


"It was great to bring Toughman back home to Bay City where it all started and we thank all the fight fans for coming out to Hooters and supporting it, said Steve Coppler, Toughman president.
"What tremendous fights, with skill, heart, and determination of local men shining bright," Coppler went on. "Men and WOMEN, start training for next year when we do it all over again!!"
THURSDAY NIGHT June 29th Toughgloves
USA Boxing Sanctioned Amateur Boxing Tournaments brought
over 2,000 boxing spectators
to Hooters parking lot. The large crowd were entertained with 22 tough, grueling, action packed matches.
Joe and the Poorboy from Z93
kicked off the night with introductions. Joe introduced Art Dore as the "King of Kick-Ass" and proceeded to give away an armload of free prizes.
Robert Diffanbaugh, Toughgloves official, said that in Toughgloves knock-outs are rare. "We make sure to keep these kids protected as best as possible, Diffanbaugh went on.
"If there is a knock-out, we feel horrible. We really don't like to see it happen. It's mainly a lucky hook at the right time," Diffanbaugh said.
JR's All Star haircuts for men, were selling hats, sunglasses. Jason Kingsbury, Owner of JR's said, "Business is great. It's bigger then I thought it would be."
(Pictured, Left),
Rick Kingsbury, Jason's Father and co-owner) (
Pictured Right),
JR's Girls (L/R) Lisa Rodenberry, Heide Ledasma and Stacy Kukla.
(Above Left)
Toughgloves fighter Brian Peddler and Julie Kaylor. Peddler knocked his opponent to the canvas in the first round and went on to win his bout.
(Above Right)
"It was an awesome night here at Hooters of Bay City," said, Pat McIver from the Bay County Court Facility. McIver is pictured with his wife, Patty. "This was a fantastic night of entertainment for the community," McIver said.
FRIDAY NIGHT June 30th Professional Fights
A big crowd of over 3,000 fight fans were on hand at Bay City Hooters to see seven great bouts of Toughman Professionally Boxing.
Art Dore, Master of Ceremonies and Owner of Hooters, said It was a great set-up here in the parking lot of Hooters. Dore said that because of the great turnout, it gave him some ideas for future events. "We might be looking to do some concerts here," Dore said.
(Right)
Art mingles with the crowd as he announced.
Intermission entertainer was special guest, Country Singer, Walt Evans. In this last year, Walt, a mid-Michigan musician, has made his first music video in Tennessee and is currently working on his first album.
Walt is currently working on his second opry show that will be performed on July 16th at Lumber Barons Charcoal Grill and Brew Pub in Bay City.
Victories were recorded by Bay City's John Gottschling and Bay City's Branden Arsenault and also from Bay City, C.J. Glover.
Arsenault's bout was the main event of the evening. Arsenault scored a TKO over Jason Fish from Saginaw in the Heavyweight Division. After his fight, Arsenault celebrated and said into the ring microphone, "Lets go drink some beer."
Below:(Left)
Intermission Entertainer - Walt Evans.
(Right)
Branden Arsenault with his family after his big win on June 30th.
---
"It was rough at the beginning, but it got better," said Mike Walther, Toughman Pro Boxer, who won his bout in the second round by KO, and put on a fantastic show. (Walther is featured in the video clip at the top of this article.
The Pro boxers fought three-minute rounds, compared to the one-minute rounds that the Toughgloves fighters fought the night before.
(Picture in the red trunks below Left & Right)
Bay City Pro John Gottschling went the distance and fought an impressive full 6 rounds and won by a unanimous decision.
Click the link below to view MBC previous video and article on the Tough Man Pro Fights:
Click the link below to view MBC previous video and article on the Tough Man Tough Gloves:
---
---
---
Send This Story to a Friend!
Letter to the editor
Link to this Story
Printer-Friendly Story View
---
--- Advertisments ---