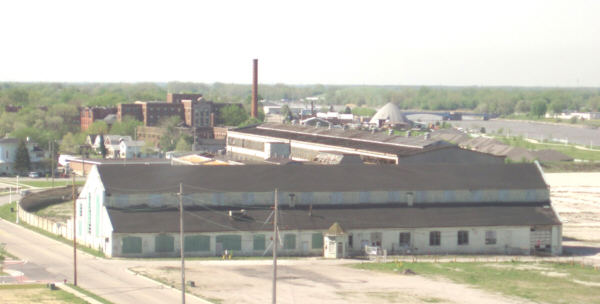 The Bay City I-B Complex at 11th and Water was a very significant part of American engineering history.
---
Museum Curator Recalls Industrial Brownhoist, Employees Lament Job Losses
When Japanese Walked Through and Took Pictures, We Knew the End was Near
June 10, 2007 1 Comments
By: Dave Rogers
Bay City's Industrial Brownhoist, one of the largest heavy industries in the world, not only made cranes, it made history, says Ron Bloomfield.
The memory of the accomplishments of the firm is still strong among former employees who were thrown out of work when the company closed in 1983.
Dozens of former I-B and American Hoist and Derrick Co. workers turned out to hear Bloomfield, curator of collections and research, recall the glory days of the firm in one of the Bay County Historical Museum's "Second Saturday" series recently.
"I-B was a very significant part of American engineering history," said Mr. Bloomfield. "This company spread the fame of Bay City throughout the world and helped build the Panama Canal."
The story of what happened to the firm that made the largest cranes in the world is both pathetic and instructive into the effects of globalization on the nation's economy.
---
--- Advertisements ---



---
"When the Japanese walked through with cameras we knew the end was near," an employee recalled. Another employee, former expediter Louis Galle, wrote a letter in The Bay City Times recalling: "One day people from Japan came to our plant and ordered our biggest machine. It was called 'The Revolver.' The machine was manufactured on time and was paid for (union scale), disassembled and loaded onto a ship headed for Japan. Two years later Mitsubishi almost duplicated that machine exactly, for less than one-half the cost and started taking over that market. We all know where the skeletal remains of the Bay City plant are." (Bay City Times, Sunday, June 10, page 9-A.)
Born the Industrial Works in 1873 when a small foundry and machine shop owned by John McDowell at Eleventh and Water was purchased by a group headed by George E. Kimball and James Clements. The firm at first made boilers and other equipment for sawmills and salt wells.
Because Kimball was general manager of the Chicago and Western Michigan Railroad, the firm diversified into railroad equipment including a railroad steam shovel in 1879. A steam wrecking crane followed and the I-W after that stuck to that line of heavy machinery.
I-W became Industrial Brownhoist, or familiarly known as I-B, in 1931 after merging with the Brown Hoisting Co. of Cleveland. Legend has it there was more money in Bay City than in Cleveland in those Depression Days and the local Chamber of Commerce conducted a $1 million fund drive that was crucial to the merger.
Mr. Bloomfield noted that I-W and I-B cranes were used to build the Panama Canal, Mackinaw Bridge and the Trans-Siberian Railroad; an I-B crane raised the USS Maine, sunk in Havana harbor before the Spanish-American War in 1898, and hoisted the arch on the Mississippi River at St. Louis, Missouri.
At one time the firm had plants in New York, Philadelphia, Pittsburgh and San Francisco, he said.
Innovations included the first rail mounted pile driver in 1886 and the first portable steel rail saw. I-B cranes won first prize at the Chicago World's Fair in 1893, he said.
The company reorganized after an economic depression 1893-95 and James Clements died in 1895. William C. Clements and Charles Wells assumed most of the assets and liabilities and employment soared to 725 with a $400,000 a year payroll, according to Mr. Bloomfield.
---
--- Advertisements ---



---
By 1902 the firm had turned out about 800 cranes, he said. Payroll zoomed to $50,000 a month in 1905 when the first unions were organized. The building still standing today on the site on the Saginaw River were built in that era, Mr. Bloomfield said.
The Albert Kahn designed office building that recently was used as a research center by the Environmental Protection Agency (EPA) was built in 1910. Kahn also designed several other buildings, including a machine shop in 1915 that is still standing on Water Street.
By the 50th anniversary of the firm in 1923 the firm's buildings comprised 440,000 square feet under roof, with five miles of railroad track snaking in an out of the huge structures. There were 1,800 employees, so many that a restaurant was constructed to feed them, Mr. Bloomfield said.
"Every railroad company had at least one I-B crane," he commented. The next phase involved diesel electric cranes, he said.
During World War II cranes made by I-B were used to lift planes onto aircraft carriers, winning Army and Navy "E" Awards, Mr. Bloomfield noted.
A series of new "owners, managers and thieves" began in 1953, capping a period of turmoil and confusion lasting until 1960, Mr. Bloomfield said. American Hoist and Derrick Co. of St. Paul, Minnesota, was the last owner and the firm became the Industrial Brownhoist Division of AmHoist.
Even as late as 1981 the company was still making history by constructing the 750 foot high "Super Skyhook," a former employee said.
That year the Historical Society of Michigan honored I-B for 125 years of industrial service.
Consumers Energy used I-B and AmHoist coal and aggregate moving machinery until the 1990s.
Because the firm made cranes used in constructing the Canadian Intercontinental Railroad, there are five I-B cranes on display at museums in Canada.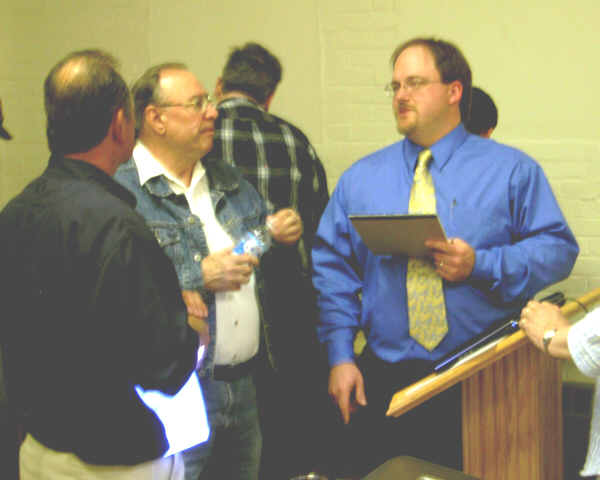 Former IB employees gather to chat about the "old days" at Industrial Brownhoist with presenter Ron Bloomfield, right.
---
---

Dave Rogers




Dave Rogers is a former editorial writer for the Bay City Times and a widely read,
respected journalist/writer in and around Bay City.
(Contact Dave Via Email at carraroe@aol.com)

More from Dave Rogers
---
Send This Story to a Friend!
Letter to the editor
Link to this Story
Printer-Friendly Story View
---
--- Advertisments ---