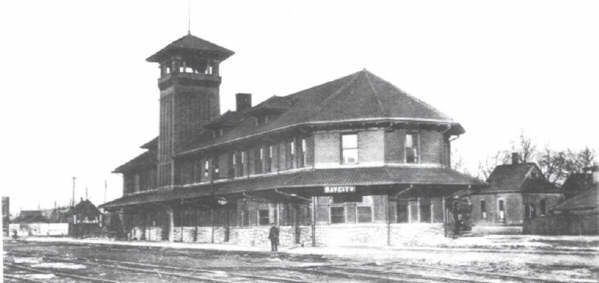 Pere Marquette-Union Passenger Station may once again look like this 1904 photo.
---
Downtown Renaissance to Escalate This Year with Several Projects Pending
Depot, Jennison Steel Warehouse, IB Buildings May be Reborn
April 26, 2003 Leave A Comment
By: Dave Rogers
Several projects currently being talked about in the Bay City development community include:
1)Renovation of the Pere Marquette-Union Passenger Station into a non-profit incubator;2) Conversion of the Jennison Boathouse (formerly Jennison Steel Warehouse) into condominiums; and3)Preservation of the old Industrial Brownhoist main factory by conversion into a "destination attraction."
If these projects come to fruition they will combine with new construction of the main library and the Doubletree Hotel-Conference Center along with renovations at Antrim Place, the Shearer Building and the Knepp Building to pump vitality, and a heavy dose of gentrification, into downtown Bay City.
All this development has a goal of revitalization of the city as it emerges from the industrial age and transitions to a new economic and social paradigm. Realtors report high interest from wealthy and arts-minded families from around the nation who are considering a move to Bay City. They seek the architectural treasures the city has to offer as well as the vibrant downtown and waterfront and the cultural activities usually found only in a large metropolitan area.
The depot has been optioned by the Great Lakes Center Foundation which may make a decision next week on whether or not to acquire the building. A partnership has long been discussed between the Bay Area Community Foundation and the Bay Area Convention and Visitors Bureau to operate the building as a non-profit incubator.
The Kantzler Foundation has been approached for a $200,000 grant and fundraising reportedly would have a goal of $4 million to pay the approximately $350,000 cost of acquisition and extensive renovations as well as provide "seed money" for agencies and theincubator operation. Construction work would aim at restoring the building to its original 1904 splendor, complete with replacement of the bell tower and pent roof which sheltered passengers from the weather.
The depot would be a natural as a terminal for the historic trolley tour business developed by the Bay County Historical Society in cooperation with the Bay Metro Transit Authority and the "step-on" guide trade which handles the growing number of out-of-town tour buses carrying tourists seeking to experience historic Bay City.
Plans discussed for the depot include location of a variety of non-profit and tourism related agencies in an incubator setting. That setup would provide offices with centralized services to incubate, or help small agencies operate and grow.
Prominent developers reportedly are interested in the Jennison Steel Warehouse and are exploring the idea of adding two floors, expanding on the highly successful concept of riverfront condominiums. This type of housing on the river is bringing sale prices in the $200 per square foot range, or up to $500,000 depending on the size of the unit. Off the river, the condos are reportedly priced at a more pedestrian $135-$150 a square foot.
If this project is ago as rumored, it would create one of the largest structures in Bay County, with a potential of 100 condo units each 2,000 square feet. The estimated value of those units would be about $40 million, according to prices currently being quoted for Saginaw River front condos. Such a building could bring in property tax revenue of $1 million or more to the City of Bay City each year.
Developer and entrepreneur Art Dore is among those eyeing the old Industrial Brownhoist main factory for renovation and possible location of a waterpark or other attraction. Rob Anderson, city development director, is among planners favoring preservation of the factory, but its fate remains uncertain as the city mulls proposals for a 40-acre Uptown at RiversEdge project.
Projects to enhance downtown are among those being considered for a major project by the Rotary Club of Bay City. The club is completing a five year $250,000 commitment to the Bay County Library System which funded a young adult librarian and now reportedly is leaning toward a "bricks and mortar" project which will gain lasting recognition for Rotary in the community.
The city will gain much-needed tax revenue from many of these developments, with the library and non-profit center "anchoring" the downtown and providing a focal point for arts and cultural growth.
All in all, it appears a new era is definitely dawning for downtown Bay City.
---
Downtown Article 190
---

Dave Rogers




Dave Rogers is a former editorial writer for the Bay City Times and a widely read,
respected journalist/writer in and around Bay City.
(Contact Dave Via Email at carraroe@aol.com)

More from Dave Rogers
---
Send This Story to a Friend!
Letter to the editor
Link to this Story
Printer-Friendly Story View
---
--- Advertisments ---