Coast Guard Cutter Hollyhock Removing Buoys, River Dredging Suspended
Shipping Season Winding Down As Ice Complicates Navigation
December 13, 2007 Leave a Comment
By: Dave Rogers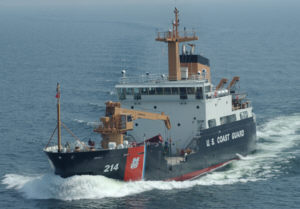 U.S. Coast Guard cutter Hollyhock is completing removal of lighted buoys and placing winter markers in the Saginaw River.
Dredging has been suspended on the Saginaw River because of ice formation.
And earth-moving equipment is being removed from the confined disposal island at the mouth of the river because of the onset of winter.
Luedtke Engineering reportedly has two tugs, the Kurt Luedtke and Gretchen Luedtke, taking trucks and bulldozers off the island near the Consumers Energy Karn-Weadock electrical generating plant complex.
Jennison Place boat watcher Jim McCue and Boatnerd.com report the U.S. Coast Guard cutter Hollyhock working buoys on the Saginaw River as ice formation begins to affect navigation.
Mr. McCue, a retired General Motors executive, conversed with the Hollyhock's captain on a hand-held ship-to-shore receiver as the vessel passed through downtown Bay City.
The captain gave Bay City two whistle salutes, said Mr. McCue. "Sometimes the captains will do that and it's great."
The $29 million cutter was built at Marinette Marine Corp. in Marinette, Wisc. Launched Jan. 25. 2003, she is stationed at Port Huron, replacing the World War II-vintage tender Bramble, that now is a museum ship there. Many of Hollyhock's crew previously served on the Bramble before joining their new vessel.
The USCGC Hollyhock is named after a previous Coast Guard cutter with the same name that served the United States from 1937 through 1982. The original Hollyhock was launched at DeFoe Boat and Motorworks in Bay City and was initially commissioned as part of the fleet operated by the U.S. Lighthouse Service.
When the lighthouse service became part of the Coast Guard in 1939, Hollyhock was transferred. It provided 43 additional years of distinguished service before it was decommissioned from the Coast Guard's fleet on March 31, 1982.
Hollyhock is the Coast Guard's 14th Juniper Class Seagoing Buoy Tender. She is 225 feet long, displaces 2,000 long tons, and is powered by two diesel engines driving a single controllable pitch propeller.
Hollyhock is also equipped with bow and stern thrusters, in addition to a 20-ton hydraulic, 60-foot telescoping beam Appleton crane. She carries a crew of eight officers and 42 enlisted personnel.
Hollyhock's primary missions are aids-to-navigation (maintenance, removal and replacement), search and rescue, environmental protection and ice-breaking.
The Hollyhock's Dynamic Positioning System, which allows a computer to take control of the engines, rudder, propeller and thrusters, can hold the ship within a 10-meter circle in winds up to 30 knots and eight-foot seas, which allows pinpoint positioning of buoys. The vessel is responsible for nearly 150 aids-to-navigation on the lower Great Lakes.
The Coast Guard historian gives the following information about the original 1937 Defoe-built Hollyhock:
"The Hollyhock was one of three tenders of the Hollyhock-class that entered service between 1937 and 1940, the other two being the Fir and the Walnut. The Hollyhock, along with another tender of a different class, the Tamarack, were authorized in 1934 and PWA funds were set aside for their construction.
The Hollyhock-class ships were designed as coastwise (Type "A") tenders by the Lighthouse Service for use in construction and repair work, tending aids to navigation, and supplying remote light stations. The Hollyhock was the lead ship of the class and she was built to replace the tender Sumac.
A press release issued to announce her launching noted: "The new lighthouse tender will be fitted with the latest navigating equipment, including a fathometer, a gyro compass, a radio direction finder, and radio telegraph and radio telephone communication." She was launched on 24 March 1937 during the city's worst blizzard of the season. "A host of Lighthouse Service officials attended the launching." The Hollyhock was sponsored by Miss Geraldine Park, the daughter of Mr. C. A. Park, the Deputy Commissioner of Lighthouses.
"After fitting out and final trials, she was formally commissioned on 7 August 1937. She was assigned to the 12th Lighthouse District and was based out of Milwaukee, Wisconsin, where she tended aids to navigation and conducted SAR operations as needed on Lake Michigan.
"During World War II up to her transfer to Sturgeon Bay, Wisconsin, in 1958 she continued operating out of Milwaukee on Lake Michigan. In 1954 she was re-engined with two diesels with reduction gears but the conversion proved to be problematic.
"On 15 October 1954 she assisted following a collision between the Dutch M/V Prins Willem V and the tug Sinclair No. 12 with barges at Milwaukee. She was transferred to Sturgeon Bay on 1 July 1958 where she served until 14 September 1959. Here she conducted some light-ice-breaking in addition to servicing aids to navigation. From 19 through 21 November she assisted the disabled M/V Carl D. Bradley in northern Lake Michigan.
"On 15 September 1959 she transferred to Detroit, Michigan where she continued to service aids to navigation and conduct light ice-breaking when needed. She transferred on 1 August 1962 to Miami, Florida, where she remained for the rest of her Coast Guard career. Here her duties consisted of "primary responsibility for the maintenance of floating and fixed aids to navigation from Dry Tortugas to Bethel Shoal along the South Florida coast.
"Hollyhock also serviced aids at Navy facilities outside CONUS at Andros Island, Bahamas, and Guantanamo Bay, Cuba. Occasionally Hollyhock would get 'tapped' to make logistics run to resupply the Greater Antilles Section in San Juan, Puerto Rico" as well as SAR and law enforcement operations as needed.
"In March, 1964, she refueled a USAF UF-1G amphibian 140 miles east of Great Abaco Island in the Bahamas. The UF-1G, part of the 48th Air Rescue Squadron at Eglin Air Force Base, had made an open-sea landing to recover a film capsule that had been ejected from a "Cape Kennedy launched space vehicle." She participated in the Coast Guard operations off Florida during the 1980 Cuban Refugee Boatlift, otherwise known as the Mariel Boatlift.
"Budgetary and maintenance issues forced the Coast Guard to retire Hollyhock. She was decommissioned on 31 March 1982 and was then sold. After she was sold she was renamed the Good News Mission Ship. She was sunk as an artificial reef off Pompano Beach, Florida, in 1990.
"She was awarded the National Defense ribbon with bronze star for her service during World War II and the Korean Conflict, the Coast Guard Unit Commendation ribbon with the operational device for her part in a helicopter recovery effort in the 1970s and the Humanitarian Service ribbon for her part in the 1980 Mariel Boatlift"###
---
---

Dave Rogers




Dave Rogers is a former editorial writer for the Bay City Times and a widely read,
respected journalist/writer in and around Bay City.
(Contact Dave Via Email at carraroe@aol.com)

More from Dave Rogers
---
Send This Story to a Friend!
Letter to the editor
Link to this Story
Printer-Friendly Story View
---
--- Advertisments ---