Southend Manor House Fire Impacts Many Who Lost Everything
Historic Structure Demolished As A Result Of Mysterious Early Morning Blaze
April 4, 2008 Leave a Comment
By: MyBayCity Staff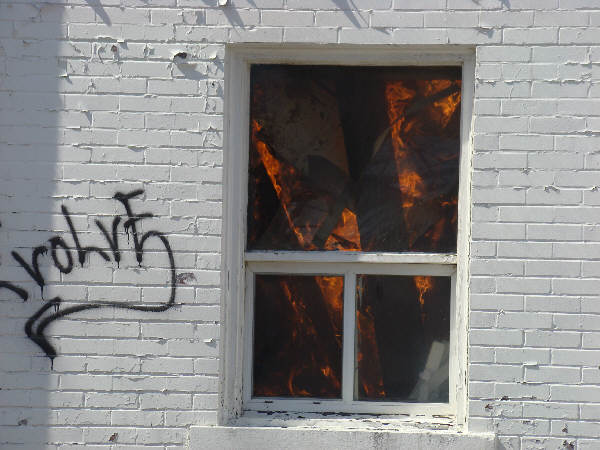 12 hours after the fire began, flames were still present in the lower level of the Manor House Apartments due to pockets that could not get oxygen to them because of the roof collapse
(MyBayCity Photo)
About 40 Bay City residents are homeless today when the fire department was forced to have a burning three story apartment house demolished to quell the blaze.
Demolition of the historic 100-year-old Manor House, 1412-1414 Kosciuszko Ave., once a cigar factory, was the only option to put out the inferno, according to fire officials.
The blaze began on the second floor and quickly spread to the third floor. All residents escaped safely with the assistance of firefighters before the roof collapsed.
Fire investigator Bob Beck said the fact that the building had smoke and fire warning devices was instrumental in saving lives since the blaze occurred in the early morning hours when residents were asleep.
Former tenants of the 25-unit apartment building stood by Thursday watching their home be torn down "bite by bite". Dore & Associates Contracting, Inc. which specializes in demolition and other environmental services, was called to duty to bring in their equipment and tear down the apartment building.
"We were called in because tearing her down was the only way to get oxygen to the pockets of fire caused by the collapse", said Art Dore, CEO of Dore & Associates, Inc.
The structure was owned by Joseph and Jack Pergande, neither of whom could be reached for comment Thursday. City tax records show the building is assessed at $203,850
The building had seven apartments on the ground floor and nine each on the second and third floors.
The property, lots 1 and 2 of Ludwig Daniels Addition to Bay City, was originally owned by Jacob Andrejewski. The Manor House, built in 1907, apparently was built by an investment group, the Polska Spolka, headed by Stan Musial and Charles Swantek.
It was home to the Hemmeter Cigar Company beginning in 1922, according to Barbara Dinauer of First American Title Company.
In 1943 Hemmeter Cigar leased the building to the federal government, also giving $3,500 for renovations, and it was used for housing for families of workers in wartime industries.
Detroit Trust acquired the building in 1945 and government lease ended in 1950.
In the 1950s the building was known as the Dex-Wood Apartments and in the 1960s it was the Jeryl Apartments. It was owned by Brennan Real Estate beginning in 1974 and sold to Four Square Investments.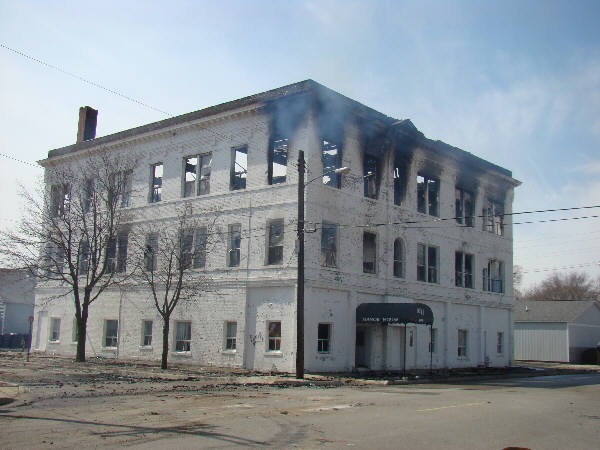 Demolition began in the early morning hours after firefighters were unable to get to trapped pockets of raging fire that had no oxygen due to collapses that took place in the course of the inferno
(MyBayCity Photo)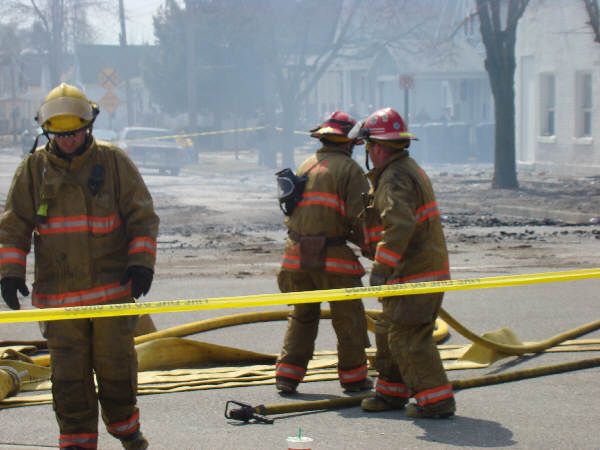 Firefighters worked throughout the early morning hours and into the late afternoon Thursday attempting to put out the blaze
(MyBayCity Photo)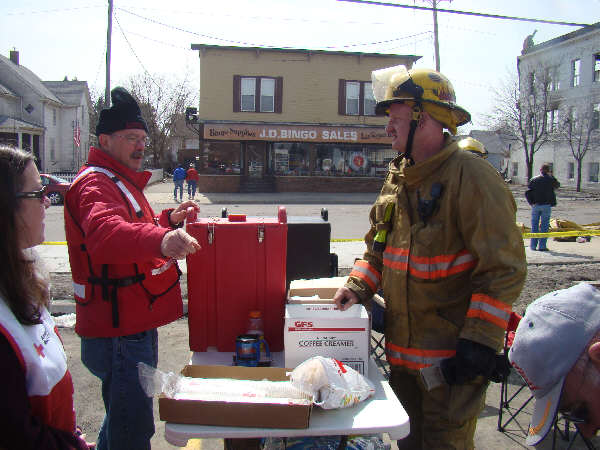 John Webb of the American Red Cross East Shoreline Chapter feeds tired and hungry firefighters
(MyBayCity Photo)
The American Red Cross East Shoreline Chapter was on hand to offer hot meals and a cold drink to first responders. They are also available to victims and their families offering shelter, money and social services to those in need. All victims have been safely placed in a local hotel and are in need of virtually everything from clothing to electronics to furnishings. No one made it out of the blaze with any belongings due to the late hour it occurred as well as the quick spread of the fire. Most had no renters insurance.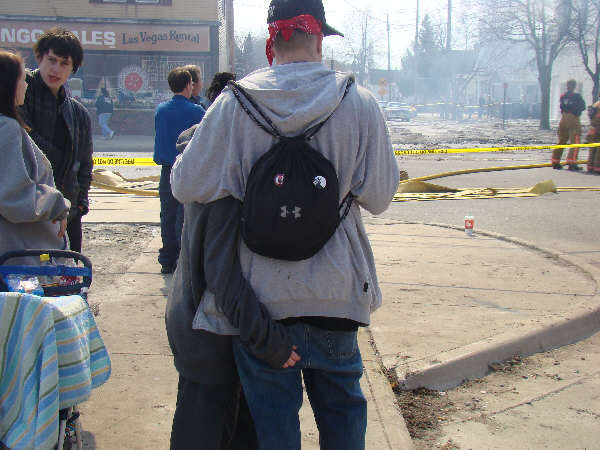 Those who lost everything in the blaze look on as their homes were demolished
(MyBayCity Photo)
"They lost everything, everything. I live just down the street, I saw and heard sirens and began to walk down towards them. As I got closer, my heart sunk, I realized that was my brother's building on fire and began to run to see if he was out" said James Davidson. His brother Christopher and his fiancée Jaimee Burns did indeed make it out safe but have absolutely nothing left, nor a place to call "home".
Mary Davis knows what losing everything in a fire feels like. She lost not only her home, but four grand-babies in a blaze on Fraser St. in Bay City back in 1992. "I am so happy no one lost their life. I know what these victims are going through and then some", said Ms. Davis. Mary would like to offer her assistance to the victims of this unfortunate event. She can be reached at (989) 321-2343 for support, empathy and understanding.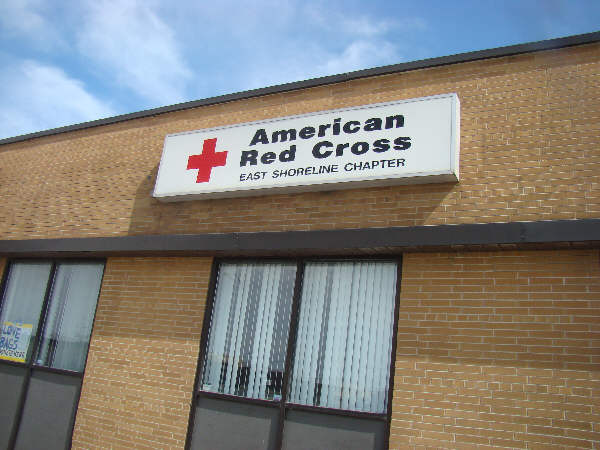 The American Red Cross East Shoreline Chapter is located at 228 Washington Ave. in Bay City. They can be reached for assistance and donations for the victims at (989) 892-1541
(MyBayCity Photo)
"We are here to help and already have all victims placed safely, for now. They need just about anything you can imagine, it was a total loss for all victims", said Ryan Manz, Director of Disaster & Military Services for The American Red Cross East Shoreline Chapter.
No cause of the fire was determined. Because the structure was demolished and all possible evidence is now a pile of rubble, no cause will probably ever be known.
Those wishing to donate material items are being directed to the Do-All Inc. located at 1400 S. Lincoln Rd. They can be reached at (989) 894-2851. Those wishing to make monetary donations or have rental property available to victims are directed to contact The American Red Cross East Shoreline Chapter located at 228 Washington Ave. They can be reached at (989) 892-1541.
MyBayCity.com salutes all who were heroes in this disastrous event and send our sympathy to the victims.
---
---
---
Send This Story to a Friend!
Letter to the editor
Link to this Story
Printer-Friendly Story View
---
--- Advertisments ---