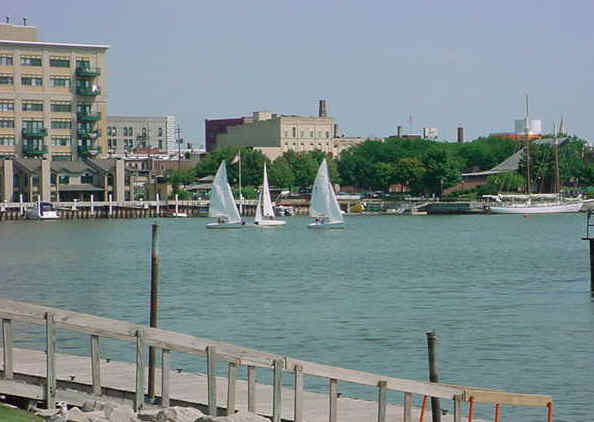 Sailboats tack across the Saginaw River near Wenonah Park, location of Basin #4 which discharged 0.7 million gallons of partially treated sewage on July 10.
---
Water Quality Awaits Governmental Action Under State Bond Issue
Sewage Discharge in Bay City Peaks at 35 Million Gallons on July 10
August 10, 2003 Leave A Comment
By: Dave Rogers
Thursday, July 10, 2003 was a very bad day for the water quality of the Saginaw River and Saginaw Bay.
On that day the discharge of partially treated sewage into the Saginaw River from six sites totaled 35 million gallons, the Bay City Waste Water Treatment Plant reported.
Sewage poured into the river from the following locations: 1) Basin #4, Center Avenue at Water Street, Wenonah Park, 0.7 million gallons; 2) Basin #3, Harrison at 33rd Street, 2.2 million gallons; 3)Basin #2, Water Street near 21st Street, 1.1 million gallons; 4) Basin #1, South Union Street, 2.1 million gallons; 5) Basin #5, Water Street at Saginaw River, 22.38 million gallons; and, 6) Burns Street Retention Basin, Essexville Waste Water Treatment Plant, 6.519 million gallons.
Heavy rains, totaling 2.1 inches, from 8 a.m. to 5:30 p.m., caused the overflow, according to reports from the Michigan Department of Environmental Quality. The discharge was reported to state and local authorities and the media "per statutory requirements," the news release states.
The official report on the DEQ website also notes: "The reported discharge was of 'partially treated sewage' from a CSO (Combined Sewer Overflow) treatment facility, and the level of treatment provided is in full compliance with final performance criteria in a permit, order or other enforceable document issued or entered between the Michigan Department of Environmental Quality and the discharger, by court action."
So far the water quality of the river and bay apparently has not been affected, but the Kawkawlin River at Oakley Street in Kawkawlin is listed by the DEQ as "closed" to swimming. Other beach areas monitored by DEQ, and listed as "open" to swimming are: 1)Lake Huron - Saginaw Bay, Bay City State Recreation Area,Saginaw Bay; 2)Lake Huron - Saginaw Bay, Brissette Beach Township Park, Linwood; 3) Lake Huron - Saginaw Bay, Pinconning Park, Pinconning; 4) Lake Huron - Saginaw Bay, South Linwood Beach Township Park, Linwood; 5) Lake Huron - Saginaw Bay, Wenona Beach; 6) Saginaw River, Vet's Park North Bay City; 7) Saginaw River, Vet's Park South, River Road.
The DEQ and local wastewater authorities state continually that the discharge of "partially treated sewage" poses no threat to health and is within legal guidelines.
CSOs are overflows from older sewer systems designed to carry both domestic and storm water loads. Combined sewers carry storm water, domestic sewage and industrial waste to a wastewater treatment plant in a single pipe. More than 50 Michigan communities, including Bay City, Saginaw and Flint, still have such systems. Most CSOs are more than half a century old and were designed to overflow into a nearby stream when the pipe's capacity is exceeded.
State and federal laws require communities to install equipment to address the pollution that results from such overflows by constructing separate pipes or building large retention basins. Both approaches are very expensive, but there is a state-federal revolving loan fund and the new $1 billion state bond issue to assist with financing.
In 1993, Congress amended the Clean Water Act to require regulation of separate storm and sanitary sewer systems, now being phased in by the EPA. However, the full effect of the law has not been felt because of the magnitude of the problem. For example, Phase II regulations involving cities such as Bay City and Saginaw took effect in 2001 but have not been enforced. Because of the high costs and despite federal and state financial assistance, many communities are expected to request extensions of the deadline for having corrections in place.
SSOs (Sanitary Sewer Overflows) are discharges of raw or inadequately treated sewage from municipal sanitary sewer systems which are not designed to carry storm water. These overflows may also contain industrial wastewater that is present in the sewer system.
Environmentalists complain that local and state governments have taken little action to improve facilities to eliminate combined storm sewer overflows under a $1 billion Strategic Water Quality Bond Issue approved by voters last November. Environmentalists also assert that there is little data about the health dangers from CSOs.
Rep. Candice Miller, R-Harrison Township, in the Detroit area, has introduced legislation in Congress calling for the U.S. Environmental Protection Agency to head a water monitoring program and coordinate efforts of more than 200 federal and state agencies on theGreat Lakes. She says lack of a comprehensive water monitoring system to track sources of contamination has hindered the government's ability to police polluters. The Senate is considering similar legislation.
Rep. Miller, former Michigan Secretary of State, noted in a recent news release that a Government Accounting Agency (GAO) report last April criticized water monitoring activities on the Great Lakes as "uncoordinated."
Environmentalists comment that the EPA, if empowered by Congress to coordinate monitoring, may find that local governments that operate storm and sanitary sewage treatment facilities are the biggest offenders regarding water quality. They can hardly wait for such a system to be placed in operation.
---
Government Article 255
---

Dave Rogers




Dave Rogers is a former editorial writer for the Bay City Times and a widely read,
respected journalist/writer in and around Bay City.
(Contact Dave Via Email at carraroe@aol.com)

More from Dave Rogers
---
Send This Story to a Friend!
Letter to the editor
Link to this Story
Printer-Friendly Story View
---
--- Advertisments ---