Smithsonian Magazine To Visit River of Time September 27-28
Journalistic Attention to Bay City Goes Back to Tocqueville in the 1830s
September 5, 2003 Leave a Comment
By: Dave Rogers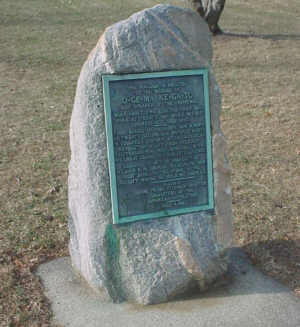 Grave of Ogemagegato, famed Ojibway orator, lies forgotten in Roosevelt Park.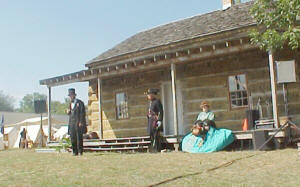 Abraham Lincoln character orates at River of Time outside Meyer log cabin in Veterans Park.
When journalists from Smithsonian Magazine arrive here later this month to cover the River of Time, they might be well advised to look around Bay City for other historical highlights.
The prestigious magazine is coming here because the River of Time, scheduled Sept. 27-28 in Veterans Memorial Park, is one of the few events in the nation that feature a panorama of history, from the French voyageurs, the Revolutionary War period Civil War, pioneers and representations by veterans of other conflicts that involved the nation.
Officials of the River of Time event and the Bay County Historical Society are pleased and flattered by this recognition from a national publication. Political and business leaders seem "underwhelmed" with little notice being taken of the importance of this visit.
However, the successful tourism marketing of this community demands that the leadership know why Bay City is important from an historical viewpoint. If you don't know what your history is, how can you sell it?
For example, how many people in this community are aware that the grave of one of the greatest orators among Native Americans, Chief Ogemagegato of the Ojibway Tribe, is located in Roosevelt Park in the South End of Bay City. How many even know there is a Roosevelt Park?
What is the awareness level of the fact that among the original developers of Bay City, as members of the Saginaw Bay Company, were the first governor of Michigan, Stevens T. Mason, and famed explorer and scholar of the native population Henry Rowe Schoolcraft?
The most historic spot in Bay City may be at the intersection of Water and Fourth streets where James Gillespie Birney built a house in the 1840s. Two of Birney's sons who lived in that house and trod these streets so long ago became Major Generals in the Civil War, David Bell Birney and William Birney. Later the house was purchased by Benjamin Partridge, a colonel in the 16th Michigan which made the stand on Little Round Top in the Battle of Gettysburg with Col. Chamberlain of the 20th Maine. That house is long gone, of course.
But there is an existing historic house here, apparently built in the early 1850s by James G. Birney with financing from his brother-in-law, the radical abolitionist Gerrit Smith. That house, the location of which shall remain unpublicized for the present, needs a major research effort and, if it proves authentic, must be preserved and made available to the public.
That project would have to take a back seat to completion of the Trombley House, an unfinished job started by community leaders that needs more support than it is presently getting, and the completion of restoration of the Kawkawlin Indian Mission on Euclid Avenue, being undertaken by Delta College under direction of Pat Trahan.
Incidentally, the trek of journalists and writers of national repute to Bay City for grist for the literary mill began in 1830 when Alexis de Tocqueville and Gustave de Beaumont arrived from France on their historic tour of America. The pair wrote several books about their experiences, with the Bay City area among the topics. A century and a half later came author and TV journalist Richard Reeves who followed the trail of Tocqueville and companion and wrote a book entitled "American Journey."
Henry Wadsworth Longfellow wrote his famed epic poem "Evangeline" reportedly after interviewing an Ojibway chief from this area. The poem has obvious references to the Saginaw River. In the 1880s a trainload ofCanadian journalists came to West Bay City and returned with glowing reports of the booming economy of the area. The New York Herald Tribune devoted a full page to Bay City and its vibrant lumbering trade about the same time.
In 1895, writer John Fitzmaurice gathered information here and wrote "The Shanty Boy," an early account of the life of lumberjacks. Stewart Edward White featured tales of wild life on Hell's Half Mile in Bay City in his novels, published about 1900, "The Riverman" and "The Blazed Trail." James Stevens of Seattle came in 1930 and spent nearly a year looking for the roots of the Paul Bunyan legend, his book, "The Saginaw Paul Bunyan" a definitive work on the subject.
Ten years later came author Stewart Holbrook, who interviewed local residents with recollections of lumbering days and served up a volume of ridiculous tales called "Holy Old Mackinaw." Incredibly, the hyperbolic publication sold a half a million copies.
Magazine articles focusing on Bay City included those in American Mercury, American Lumberman, Master Detective and many others. The ready-cut home and crane industries have been subjects of recent academic works published by university presses.
Compiling all these references so important to Bay City might be a good job for the library system and the historical society, perhaps with funding from a local foundation. Such a study might provide a stronger foundation for the promotion of tourism as well as preservation of our heritage. Soonwe will be able to add an article from Smithsonian Magazine to the collection.
---
---

Dave Rogers




Dave Rogers is a former editorial writer for the Bay City Times and a widely read,
respected journalist/writer in and around Bay City.
(Contact Dave Via Email at carraroe@aol.com)

More from Dave Rogers
---
Send This Story to a Friend!
Letter to the editor
Link to this Story
Printer-Friendly Story View
---
--- Advertisments ---