Todd Jones -- Please Bring In Somebody Else
Any Jones Will Do
What do you think when Leyland summons Jones from the bullpen?
July 22, 2008 6 Comments
By: O. J. Cunningham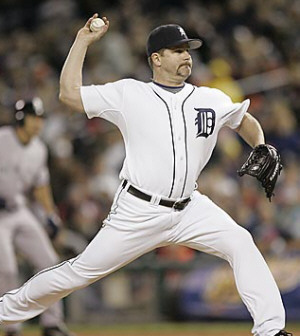 Todd Jones -- The Tiger "Closer"
Got into a Gatzby discussion concerning baseball the other night. I mention Gatzby's cuz I want you to know (in advance) that there was beer involved.
Talking baseball in a bar is like talking about wings at Hooters. Everybody has an opinion.
Come to find out . . . Some people are still excited about the lofty 47-47 record that our Detroit Tigers have at the All-Star break. And . . . (why would I lie about this) . . . they still think the Tabbys have a shot at the season-end playoffs.
Now don't get me wrong, I'm a long-time Tiger fan.
Back in 1977, when I was newspapering as
Bay County Sports Page,
I even flew down to Lakeland to interview Trammel and Whittaker at Tiger spring training.
Just want to give you a little background and establish a little credibility when it come to Tiger history.
Anyway, I make the comment, in Gatzby's, that the
"Tigers will have to score 13 runs a game as long as (Todd) Jones is their closer."
Well . . . you'd think I used the "F" word at mom's dinner table.
The general consensus at Gatzby's was: "Todd's our guy, has been for 4 years."
"Todd's the man."
"Todd had 15 saves out of his first 15 save opportunities."
"Todd's got over 300 saves in his career. He's a first-ballot Hall-of-Famer."
Everybody's like takin' shots at me like I was a 12-point buck on November 15th. And one un-named guy (I'll call him Greg, cuz that was his name) says I should "put my money where my mouth is."
I felt like Jim Arness at the Longbranch Saloon. So I looked over at Miss Kitty . . . then back at . . . errrrr Greg . . . and said . . . how much . . . and what's the bet?
"You make it," he says. I think . . . errr . . . stutter . . . drink . . . scratch . . .
And then it hits me . . . in the same way that Todd Jones hits the batter's bat. And I make THIS wager . . .
I bet that in the next 10 save opportunities that Todd Jones has . . . I bet he allows the tying run to be on base.
The guy . . .(Greg) says . . . (Why would I lie?) -- "O.K., for a a hundred bucks. (That would be $100).
My only defense is that I musta been "hammered." Cuz I didn't take the bet.
And as I watched the ninth inning the other night -- Todd Jones in relief of Verlander -- As Jones walked the bases full before being bailed out by Inge at third base with a circus defensive play . . ."
Hundred bucks or not, Greg . . . We really gotta get someone other than Todd Jones to close out Tiger ninth innings if we expect the Tigers to win 85 games and get into the playoffs.
I shoulda taken the bet . . . It's Easy money with Jones coming in from the bullpen.
So Get Your Jones Up & Take The Quiz . . .
Click Here
!
Would You Summon Todd Jones in from the Tiger bullpen in a 1-run game? Or would you rather have ANY OTHER JONES?
---
Columns Article 2875
"The BUZZ" - Read Feedback From Readers!
tilley2046 Says: On July 23, 2008 at 03:04 PM

They should have put him in Monday night he probably would have made it a lot closer game 19-4
cheriemich Says: On July 24, 2008 at 08:43 PM

You should have taken the bet!! I wanted to vote for my 5 favorite,but realized it was the wrong contest! Send in Bridgette Jones with a red Jones Soda!!
GreenDog says: On July 25, 2008 at 09:20 PM

Any Jones is Better Than Todd. I voted for Indy
jchowell Says: On July 26, 2008 at 06:11 AM

Wow! Poor ol' Todd snatched defeat from the jaws of victory one more time last night. The lad is chucking them thar batting practice pitches in thar. Time for a new closer, Folks.
Sorry, Todd, but we all have to retire eventually.
PBegick Says: On August 03, 2008 at 05:39 PM

After the performance by the "new" closer today Jones is not all that bad. At least Jones wouldn't have walked three including the winning run plus hit a batter. The new reliefer in the trade gives up two home runs. Less face it the Tigers are going nowhere fast with the bullpen they have.
---

O. J. Cunningham




O. J. Cunningham is the Publisher of MyBayCity.com. Cunningham previously published Sports Page & Bay City Enterprise. He is the President/CEO of OJ Advertising, Inc.

More from O. J. Cunningham
---
Send This Story to a Friend!
Letter to the editor
Link to this Story
Printer-Friendly Story View
---
--- Advertisments ---