Remember When Bush-Cheney Took Office? Gasoline Was $1.50 Per Gallon!
Sen. Levin, Rep. Stupak and Kildee, Focusing on Controlling Speculation
July 20, 2008 2 Comments
By: Dave Rogers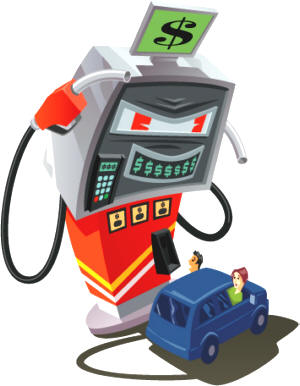 Gasoline was a buck and a half at the pump in 2001
I really didn't remember it was that low, but a letter from Sen. Carl Levin, D-Michigan, reminded me that gasoline was a buck and a half at the pump in 2001.
Remember Cheney's top secret "energy task force?" We all have to wonder how and why his "task force" took us to $4 plus per gallon, gutting the nation's economy.
Over the past seven years, Sen. Levin has headed several inquiries into the high costs of energy as chair of the Senate Permanent Subcommittee on Investigations.
His conclusions, matched by those ferreted out by Rep. Bart Stupak, D-Michigan (who represents that part of Bay County not covered by Rep. Dale Kildee) is that excessive speculation adds about 30 percent to the price of gas.
"My investigations revealed that a lack of regulation in energy markets allowed speculators to run rampant, artificially inflating costs to consumers," said Sen. Levin. Oil company strategies were uncovered that were limiting supplies and slowing refining to justify higher prices. "We also found mergers between key oil refiners contributed to gasoline price spikes," said Levin.
One witness called oil speculation "the big casino in the sky." Other estimates are that excessive speculation adds as much as 50 percent to the cost of oil, and, of course, to gasoline at the pump.
Unfortunately, unless Congress gets a handle on the problem, gas prices are unlikely to come down to earth anytime soon.
The mantra of the so-called conservatives, including President Bush and Vice President Cheney, is "drill, drill, drill."
However, top oilman T. Boone Pickens, who has become a billionaire in the energy field, is advertising like crazy for more alternative sources, especially wind energy, proclaiming "We can't drill our way out of this."
And, it was clear from several of the witnesses testifying at a recent hearing that drilling is not a panacea for high gasoline prices.
That campaign by Pickens must drive the Bushies crazy. They seem to be aiming to get all the barriers to ANWR and offshore drilling dropped before they leave office so they can spend the rest of their lives drilling until there's no tomorrow.
Of course, Levin and company have their own political views, weighted toward their environmental constituencies, but their findings documenting corruption in oil markets appear valid and their remedies seem to make common sense.
The major finding of Stupak's hearings of the House Energy and Commerce Subcommittee recently was that constraints on speculation were removed when Bush took office and since then the amount of the oil market involved in speculation went from 21 percent to 66 percent.
According to Michael Masters, one of the experts who testified, "the acute problem is in financial speculation in the commodity futures markets."
He predicted that if pre-Bush regulations were restored, the price of a barrel of oil would drop from $140 to $65-70 within 30 days.
Fadel Gheit, of Oppenheimer & Co., said $140 oil is not justified," noting that the cost of extraction averages $20 per barrel and refining averages $15 per barrel.
The extreme danger of this situation was noted by Rep. Mike Rogers, R-Michigan, pointing out that many public pension plans are heavily invested in oil markets. Masters, however, said public portfolios are normally invested less than 1 percent in the $29 trillion oil market.
Rep. John Dingell, D-Michigan, pointed to the 5 percent margin requirement on oil while stocks are subject to a 50 percent margin limit.
When Congress returns from the summer recess, expect to see fast action on a package of bills designed to bring oil prices down to reasonable levels.
Of course getting Congress to gear up may take a while. And then there is always a threat of a Bush veto . . .at least until Jan. 20, 2009.###
---
Government Article 2887
"The BUZZ" - Read Feedback From Readers!
sturoylc Says: On July 22, 2008 at 02:08 PM

What a one-sided article. Remember that when the Democrat majority was elected to Congress, less than 2 years ago, that the price of gasoline was just over $2.00 per gallon. There's enough to blame "stupid" on everyone, not just your political whipping-boys -- don't you agree?
Dave Rogers says: On July 22, 2008 at 06:37 PM

Stu: You're absolutely right. I believe I spread the blame around to all politicians, but there has to be some accountability for who is on top.

Don't you think? There certainly has been no initiative from the administration to even look into prices hikes, let alone do something about them, but some in Congress have been holding hearings for years to get to the bottom of the issue.

I don't agree with you that it is a one-sided article but I do agree with you that the Dems should get just as much of the blame. Thanks for your interest. --Dave Rogers
---

Dave Rogers




Dave Rogers is a former editorial writer for the Bay City Times and a widely read,
respected journalist/writer in and around Bay City.
(Contact Dave Via Email at carraroe@aol.com)

More from Dave Rogers
---
Send This Story to a Friend!
Letter to the editor
Link to this Story
Printer-Friendly Story View
---
--- Advertisments ---