State Capitol at 125 Years; Bay Cityan's Part in Current Building Recalled
James Shearer Helped Direct Building of Capitol, 3 Huge Bay City Structures
January 18, 2004 Leave a Comment
By: Dave Rogers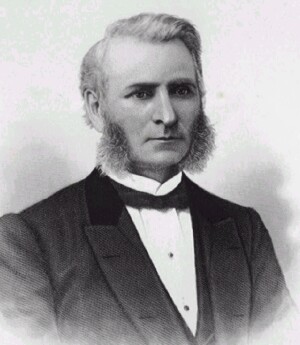 James Shearer and sons G. Henry, Chauncey and James B, built these two buildings (shown below) at Center and Washington and Center and Adams in the 1880s.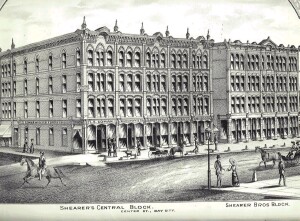 Bay City has seen many people of accomplishment in its history, but one, especially, James Shearer, helped build a monument which is most visible -- the state capitol.
      January 1st marked the 125th anniversary of our state capitol. Lansing was selected as Michigan's capitol in 1847; however, the current building was not completed until 1879.
      Throughout the year there will be events and ceremonies to celebrate the grand building's anniversary. More than 100,000 commemorative coins celebrating the capitol will be distributed to visitors throughout the year.
      The impeccable source on Bay City history, my late friend Les Arndt, wrote of James Shearer in 1976: "Gov. Baldwin on April 11, 1871, named James Shearer, Bay City builder, along with Ebenezer O. Grosvenor, Jonesville, and Alexander Chapoton, Detroit, to the three member state building commission."      
The trio of experts superintended construction of an appropriate building to replace a frame structure that had been used on the Lansing site since 1848.
      The Michigan State Capitol has served as Michigan's seat of state government since its completion in 1879. It was the first of three state capitols designed by Elijah E. Myers in the 1870s and 1880s, established Myers' reputation as the premiere capitol-builder of the post-Civil War period, and secured his career as one of the country's most successful architects of public buildings. No architect was responsible for more state capitols than Myers, and no single architect had more influence on their design in the latter years of the nineteenth century. Myers was among the first to use the national capitol in Washington, D.C., as a model, and his design for Michigan wouldhelp establish the standard for state capitols for decades to come.
      The Michigan Capitol reflected and inspired the national trend after the Civil War for monumental fireproof buildings to house state governments growing in size and complexity, as well as to serve as suitable repositories for war memorabilia. The interior of the Capitol saw extensive decorative, or architectural painting. The building ranks today as one of the best surviving displays in the United States of the Victorian painted decorative arts. An extensive historical restoration, begun in 1987 and completed in 1992, returned both the interior and exterior to their original appearances, while adapting the building for the future. More Bay City connections: the firm of well-known local architect John Meyer, Wigen, Tincknell, Meyer and Associates, was involved in the recent restoration of the interior of the capitol while Ilene Tyler, a native Bay Cityan and daughter of Sam and Florence Rogers, is a partner at Quinn Evans Architects, involved in restoration of the exterior of the capitol and the governor's office, according to her brother, Andrew Rogers.
      Bay City has its own monuments to James Shearer and his brothers, two Shearer Buildings. One is occupiedby the Mill End Store, a multifarious merchandise house that draws scores buyers of boots, work clothes and interesting items of polyglot style, and is part of a chain of stores across mid-Michigan and the North. Its owner is Robert Folkert, of Clare.
      That building, erected in 1865-66, "was the first building of any pretensions in the city," declared an early Bay County history, also commenting: "It was considered at the time a great mistake to extend a building to a height of three stories, but he foresaw that the venture was safe, and furthermore, that such a thing was necessary to introduce a spirit of legitimate rivalry, in order to secure such a class of public buildings as the growing importance of the place demanded."
      The second surviving Shearer Building, called just that, is situated at the corner of Center Avenue and Adams Street. An office building since its construction in the 1880s, it is being reborn as a 12-unit condominium building under the deft touch of developer Dr. James Reid.
      Shearer and his brothers George and James had moved from Detroit to Bay City, where they took over the old Raymond lumber mill. James had been a city alderman and prominent builder in Detroit and had been a sponsor ofa military company raised for the Civil War. His experience with state capitols had come in Montgomery, Alabama, where he was superintendent of construction for the first capitol there 1846-48.
      At Center and Washington in 1880 Shearer erected the Central Block, surpassing the earlier building in that it had four stories. That building was torn down in the late 1930s to make way for S.S. Kresge building, now housing Independent Bank and other businesses.
      Next door, at Center and Adams, a similar building called the Shearer Brothers Block was built soon afterward. That structure today is known as the Shearer Building and is being converted for condominiums.
      A native of Albany, New York, James Shearer came to BayCity in 1865 and lived in the original Birney and Fraser residences. The house he built in 1876 at Center and Monroe is of French Second Empire style and is a feature of the architectural tour of the Bay County Historical Society. He was president of theBoard of Water Works and the First National Bank and served eight years as a regent of the University of Michigan. He was appointed by Gov. Russell Alger as a commissioner for the semi-centennial observance of Michigan statehood in 1886.
---
---

Dave Rogers




Dave Rogers is a former editorial writer for the Bay City Times and a widely read,
respected journalist/writer in and around Bay City.
(Contact Dave Via Email at carraroe@aol.com)

More from Dave Rogers
---
Send This Story to a Friend!
Letter to the editor
Link to this Story
Printer-Friendly Story View
---
--- Advertisments ---