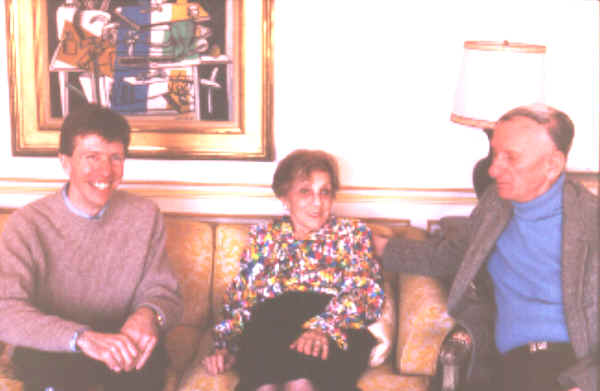 Ed Jablonski, right, with Gershwin's sister Frankie and Jack Gibbons, in 1994.
---
Famed Bay City Author Ed Jablonski Gives Impressions of Gershwin Pianist
Video Footage of Leading Local Literary Figure Now Available Online
January 1, 2011 Leave a Comment
By: Dave Rogers
The Bay City boy who took a huge bite out of the "Big Apple" is still being recalled for his writing career and friendship with musical celebrities.
It has been nearly seven years that one of Bay City's nationally famous figures, prolific author Edward Jablonski, died.
Now Jablonski appears in an online video, allowing folks who never knew him to gain a little more personal knowledge of this amazing writer.
British born pianist Jack Gibbons has posted video footage of Mr. Jablonski at www.jackgibbons.com/jablonski.htm
Mr. Gibbons is artist-in-residence at Davis & Elkins College, Elkins, West Virginia, and has had a long and much admired career at the piano since he was 10 years old.
Mr. Jablonski, who wrote notable biographies of George Gershwin, Harold Arlen, Alan Jay Lerner and Irving Berlin, plus was friends with them and the crowd of musical and artistic leaders of the nation.
He lived with his wife and family on the Upper West Side of New York City. He died at age 81 Feb. 10, 2004 of heart failure at New York Hospital in Manhattan.
Mr. Jablonski, who started his writing career on a Polish newspaper in Bay City in the 1930s, was considered the leading authority on pianist/composer George Gershwin.
He introduced Bay City pianist Kevin Cole to Mr. Gershwin and to other important music figures in New York, helping to launch Mr. Cole's musical career.
Jablonski sprang from a family tradition of Polish language newspaper publishing in Bay City and became a world-renowned author. He was born here in 1922 and doubtless absorbed the spirit of journalism from his family.
Many Jablonski family members, including his father, William (Boleslaw) Jablonski, worked for the Sztandar Polski (Polish Standard) Publishing Co. at 1018 S. Madison Ave. Publisher was Ignatius W. Kopec and Stanley Jablonski was manager in 1929. Another relative, Paul F. Jablonski, was telegraph editor of The Bay City Times until his death in 1960.
Besides writing, two other boyhood preoccupations shaped his life. As a boy, Jablonski became fascinated with music and corresponded with famed composer George Gershwin, little knowing that he later would become his biographer.
He also "hung around the airport and watched the planes," presumably at James Clements Airport near the South End of Bay City where he grew up.
Ed Jablonski was graduated from Central High School in 1941 and spent several years in the U.S. Army during World War II. He earned a Silver Star with the artillery in New Guinea.
He returned to Bay City after the war and moved to New York in 1948 after graduating from Bay City Junior College as a "pre-journalism" major and "made it" for 50 years as a freelance writer in the "Big Apple."
While doing promotional work for the New York chapter of the March of Dimes, Jablonski began writing record reviews for magazines and liner notes for record albums.
---
--- Advertisements ---

---
Jablonski was a founder of Walden Records in 1949 and was graduated from the New School for Social Research in 1950. He also studied anthropology at the Columbia University Graduate School.
Jablonski began his freelance writing career with an article on Bela Bartok, exiled Hungarian composer, for a literary magazine, "Twelfth Street." He also wrote for Saturday Review, Stereo Review and American Record Guide.
He co-authored "The Gershwin Years" with Lawrence D. Stewart in 1958, chronicling the Gershwin brothers' contributions to the "Jazz Age" of American music.
Jablonski wrote "Harold Arlen: Happy With the Blues," published by Doubleday in 1961, and contributed to Isaac Goldberg's "Tin Pan Alley: A Chronicle of American Popular Music."
"Flying Fortress: The Illustrated Biographies of the B-17s and the Men Who Flew Them" was next (Doubleday, 1965), followed by "Ladybirds: Women in Aviation" (Hawthorn, 1968).
"Warrior With Wings" (Bobbs-Merrill, 1968) and "Seawings," (Doubleday, 1972) were next by Jablonski the author.
He teamed with famed broadcaster Lowell Thomas on a biography of Gen. James H. Doolittle (Doubleday, 1976). His four-volume series "Airwar" and two pictorial histories of World Wars I and II were published by Doubleday in the 1970s.
His work on army and air force bombers won him recognition from veterans as honorary member of the 100th Bob Group. A little-known work on airwar was "Double-Strike: The Epic Air Raids on Regensburg-Schweinfurt, August 17, 1943."
He also compiled "The Encyclopedia of American Music" in 1981 and "A Pictorial History of the Middle East" for Doubleday in 1984. "Gershwin Remembered," "Harold Arlen: Rhythm, Rainbows and Blues," "Man With Wings: A Pictorial History of Aviation," were among other works.
In his last book, "Irving Berlin, American Troubadour," (Henry Holt, 1999) Jablonski explains how Berlin became the living personification of the American musical theater.
Just before his death he was working on a comprehensive history of American popular music to be entitled "Masters of American Song."
Jablonski and his wife, fashion magazine writer Edith Garson Jablonski, had three children, son David, of Chicago, and two daughters, Carla Jablonski of Manhattan and Emily J. Ahlberg of Audubon, Pennsylvania. Also surviving are a sister, Mary Birdsall of Versailles, Kentucky, and two grandchildren. Mrs. Jablonski died in 1979.
###
---
---

Dave Rogers




Dave Rogers is a former editorial writer for the Bay City Times and a widely read,
respected journalist/writer in and around Bay City.
(Contact Dave Via Email at carraroe@aol.com)

More from Dave Rogers
---
Send This Story to a Friend!
Letter to the editor
Link to this Story
Printer-Friendly Story View
---
--- Advertisments ---