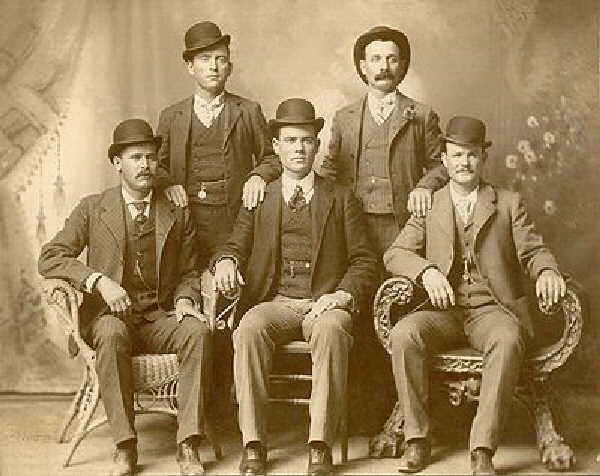 The 'Wild Bunch' posed in business dress for this famous photo taken in Fort Worth, Texas, in 1900. 'Sundance Kid,' is seated left, front row, Cassidy is at right.
---
Butch Cassidy Visited Bay City on the Run From 'Wild Bunch' Crime Wave
Famed Bandit Supposedly Also Visited Saginaw, Thumb as Circus Wagon Driver
May 13, 2011 3 Comments
By: Dave Rogers
Robert Leroy Parker, alias "Butch" Cassidy, joined the list of infamous criminals who have visited Bay City and the mid-Michigan area.
The tale of Cassidy's brief trip here is recounted in a recent issue of the Saginaw County Genealogical Society's Newsletter, according to local historian and radio-tv newsman Eric Jylha, who makes it his business to keep up with such matters.
The visits here of bandit-killer Pretty Boy Floyd, two ruthless members of the Bonnie and Clyde Gang and the trial of Midland bank robber Tony Chebatoris, last person executed in Michigan, have been documented in two local history books, "Ghosts, Crimes and Urban Legends of Bay City" and "Bay City Hauntings," published by Historical Press of Bay City.
Butch Cassidy may have landed here after a train robbery in Wilcox, Wyoming, that netted his gang the huge sum of $60,000, according to author Larry Pointer's book, "In Search of Butch Cassidy," published in 1991 by the University of Oklahoma Press.
According to Pointer, Cassidy fled to Chicago and then to Frankfort and Mancelona, from whence he took the train to Saginaw and then Bay City.
Hiring on the schooner "Eagle," Cassidy rode to Sand Beach, now called Harbor Beach, where he hooked up as a wagon driver with a traveling circus. He then debarked to Bad Axe and spent a night in Cass City, much proclaimed by the Cass City Chronicle in a Dec. 6, 1977 issue.
"Butch Cassidy Slept Here -- In Cass City," the Chronicle headlined. "His brief stay here was briefer than he had planned as he had to make a quick getaway to avoid being arrested," the Chronicle reported.
The claim that Cassidy was in Cass City, while on the lam from a Western bank or train robbery, written by William T. Phillips in 1934, entitled "The Bandit Invincible: The Story of Butch Cassidy."
William T. Phillips was the name Cassidy used as an alias when he moved to Spokane, Washington and gave up his life of crime. He died there in 1937.
An incident occurred on Cassidy's second day in Cass City, according to the Chronicle, that was right out of the movies. Butch came face-to-face with a former special deputy sheriff he had known in western Wyoming while on his criminal rampages.
Cassidy supposedly drew his revolver, stuck it into the ex-deputy's ribs, and warned him that any quick move would make him "coyote bait." He tied the former lawman to a tree using his own belt, stuck his handkerchief in his mouth, and made his getaway, according to the tale.
Cassidy grabbed his belongings at the circus grounds, left word with authorities where the captive was tied and jumped an early morning train from Cass City to Pontiac.
Outside the city of his destination he changed clothes with a scarecrow and got a job with a farmer for a week while the heat died down. He entrained to St. Louis, Missouri, and then back to Wyoming.
After his much storied adventure in South America with Longabaugh, alias Sundance, and using the name Phillips, he returned to Michigan. He married an Adrian woman, Gertrude Livesay, in 1908.
The newly-weds moved to Globe Arizona, a jumping off point from which Phillips hooked up with revolutionaries fighting the Mexican government. Whether he was a confederate of Pancho Villa has not been revealed in historical accounts, although the bandit was known to have some American compatriots.
Another unverified part of the legend of Butch Cassidy is that, as Phillips, he invented and manufactured an adding machine that was pre-empted by Burroughs. Then he supposedly ran a machine shop in Spokane until that enterprise was ended by the Depression in 1930.
The idea that Cassidy and Sundance died in a shootout in Bolivia, as portrayed in the 1969 movie starring Paul Newman and Robert Redford, is debunked by Pointer in his book.
Whatever the truth is -- which may never be fully known -- apparently the legendary outlaw Butch Cassidy had his moments in several Michigan towns including Traverse City, Cass City, Bay City, Saginaw, Pontiac and Adrian.
Any readers with information about the bandit's sojourn here are urged to contact this columnist at Carraroe@aol.com.###
---
"The BUZZ" - Read Feedback From Readers!
mosher Says: On May 23, 2011 at 10:07 AM

Dave, I'd like to know the approximate date that Butch slept, dined, and/or drank in our town. Working backwards from his marriage, it seems some time in 1907?

A date could be determined, and Bay City could commemorate it each year, gathering to watch the romanticized Paul Newman/Robt. Redford movie or something. And hoisting a glass: Here's to crime! ;-)
bob_goodwin Says: On June 20, 2011 at 12:23 PM

Sorry boys, William T. Phillips was not Butch Cassidy. Cassidy was never in Michigan. William T. Phillips was the illegitimate son of Celia Mudge of Sanilac County and "Laddie" Phillips. He ran away from home at age 14 and went West where he eventually became acquainted with Butch Cassidy. In later years while living in Spokane Washington he became a Cassidy impersonator. Several people in Wyoming mistook him for Cassidy, which he encouraged.
gesype Says: On August 15, 2011 at 04:48 PM

Oh please, I want it to be true that Butch Cassidy passed through Michigan and married a woman from Adrian! I am from a small town near Adrian and I would love to think that something marginally interesting happened there! It would be way cooler than commemorating various auto-related developments!
---

Dave Rogers




Dave Rogers is a former editorial writer for the Bay City Times and a widely read,
respected journalist/writer in and around Bay City.
(Contact Dave Via Email at carraroe@aol.com)

More from Dave Rogers
---
Send This Story to a Friend!
Letter to the editor
Link to this Story
Printer-Friendly Story View
---
--- Advertisments ---