Birds of Prey visit Rotary
Joe Rogers of Wildlife Recovery addresses Bay City Noon Rotary
August 2, 2002 Leave A Comment
By: Stephen Kent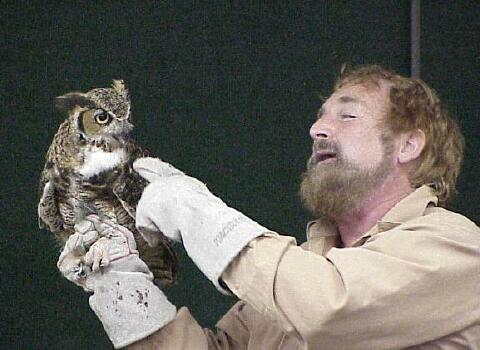 Joe Rogers with a male Great Horned Owl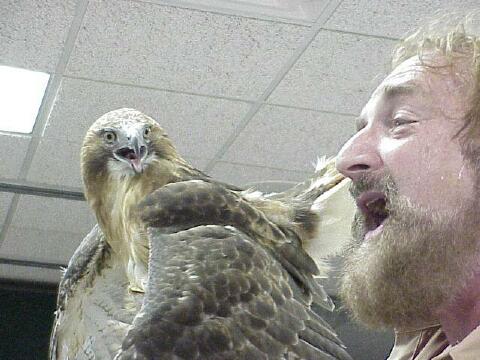 Michigan's most common hawk, the Redtail
It's not unusual to find chicken on the menu at the Bay City Noon Rotary meeting at the Holiday Inn, but to find live hawks, owls and vultures at the meeting is rare.
Bay City's Noon Rotary is well known for its high quality weekly program. But the program on Tuesday July 23, 2002 was well above average. Joe and Barb Rogers from
Wildlife Recovery Association
of Shepard, Michigan provided a lively, exciting and informative program about Michigan Birds of Prey and
Rogers is awell known among school children throughout the state. He's been presenting his program for 20 years and sees as many as 30,000 people each year. His rapid speech, peppered with facts, myths, illustrations and jokes captivate the audience. And if thatdoesn't get one's attention, having a red tailed hawk six inches from your face certainly will!
Rogers makes a point of the fact that birds of prey are protected species. It is illegal to own or keep such an animal without specific licensing from the government. In some states only a limited number of organizations are licensed. In Michigan, the Rogers and Wildlife Recovery are but one of many groups licensed for this purpose. Most of these organizations rescue injured animals, nurse them back to health and release them to the wild.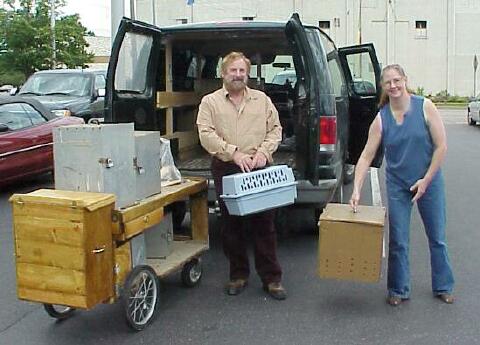 Most of the birds that Rogers showed to the Rotary club have injuries which prevent them from being released to the wild. The birds live in the large facility at Wildlife Recovery and travel with the Rogers as educational exhibits. One of the owls came to the Rogers with a badly damaged wing. Based on the nature of the injury it was speculated that the bird had been hit by the radio antena of a car on the highway. Although the small owl looked healthy, the wing was actually frozen and useless for flight.
When asked what a person should do if they encounter an injured bird or animal, the first advice is to be careful. A large hawk, even when injured has very powerful and sharp talons. The second bit of advice was to try to carefully capture the bird in a large box. Next, call the DNR. They can refer you to an organization in the area which will decide how best to handle the animal.
Wildlife Recovery Association is a non profit organization funded by tax deductible donations. You can contact the Rogers at:
Wildlive Recovery Association
531 S. Coleman Road
Shepherd, MI 48883-8604
(989) 772-1538


---

Outdoors Article 78

---


Stephen Kent




Steve Kent and his family have lived in Bay City for 30 years. He is VP of Technical Services at MMCC which produces MyBayCity.Com. Kent is active in many Bay City civic organizations.

More from Stephen Kent

---

Send This Story to a Friend! Letter to the editor Link to this Story
Printer-Friendly Story View




---

--- Advertisments ---