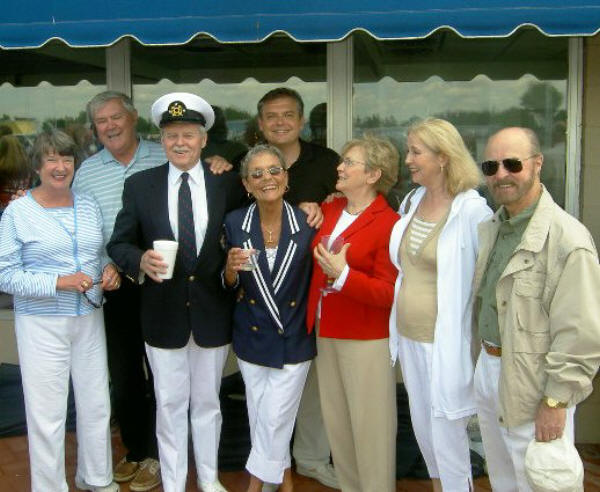 Past Commodore Paul Drzyzga, with hat, celebrates the event with a group of friends. (MyBayCity Photo by Dave Rogers)
---
27 Yachts Parade Past Saginaw Bay Yacht Club in Annual Blessing of Fleet
Tradition Started in 1982 is Continued with Rev. Fr. Patrick J. O'Connor
One of the more colorful maritime events of the season brightened the first Sunday in June for the local yachting fraternity.
Rev. Fr. Patrick J. O'Connor, pastor of St. John the Evangelist Roman Catholic Church, Essexville, blessed 27 yachts Sunday as they passed in review by the main dock at the Saginaw Bay Yacht Club.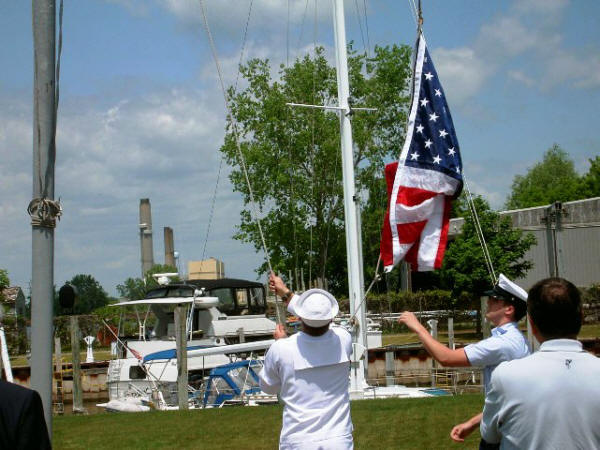 Members of the armed services raise the flag after last year's flag was presented to past commodore Greg Becker.
(MyBayCity Photo by Dave Rogers)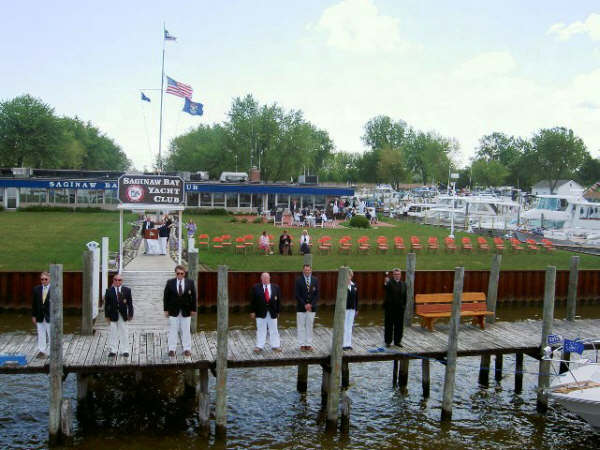 Rev. Father Patrick O'Connor of St. John the Evangelist Roman Catholic Parish, Essexville, sprinkles holy water on an approaching yacht.
(MyBayCity Photo by Dave Rogers)
It was the 16th year of the tradition started in 1982 by past commodore Robert Koffman and carried on this year by present commodore Paul Martin.
Past commodores and their ladies and perhaps 100 guests thronged the sunlit grounds of the yacht club for the festivities.
Another tradition, the raising of a new flag, was continued and the old flag that flew 24 hours a day the past year was hauled down and presented to past commodore Greg Becker.
Youthful dancers cavorted gracefully on the yacht club's front lawn to the delight of an appreciative crowd.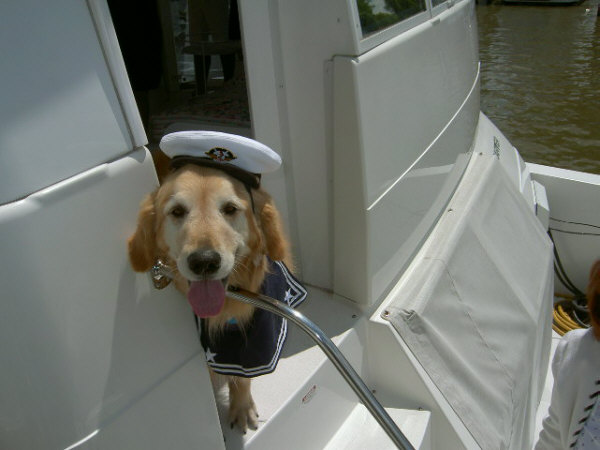 Comic relief is offered by Dylan, the Golden Retriever of Dr. Michael and Kolene Holland.
(MyBayCity Photo by Dave Rogers)
Yachts that lined up for the blessing, their captains and crew, were as follows:
WHAT'S UP DOC? - Kurt Butzin, with Michelle, Toby and Tawni Butzin;
CONSTANT CRAVING - Frank Frysh, with Yvonne and Mya Frysh, Kevin and Angie Kern;
WIND DANCER - Douglas Bloodgood, with Courtney Bloodgood and Cassie Begert;
THE SHOT ROCK - Past Commodore Craig Murchison, Pam & Pat Murchison, George & Margaret Klumb;
GLORRI DAYS - Neil Oldenburg, Lorri, Lance, Erica Oldenburg, Bob & Morgan French & Lee Focoo;
WISHFUL THINK'N - Mark & Hope Lesperance, Glenn & Lucille Lesperance;
SKYLARK - Bob & Carolyn Smith, Grant & Sandy Urband, Dave & Dolores Rogers;
CHEERS V - Ted & Judy Billy;
ANNE MARIE - Past Commodore Leon Dykhouse, Arleen Dykhouse, Past Commodore Carl Gladen and Audrey Gladen, Vivian Radigan, Barb & Jim Kuhnle;
CREWS 'N COMFORT - Mike McAlindon, Julie, Bronwyn, John and Connie McAlindon, Mary Lynn, Ralph, Dirkie & Dick Groen;
FINN'S FOLLY - Rudy & Virginia Jarvi, Mr. & Mrs. David Jarvi, Dr. & Mrs. George Williams, Donna Robinson;
T'S TOY - Jim, Trudy & Baylee Tarnosky;
2 MUCH FUN - John & Sue Corrion, Jason Jacobs, Nathon, Laura, Emery, Edna, Troy, John, Kay & Buckaroo Bob;
TWO REASONS - Jack Decker, Cathy & Tom Greenia, John & Liz Peters;
MIZ DRIZ - Paul & Helen Drzyzga, Paul & Kirsten Krzyzga, Amanda Washburn, Corinne Wallace;
EXCELLENT ADVENTURE - David Stokes, Leslie, Caitlin & Kelsey Stokes, Cari Draper, Dan Murdock, Bill & Cam Liebold, Lee & Harriett Kennedy, John & Judy Lore;
HANNA - Rob & Judy Petersen;
ZEPHYR - Ronald & Ellen Petre;
ZIZZER - Ralph & Debra Kettling, Steve, Linda & Matt Burke, Bob Wynes & Becky Scheerhorn;
JUDY ANN - Jamieson Poirier, Chuck & Judy Frantz, Jim & Cindy Fox, Terry Kelly, Wendy Erickson, Heather Martin, R.J. Poirier;
WANDERLUST - Chris & Rebecca Weeks, Chris & Meliss Mitchell;
BAY ESCAPING - Jerry Somalski, Wanda Dziwura, Hannah Somalski, Mark, Julie & Jacob Youan, T.J., Ryan Shiply;
MISS DEAL - Past Commodore Greg Becker, Cheryl Becker, Tari & Aric Detzler, Robbin & Andy Hart, Bonni;
PEGASUS - Mel & Sue Hunter, Gary & Linda Kraemer;
TWO FEET AWEIGH - Mike & Kolene Holland, Bob & Sue Walther, Corky & Kathy Goulet, Peter Sherman, Sally Hagerman;
SUNKISSED - Dennis & Gail Hadfield, Tony & Janet Richards;
BEC-N-ME - Bob & Becky Keagy;
WHITS-END - Frank & Janet Whitley, Chris & Donna VanSteenhouse, Gary & Nancy Mueller, Dick & Melissa Janke, Dave & Marilyn Klippert.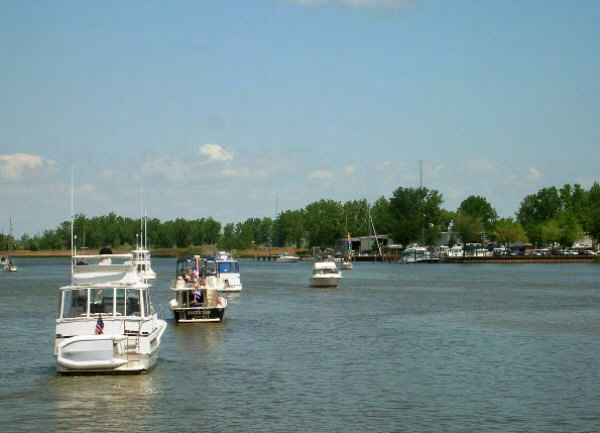 Yachts line up at the Blessing of the Fleet, a tradition at the Saginaw Bay Yacht Club since 1982.
(MyBayCity Photo by Dave Rogers)
---
---

Dave Rogers




Dave Rogers is a former editorial writer for the Bay City Times and a widely read,
respected journalist/writer in and around Bay City.
(Contact Dave Via Email at carraroe@aol.com)

More from Dave Rogers
---
Send This Story to a Friend!
Letter to the editor
Link to this Story
Printer-Friendly Story View
---
--- Advertisments ---