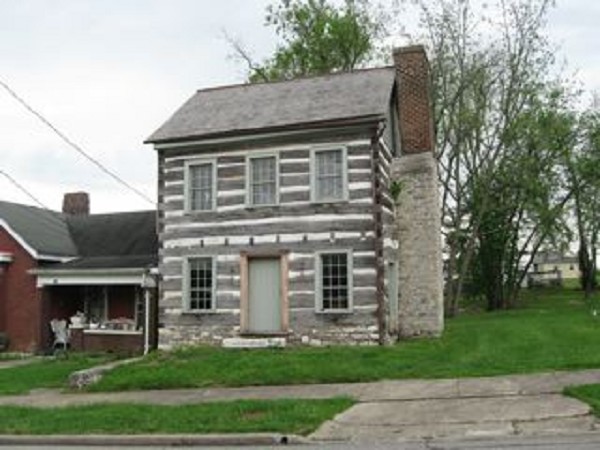 Willis Russell House on Walnut Street in Danville, KY
---
Historian/Author to Help Unveil Historic Marker at Kentucky Slavery Site
October 21, 2012 1 Comments
By: Dave Rogers
A Revolutionary War veteran from Kentucky who became wealthy and willed lands to former African-American slaves, and his freed slave who taught black children, will be recognized in Danville, Kentucky, on Nov. 19.
The Boyle Landmark Trust will unveil a Kentucky Highway Marker to be placed in front of the Willis Russell House on Walnut Street in Danville on Nov. 19.
The house is believed to be the site of the first school for blacks west of the Allegheny Mountains.
Among those involved in the unveiling will be D. Laurence Rogers, historian and author of Bay City, Michigan, whose book "Apostles of Equality: The Birneys, the Republicans and the Civil War," was released last year by Michigan State University Press.
Mr. Rogers will speak to the Boyle County Genealogical Society at 6:30 p.m. Nov. 19 at the Danville Library. His topic is: "James Gillespie Birney, Kentucky's Forgotten Prophet: How a Southern Slaveholding Aristocrat Came to be an Abolitionist."
Birney's leadership of the Liberty Party and his two Presidential candidacies in 1840 and 1844 sparked formation of the Free Soil Party and successor Republican Party. Some of Birney's philosophies regarding universal freedom were adopted by Abraham Lincoln, according to the author.
Although Birney left Kentucky in 1816, his work on behalf of Indians and slaves in Huntsville, Alabama, and Cincinnati, Ohio, showed his humanitarian determination to follow Thomas Jefferson's precept "all men are created equal," stated in the Declaration of Independence.
Some political scholars have written recently that Birney's defense of Native Americans being pushed off their land in Alabama and Georgia actually launched the abolition movement.
Robert Craddock, another Kentuckian who followed a similar egalitarian philosophy as Birney, freed his slave Willis Russell who taught a school for blacks in the Danville house.
The Willis Russell House is an historic African-American site located on Walnut Street in Danville, Kentucky. The log home was built before 1795 and is under the protection of the Boyle Landmark Trust.
For a time in the 1800s the site was used as a school for African-American children and as a home for their teacher Willis Russell. Russell was emancipated by Craddock in his will in April 1837.
Lieut. Robert Edward Craddock was a soldier of the Revolutionary War; he is listed on a roster of officers of the 4th Regiment of the Virginia Line who received land bounties in Kentucky.
Under the Act of May 15, 1828, Robert Craddock received a pension of $320 in Warren County, Kentucky, where he was then living on his 1,400 acre property called Hermitage.
After the Revolutionary War, Craddock reportedly made a fortune by buying up military land grants from those men who did not want to relocate to Kentucky. He resold much of his purchases, but kept several sections that were listed in his will in 1837.
Among the properties given to his heirs were a town lot in Danville, Kentucky and 509 acres along the Rolling Fork, apparently in Casey County, given to his slave Willis Russell; his 1,400 acre Hermitage plantation in Bowling Green; 1030 acres in Tennessee given to his slave George; land in Ohio County; land in Logan County, including a part of the town of Russellville; and other land.
Altogether, at one point Craddock had over 9,000 acres scattered across the state of Kentucky. He never married and used his will as a way to emancipate and provide for his slaves, and to provide education for poor children in Warren County.
The Boyle Trust theorizes that since Robert Craddock purchased Grayson's Tavern from Benjamin Grayson in September 1787 for 300 pounds and made that property his home, that the 5 and 1/2 acres purchased from Philip Yeiser is the land upon which the Willis Russell House now stands. The home may have been there as early as 1794 or even earlier.
Robert Craddock and a close friend named Peter Tardiveau, a French volunteer from Bordeaux during the Revolutionary War, were both members of the Political Club formed in 1786 in Danville, Kentucky.
According to an article by Thomas Crittenden Cherry that appears in the Filson Club Quarterly in April 1930, both Craddock and Tardiveau were "strong-minded men schooled in the writings of Thomas Paine, Voltaire, and Rousseau." Robert Craddock's library in the Hermitage contained the largest collection of books in the southern part of Kentucky. Both men strongly advocated the rights and liberties of man and invested great sum of money and energy in fighting for freedom for both Americans and the French.
After the Revolutionary War Tardiveau, who spoke seven different languages, had formed a chain of mercantile houses in Philadelphia, Danville, Louisville and New Orleans. However, due to his support of the French Revolution, he lost his entire fortune and in 1800 went to Bowling Green to live with Robert Craddock at the Hermitage.
Soon after going to live there he built a log school building on the grounds and taught all of the slaves of Robert Craddock. This possibly would have been the first school for blacks west of the Allegheny Mountains and was in operation long before the Emancipation Proclamation; this is where Willis Russell received his education.
When Lieutenant Craddock died in Bowling Green, Warren County, Kentucky, between March and April 1837, the first two sections of his eight-page will (recorded in Warren County, Kentucky Will Book D, pp.106-113) emancipated his slaves, including Willis Russell. In Section Five the will deeds to Willis Russell and his heirs part of Craddock's lot in the town of Danville that includes a home and outhouse; Craddock also deeded Russell 509 acres of land on the waters of the Rolling Fork River.
In the will Robert Craddock instructed that Willis Russell was to leave Hermitage within one year of Craddock?s death in order to claim his Kentucky land. If Russell did not relocate to Danville, the land would go to other slaves that Craddock had freed. According to historian Calvin Fackler in his book "Early Days in Danville," Willis Russell came to Danville and started a school for black children in the house. If Russell had not moved to Danville within one year of Craddock's death before April 1837, he would have lost the house in Danville and the property along the Rolling Fork River.
Education was such an important interest to Robert Craddock that after taking care of his slaves, he left three-fourths of the rest of his estate, which was considerable, in the hands of a man named Joseph R. Underwood with the injunction that he should appropriate these monies to the purpose of education, specifically the education of poor children in Warren County.
Underwood was to be unrestricted in his authority and discretion in carrying out the wishes of Craddock. According to Collin's History of Kentucky, Vol. 1, in 1839 Underwood was given authority by the Kentucky State Legislature to make a permanent loan to the town of Bowling Green from the Robert Craddock Fund. The town would pay six percent interest forever to the fund and build two schools with the money from the loan.
In 1846 the General Assembly of the Commonwealth of Kentucky enacted a law that authorized Joseph R. Underwood to organize a permanent Board of Trustees to manage that portion of the Craddock estate and gave the endowment the official name "Craddock Fund."
Willis Russell is listed in the 1840 Mercer County, Kentucky Census with a free black woman, presumably his wife. Both are ages 24-35 and are free people of color. In the 1850 Boyle County, Kentucky census Willis and his family are living in District 2. He is 47 years old, born in Kentucky and listed as a teacher. His wife Pamelia (age 53) and daughter Jane (age 16) are listed in the census with him. Listed with the family also are three boys: William Easton (age 11), Lewis Thompson (age 8) and Lewis Burce (age 12). We may assume that the three boys are students of Willis Russell.
###
---
---

Dave Rogers




Dave Rogers is a former editorial writer for the Bay City Times and a widely read,
respected journalist/writer in and around Bay City.
(Contact Dave Via Email at carraroe@aol.com)

More from Dave Rogers
---
Send This Story to a Friend!
Letter to the editor
Link to this Story
Printer-Friendly Story View
---
--- Advertisments ---