"$50 Million on a Shoestring" Book Recalls Legend of Bay City Aladdin Firm
October 28, 2012 4 Comments
By: Dave Rogers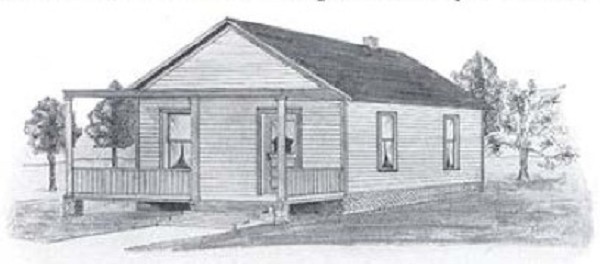 Four-room Aladdin kit house "D" sold for $296.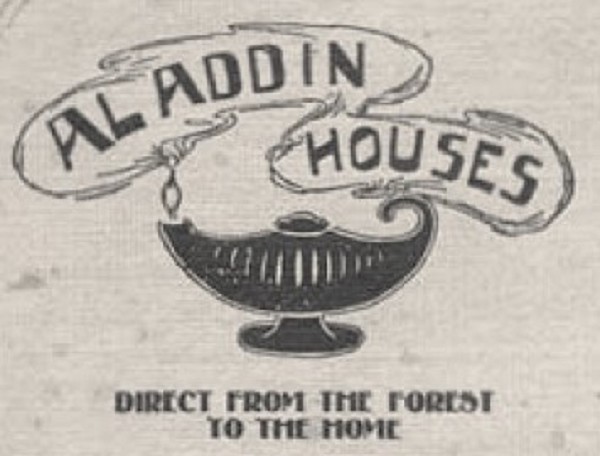 Logo of first Sovereign Brothers company, North American Construction Co., used symbol from Arabian Nights stories.
The glory days of Bay City industry in the first decades of the 20th century are still being recalled, as shown in this recent quote from CNBC writer Colleen Kane:
"In the first decades of the last century, aspiring homeowners could order their house from a Sears catalog. Montgomery Ward sold house kits, too. Aladdin was another popular maker of so-called "ready cut" homes in those days."
The Aladdin Company of Bay City, Michigan was one of America's most long lived manufacturers of mail-order, "kit homes." Launched in 1906 by brothers Otto and William Sovereign, the family-owned firm continued to manufacture houses until 1981. Over the firm's long history it sold over 75,000 homes to both individual and corporate customers.
The records of the Aladdin Company were donated to the Clarke Historical Library at Central Michigan University, Mt. Pleasant, in 1996. The almost complete run of company catalogs, full set of sales records, over 15,000 post-World War II architectural drawings, and various other company records create an extraordinary historical resource.
The Aladdin Company records are open for use by the public, having been arranged and described through a grant made by the National Endowment for the Humanities. Full-text copies of the annual sales catalogs were scanned through a grant by the Michigan Council for the Arts and Cultural Affairs.
Aladdin was founded by the Sovereigns in Bay City after W. J. observed the success of the Brooks Boat Mfg. Co. and Defoe Boat and Motor Co. in selling knock-down boats.
"If boats can be sold by mail, why not houses?" the Sovereigns thought. "Boats can only be sold where there is water; houses would have a market everywhere."
The eventual $50 million enterprise was launched with a small ad for a knocked-down boat house in Motor Boat Magazine in 1906.
W.J. got out his mother's bread board and designed structures called "knocked down" buildings sawed to standard sizes and including every nail, screw and hinge needed for completion by carpenters.
The next year a seven line one-half inch ad in The Saturday Evening Post that cost $200 brought several cash orders and the Aladdin Company was swirling skyward like the proverbial genie Aladdin coming out of a bottle.
The first catalogs offered cottages, boat houses, and garages, followed by more complex dwellings especially the ubiquitous bungalow. A summer cottage 12 by 20 feet with a 6 by 12 foot porch was offered "completely sawed and with all hardware for $98.70."
By 1920 the firm had mills in Bay City, Hattiesburg, Mississippi, Wilmington, North Carolina, Portland, Oregon and Toronto and Vancouver Canada.
Aladdin quickly expanded to become one of, if not the, largest mail-order house companies. By 1915 sales surpassed one million dollars. In 1918 Aladdin alone accounted for 2.37 percent of all housing starts in the United States, around 1,800 homes.
The company's greatest success came from sales to industries which constructed company towns around new plants, mines and mills. The town of Hopewell, Virginia was largely developed by the DuPont Company using Aladdin homes.
In 1917 Aladdin shipped 252 houses to Birmingham, England for the Austin Motor Company which built Austin Village to house workers for munitions, tank and aircraft manufacture during World War I.
Aladdin built barracks for the U.S. Army at Ft. Snelling, Minnesota, and Great Lakes Naval Training Center, Illinois, in World War I. The firm's barracks housing was built for the Army Air Corps at Michigan's Selfridge Field in World War II, along with small Army huts.
The University of Maryland states that Aladdin Homes of Bay City, Michigan premiered the idea of kit houses in 1906. It wasn't until 1908 that the largest provider of kit houses, Sears, Roebuck and Co., building upon its earlier forays into building materials and house plans, entered the market for complete kit houses. In the years that followed, Wardway Homes (Montgomery Ward), Harris Homes of Chicago, the Ready Built House Company, and Robinson's also got in on the kit home market.
About 100,000 kit homes were built from 1908 until 1940, the university estimates. If company records are accurate, Aladdin accounted for three quarters of those homes.
Aladdin's output fell below 1000 homes in 1928 on the eve of the Great Depression, and never recovered. The company continued to produce catalogs, and maintained sales of a few hundred homes per year through the 1960s. During the 1970s sales fell further and by 1982 the company ceased manufacturing. The company ceased all operations in 1987.
The Aladdin company, along with other catalog-home businesses played a key role in providing affordable housing to Americans in the period between the turn of the twentieth century and World War II.
They also made key advancements in the prefabrication of housing which would enable the post-war housing boom.
Finally, they helped to propagate nationwide preferences for common architectural styles such as the Craftsman, Bungalow, Four-Square and Cape Cod homes.
###
---
"The BUZZ" - Read Feedback From Readers!
roxi.goik Says: On October 29, 2012 at 08:28 AM

To: Colleen Kane. This was my grandfathers business He also donated the funds for the Rachel Sovereign Memorial Home on Center Ave. Bay City, MI.

Otto Egbert Soverign daughter was dauther Hannah Sovereign Schust, and adopted daughter Evelyn and James Clifford Sovereign.

James C Soverign married Roxanne Young Shearer.
Her Father was Fred Shearer Ins. Sales and her Mother was Roxana Young Shearer.

Roxana was the dauthter of William Young, Lumber Barron.

Lot of history here, but all grandparents were deceased before I was born.

Nice Article.

Roxanna (Roxi)Sovereign Goik
dmaillette Says: On October 29, 2012 at 08:36 AM

Great articles today! I may keep reading MyBayCity.com again.
DrRitaMunleyGallagher Says: On November 01, 2012 at 04:23 PM

The book is extremely interesting. We received a copy when Gus bought Sovereign's boat "The Old Timer." wThat was our last craft before leaving Bay City for Grosse Pointe...way back when gas rose to a "high" of $.75/gallon. Thanks for the memories.
mosher Says: On November 01, 2012 at 08:53 PM

Dover Publications has a great paperback facsimile of an Aladdin catalog available.

http://store.doverpublications.com/048628591x.html

It can help you spot them around town (a lot on the west side); I've spotted them in Ann Arbor too, the kits probably shipped downstate by rail.
---

Dave Rogers




Dave Rogers is a former editorial writer for the Bay City Times and a widely read,
respected journalist/writer in and around Bay City.
(Contact Dave Via Email at carraroe@aol.com)

More from Dave Rogers
---
Send This Story to a Friend!
Letter to the editor
Link to this Story
Printer-Friendly Story View
---
--- Advertisments ---