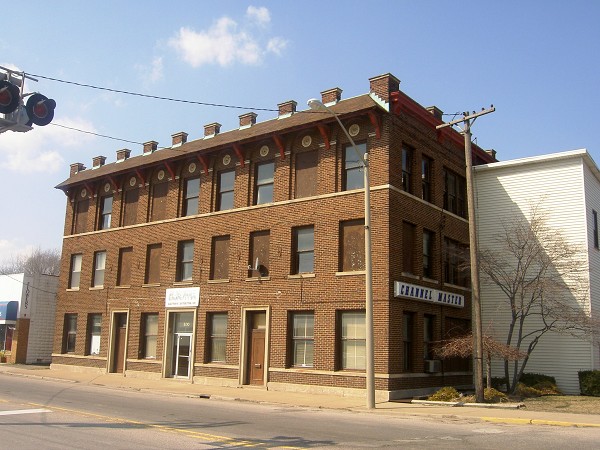 Old Kinde Electronics building on Salzburg is historic because it once housed German prisoners during World War II. (Photo by Dave Rogers)
---
GERMAN POWs HERE: Rommel's Afrika Corps Captors Held in Michigan Camps
Bay City, Freeland, Owosso Among Work Centers for Nazi Troops
September 29, 2015 1 Comments
By: Dave Rogers
The History Channel has nothing on Bay City, where history drips from every lamppost in some parts of town.
For example, the old Bay City Bank building, more lately Kinde and Bursma Electronics, on Salzburg stands forlorn and for sale, with no indication it is a historic site.
The red brick structure housed several dozen German prisoners during World War II, shipped here from North Africa. They were among nearly 250,000 Nazis under Rommel captured in 1943, mainly in Tunisia.
Eric Jylha, former development director for the Bay County Historical Museum, arranged for a traveling exhibit about German prisoners to stop here in 2009. He recalled exhibit publicity:
"During WWII, the Midwest housed about 250 prisoner of war camps for the 380,000 German POWs imprisoned in the United States. (Michigan had 25 camps, some in former CCC barracks.)
"German POWs held in Army-operated camps across the U.S. were sent out to harvest or process crops, build roads and waterways, fell trees, roof barns, erect silos, work in light non-military industry, lay city sewers and construct tract housing, wash U.S. Army laundry and do other practical wartime tasks.
"With the high rate of 19th-century German immigration to the Midwest, many of those who worked with POWs spoke to them in their native tongue. Some had relatives or former neighbors among them. In the process, they formed significant, often decades-long friendships with "the enemy" and underwent changes as individuals and as a group, thus influencing postwar German values and institutions, and American-German relations. Some POWs later even immigrated to the U.S."
American troops had landed in North Africa Nov. 8, 1942. It was the first U.S. combat initiative there, known as Operation Torch, led by Gen. Dwight D. Eisenhower. The Yanks got behind Rommel's previously dominant Afrika Corps, a naval armada dropping them on the beaches of Morocco and Algeria.
According to The History Place, (wwwhistoryplace.com) "To prevent the Allies from sweeping to victory in North Africa, Hitler rushed in reinforcements, mainly to halt the American advance at Tunisia. There the very first shots were exchanged between German and American troops in World War II."
The Germans got the upper hand in the first engagement at Kasserine Pass, confirming Hitler's low opinion of American troops. But the fresh American troops, ably led by General George S. Patton, reversed their fortunes in concert with the battle-hardened Eighth Army.
British and American warships and planes now dominated the Mediterranean, isolating the Afrika Korps by disrupting its supply lines. Forced by shortages of ammunition, fuel and food, the entire Afrika Korps and newly arrived reinforcements, an estimated 248,000 men, surrendered to the British and Americans.
According to one source, around 6,000 German POWs were posted at the various camps across Michigan. About 1,000 of the POWs were at the five camps in the Upper Peninsula with the remainder located in the Lower Peninsula.
The Red Cross made periodic inspections of the camps to ensure that the POWs had decent living conditions and were being treated fairly, attention certainly not paid to U.S. soldiers in German custody.
Escape attempts were few and no German POW from Michigan is known to have made a complete escape from one of the camps.
At the Owosso camp at a former racetrack where about 200 Germans were held, two local girls helped two prisoners to escape. They were recaptured after a night in the woods. The girls served prison terms for their role in the escape.
"After the war ended the German POWs were sent back to Germany," wrote one observer on a giftbasketsfrommichigan.com website. "Many of the prisoners would have liked to have remained here, but due to regulations they had to return to their home country."
An excellent book on the subject, "Nazi Prisoners of War in America," by Arnold Krammer, was published by Stein & Day, New York, in 1979. Krammer reports there were 511 camps across the country, however, the book is sadly lacking of details on the prisoners in the Michigan camps.
John Pepin, Marquette newspaper reporter, collaborated with the public television station at Northern Michigan University on a documentary about the camps in the Upper Peninsula.
###
---
"The BUZZ" - Read Feedback From Readers!
chprbydozn Says: On October 09, 2015 at 02:14 AM

Shortly before my mother died she told me about the German POWs working on my grandparents farm in Auburn. My grandmother and grandfather were German and Grandma Schmidt felt an afinity for the prisoners who were working on the farm. She took her homemade soup to the barn for them to eat during their lunch break. Mom accompanied her to the barn with me, a young baby born just the year before. The prisoners were so happy to see a baby. My mother and grandmother let those who asked hold me and fuss over me. Afterwards when neighbors and others heard of this they criticized my mother for letting them hold and be near me but she said she felt it was the right thing to do. It was evident from their smiles and tears in their eyes that they were thinking of families and children from home. I do not remember this event but think it did have and effect on me in that I have since tried to help others who are going through difficult times in their lives through foster care and adoption.
---

Dave Rogers




Dave Rogers is a former editorial writer for the Bay City Times and a widely read,
respected journalist/writer in and around Bay City.
(Contact Dave Via Email at carraroe@aol.com)

More from Dave Rogers
---
Send This Story to a Friend!
Letter to the editor
Link to this Story
Printer-Friendly Story View
---
--- Advertisments ---