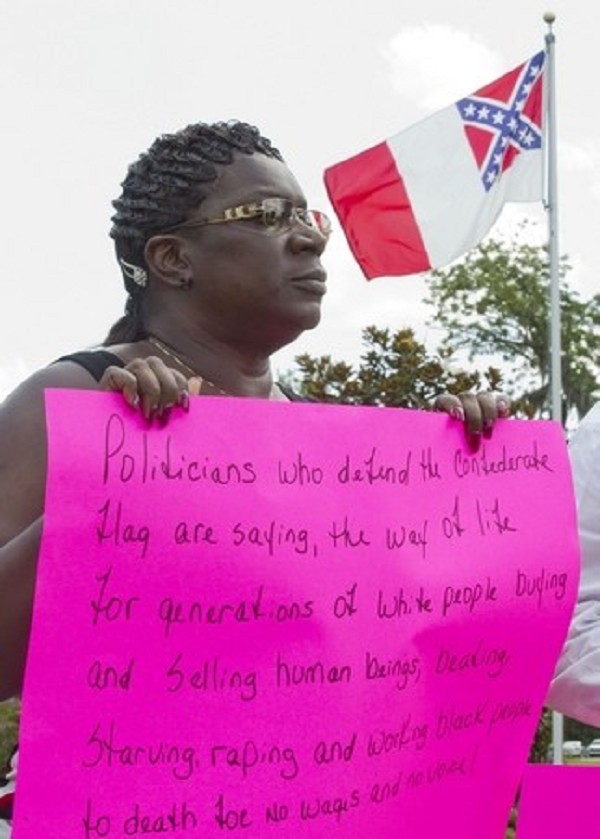 Cynthia Carr protests Confederate flag in Marion County, Florida. "It puts a dagger in our hearts," she said.
---
CONFEDERATE FLAG? Meaning is No Mystery, Psychologists Contend
Damn Yankees Preparing to Prop Up Florida's Economy Again This Year
September 25, 2015 2 Comments
By: Dave Rogers
Driving on a back road in the north of Michigan, my wife and I were startled, if not shocked, to see a Confederate flag flapping in the wind in front of a somewhat average farm home.
As the nation has recently confronted the significance of the rebel flag after a mass assassination June 17 in a black church in South Carolina by a 21-year-old who had posed with the flag, we puzzled over the Michigan flag display more than 500 miles from former slave territory.
What would motivate a rural Michigan farm family to openly relate with a sad chapter in our nation's history? And, of course with movements like the Ku Klux Klan that have earned almost universal public approbation?
Several years ago, traveling in Florida, I snapped a picture of a massive Confederate flag waving over a freeway. OK, that's a recollection of heritage that we could accept. A little ostentatious, but so what. Some people are rabid history buffs, we reasoned. But obviously they have the approval of state government, perhaps the feds, to allow use of land adjacent to a freeway, where billboards are anathema.
Then, when the flag was more directly linked to racial murder, we had to reflect more seriously: is there really a psychic connection between the rebel flag and racism?
Then we heard about a paper published in the journal Political Psychology, which summarized: "A research team led by Florida State University psychologist Joyce Ehrlinger concluded that the image 'may actually provoke discrimination -- even among people who are low in prejudice.'
"Exposure to the Confederate flag triggers unconscious attitudes of racial bias in white Americans -- including those who believe they are free of prejudice."
The researchers demonstrated this troubling dynamic in two experiments performed in 2008. In one, 108 white and 22 black university students were subliminally exposed to either the Confederate flag or -- a neutral symbol made up of colored lines. One or the other flashed on their computer screens 20 times for 15 milliseconds apiece.
Another experiment featured 116 white students, half of whom were exposed to the Confederate flag via a sticker attached to a folder that sat upon their desks. (They were told someone had left it behind from an unrelated previous session.) They then read a story about a young black man named Robert who engaged in ambiguously negative and aggressive behavior, and were asked to evaluate him afterwards.
"Those who had even a brief, peripheral exposure to the Confederate flag rated him more negatively than those who did not. What's more, 'the size of this effect was not related to participants 'pre-existing racial attitudes,' the researchers noted.
"In other words, the study suggests exposure to the Confederate flag triggers unconscious attitudes of racial bias in white Americans -- including those who believe they are free of prejudice. That's something worth pondering as the court considers whether the flag has a proper place on a license plate."
In the course of research at the University of South Florida for my book, "Apostles of Equality: The Birneys, the Republicans and the Civil War," I found an almost totally neglected account of the Civil War in Florida. It had been self-published by a historian who obviously had no clout with the academic hierarchy since it was mimeographed and unbound, stashed away in a remote corner in the bowels of the excellent library. But it was there, nonetheless.
The multi-volume report on the Civil War in Florida revealed that Gen. William Birney, son of Bay City pioneer and abolitionist Presidential candidate James G. Birney, actually had subdued Florida and destroyed much of its ability to supply the Confederacy with beef in 1864, ... with black troops no less.
You can search the academic tomes about the Civil War by eminent authors and won't find a word about Gen. Birney's Florida adventures, especially the fact that after the war he was a federal prosecutor in Gainesville, run, literally, out of town by Klansmen. Birney escaped on foot, fleeing for his life.
You also won't find anything about the fact that Florida Governor John Milton, relative and namesake of the famous English poet, committed suicide a week before the war ended rather than have to live under Union rule!
Millions of Northerners are in the process of traveling to, or planning their trips, to sunny Florida, no doubt oblivious to the fact that they are entering a strange land that 150 years ago, even within the 1900s, would not have welcomed any "damn Yankee."
Probably half the population of Florida now is of Northern descent; some have adopted the attitudes of their resident neighbors, no doubt. And thankfully, recollections of the grim days of the Civil War can be found only in the dank bowels of a university library.
And, of course, at I-75 and I-4 near Tampa where, according to all reports, the world's largest Confederate flag still flies.
###
---
"The BUZZ" - Read Feedback From Readers!
Geraldine42 Says: On October 06, 2015 at 11:39 AM

I'm glad psychologists do not fined this mysterious, Dave, because it sure puzzles me! Three doors from me on Ninth St. a new family moved in. I was glad to see it because it appeared some repairs had been done to the property. Then, a huge confederate flag was hung out front, followed by the stars and stripes on the other side of the porch. What are these new neighbors saying? Do they just consider it like I'm a U of M fan or a Michigan State Fan? Are they saying, "the South will rise again and I'll have slaves to mow my lawn? Do they want me to know they carry a shot gun in the back of their pick-up? Or maybe, I should just expect southern hospitality. Who knows-- apparently psychiatrists think they do, but I do not.
tennis1960 Says: On October 09, 2015 at 01:16 PM

Mr. Rogers I lived in the great state of Florida from 1983 to 1985 and for a short time lived in a tiny area known as Arcadia....known only for it's annual rodeo. For me being from Michigan I was subjected to many racial remarks and attitudes. Once accepted I witnessed the hate and distaste for anything "Not Confederate"widely observed openly.I remember a person I worked very close with stating that Andrew Jackson is the 1st president of the country!!. I still have connections from that timeline and converse regularly with them but the confederate symbolism stigma still exists to this day. Another great read as usual and your book is a hidden gem for civil war history buffs!!
---

Dave Rogers




Dave Rogers is a former editorial writer for the Bay City Times and a widely read,
respected journalist/writer in and around Bay City.
(Contact Dave Via Email at carraroe@aol.com)

More from Dave Rogers
---
Send This Story to a Friend!
Letter to the editor
Link to this Story
Printer-Friendly Story View
---
--- Advertisments ---