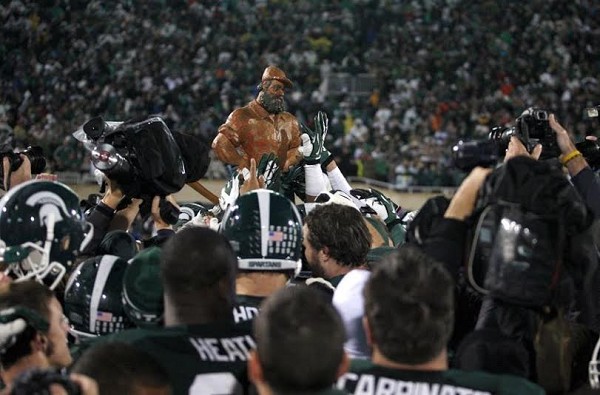 The Paul Bunyan trophy seems to be gazing proudly at the MSU Spartans who took him back home Saturday.
---
JUSTIFIABLE PRIDE: Spartans and Wolverines Both Can Claim Victory
The Eternal Question: Why Didn't Jake Rudock Take a Knee?
October 18, 2015 1 Comments
By: Dave Rogers
The sports world will never forget the monumental risk taken by Michigan football coach Jim Harbaugh with 10 seconds left in Saturday's Titanic struggle in Ann Arbor.
The risk?
Instead of having Jake Rudock take a knee on fourth down, Harbaugh stood up to claim pride by playing as fair as he could: Michigan would not knee out the waning seconds, it would stand tall and punt in manly fashion.
The victory well within his grasp, and that of millions of Wolverine fans all over the world, would not be as sweet by taking a knee. The Spartans would have gotten the ball back with a few second left and may have had a Hail Mary or two from the forty yard line, but with the Wolves in prevent defense their chances would have been slim.
It was Harbaugh's Choice, and he courageously took it. Try to get off a punt, save your pride, and get off the field holding your head high. It would be justifiable pride, a victory well preserved and unchallengable.
The drama was higher than the top row at the Big House, but nothing could (and perhaps never has) topped what the Spartan punt rushers, called the Rangers, pulled off in the closing seconds. Jalen Watts-Jackson will be the all-time great red shirt freshman hero.
In the end football coaches are more than physical exercise directors, they are philosophers as well as military chieftains. They know if they have won squarely and fairly. That's what makes all the difference when they lay their head on the pillow at night and will be the ultimate mental test when drawing their last breaths. PRIDE!
The football world, nay the entire sports world, cannot help but recall the game of 2015 in Ann Arbor forever. It was truly monumental, not really a game but a WAR!
If you watched the pre-game blathering, no doubt you would have been amazed: there was Steve Spurrier, famed as a Heisman winner and Heisman coach, bowing out at South Carolina -- for pride. His team was not up to his standards, give somebody else a chance to coach, I'm outta here. Pride!
Why was Spurrier in Ann Arbor, on the diag with the ESPN crew? "Michigan has won more football games than any other program in history," he said. No doubt he wanted to see one more for Harbaugh, instead he saw Marc Dantonio get his 100th win in surprising fashion.
There was Desmond Howard, Michigan Heisman great, on the diag set with a microphone, confidently predicting victory. Why not? the M boys had won five straight and blown out the previous three opponents, BYU, Maryland and unbeaten Northwestern. None of them had scored even a field goal while Michigan rolled as of yore -- shades of Fielding Yost and Tom Harmon.
There with the mic was Stephen Ross, all-time leading donor to the U-M, billionaire real estate developer, owner of the Miami Dolphins, his name emblazoned on the Ross School of Business with a $313 million gift.
There was octogenarian ex-coach, now performing on ESPN College Game Day, Lee Corso the inimitable clown with a huge plastic U-M helmet proclaiming his pick as winner of the upcoming contest.
Millions undoubtedly would have been lost in Las Vegas and in sports books globally with only a two point win. The betting line was a touchdown and kick, 7 points. Gamblers bet on expectations.
So there's that heart-wrenching aspect for gamblers with their profits riding tenuously on some fancy dressed college kids slugging it out in front of 117,000 plus screaming fans.
Take Michigan's last touchdown. Or not? "There were calls that were made and calls that were not made," mused Harbaugh to an interviewer right after the game.
Free Press Columnist Drew Sharp blasted Harbaugh, calling for league discipline, for criticizing the officiating at a news conference. Harbaugh may have pointed to the ejection of Linebacker Joe Bolden for targeting Spartan QB Connor Cook, but a case could be made that Michigan's d-backs were all over Aaron Burbridge and Macgarret Kings several times where interference could have been called.
Besides, didn't the refs choke on their whistles while the Wolverines banged at the MSU line way beyond the limit on the goal line stand? Yup, calls made, calls not made -- evens out it appears.
Yes sir, Coach Harbaugh, you're absolutely right, especially calls that were made that no one can or ever will know whether they were correct.
Everybody in the stadium and the millions watching on TV from Pinconning to the South Sea islands had to wonder about that TD call. "Indisputable video evidence to overturn the call on the field," is the standard. Was there really indisputable video evidence that the M runner crossed the line? Nope, couldn't have been. It was a judgment call, and on Judgment Day the Big Referee in the Sky has the say and the little referee on the field has the call.
He raises his hands in the victory sign: TOUCHDOWN!
Commented a fan online: "The Spartans really got screwed on that goal line stand. Forward motion was stopped and the play should have been called dead long before the ball crossed the goal line."
That's one the NCAA or BCS rules-makers should think about: how long before a play is dead? When should the ref blow the whistle signaling lack of forward progress? The rule made up on Saturday seemed to be let Michigan try until they make it over the goal line; but did they in fact make it? Was the TD indisputable?
Spartan fans everywhere have good reason to groan. Bennie Oosterbaan and Bo Schembechler are cheering in their graves. (Oosterbaan was the last Michigan coach to win in his first game against the Aggies, 1948; since then half a dozen have all lost their first games coached to MAC, MSC, MSU -- all of them. Now make that seven, adding Jim Harbaugh.
In East Lansing the ground around Biggie Munn and Duffy Daugherty's graves is gently shaking with their tut-tuts in response to the TD call on fourth down in a tangle of writhing, gritting, driving bodies. No way that was a touchdown they probably would say.
After the final glorious, all-time incredible snatching victory from the jaws of defeat final play of the game the ground will sway madly with their chuckles, their atta-boys almost erupting through the ground and over the years.
Good for Marc Dantonio, he refused to gloat, his comments essentially: stuff happens. They played well. That's what General Grant said at Appomattox about General Lee's Confederacy. At least you can be polite.
But in Wolverine Land Coach Harbaugh will take his lumps for what many may take as a bad call. Why didn't he have the QB Jake Rudock take a knee? Why didn't he take the win, no matter how he got it?
Unless you're a philosopher or a big time football coach you just won't understand.
###
---
---

Dave Rogers




Dave Rogers is a former editorial writer for the Bay City Times and a widely read,
respected journalist/writer in and around Bay City.
(Contact Dave Via Email at carraroe@aol.com)

More from Dave Rogers
---
Send This Story to a Friend!
Letter to the editor
Link to this Story
Printer-Friendly Story View
---
--- Advertisments ---