HOLY GRAYLING: Exhibit at CMU Clarke Library by Dr. Robert Kohrman
Bay City's Daniel H. Fitzhugh Jr. Recalled as "Father of Grayling Fishing"
October 28, 2015 1 Comments
By: Dave Rogers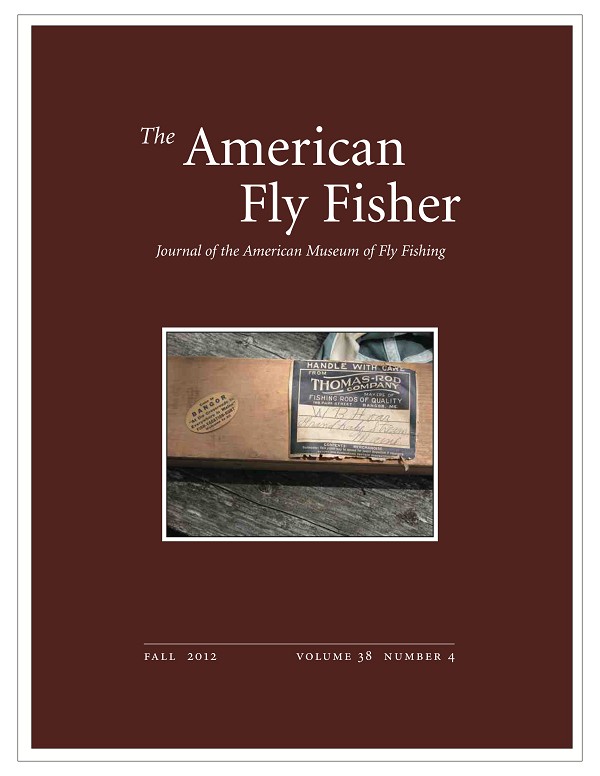 Poster for Clarke Library exhibit features Michigan grayling.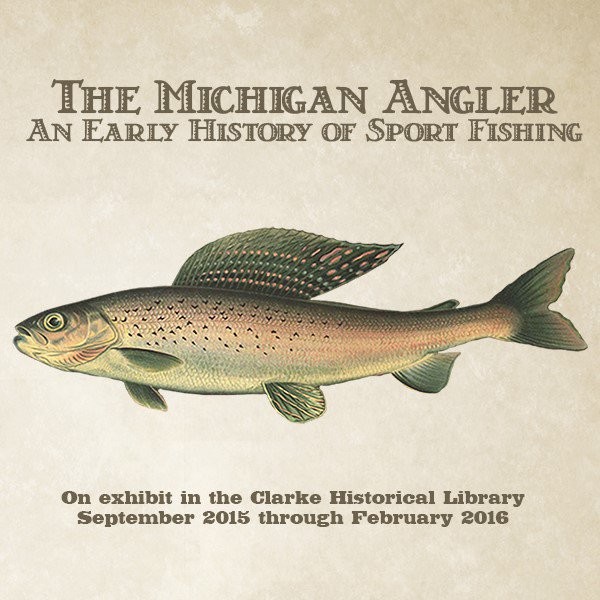 Drawing of Fitzhugh by Ernest Schweibert appeared in his 1978 book, Trout. Original drawing is in Dr. Kohrman's collection.
Another important Bay City connection with the storied history of Michigan's game fishing is now on display.
An exhibit, "The Michigan Angler: An Early History of Sport Fishing," will be shown at the Clarke Historical Library at Central Michigan University, Mt. Pleasant, through February 2016.
If you love Bay City history, fishing or the outdoors this exhibit will be a delight; you should visit and enjoy it.
Bay City's most famous angler, Daniel H. Fitzhugh, Jr., "the father of Grayling fishing," is prominently featured at the exhibit in a huge photograph at the entrance to the research library
Fitzhugh was the son of Dr. Daniel Fitzhugh, of Livingston New York, who helped develop important areas of Michigan such as Bay City, Midland and Oakland County. Although he was a physician and a member of the New York Legislature, Dr. Fitzhugh spent much of his time and money in opening new areas of Michigan to habitation.
Dr. Fitzhugh had been a classmate of James G. Birney at Princeton (Class of 1810) and induced Birney to become a Bay City pioneer in 1842 after the latter had gone virtually bankrupt in attempting to bring down the nation's scourge of slavery.
The Clarke Library exhibit is based on the research and hobby of Dr. Robert Kohrman, 74, former dean of the College of Science and Technology at CMU. Kohrman is an avid angler and writer on the subject of sport fishing.
"Dr. Kohrman shares two things in common with the early writers of American angling books: a love of the sport of fly fishing and a love of the literature that has grown up around it," said Clarke librarian John Fierst in introducing Kohrman at the opening of the exhibit in early October.
"A grayling, fresh from the ice-cold water, is a delicate, almost exotic fish," wrote Darryl Quidort in Fish Alaska Magazine in an article entitled "In Search of the Holy Grayling." A Michigan native, Quidort writes reverently, almost breathlessly, about his pursuit of the graying in Alaska; grayling have been extinct in Michigan for many years.
However, Quidort relates how he became one of the rare fishermen to have caught a Grayling in Michigan -- in the 1980s when attempts were being made by fish culturists to bring the species back to the AuSable River.
"Their great sail-like dorsal fin, fine black spots and iridescent purple or bluish sheen gives them a rare beauty. In areas where they are abundant, it's hard to believe they are a fragile fish. But they can be just as fragile as the pristine wilderness they live in. Grayling are so precious that they are measured in inches, not pounds like other, coarser fish."
Dr. Kohrman has written two articles that appeared in the magazine American Fly Fishing, the Journal of the American Museum of Fly Fishing, in 2012. Titles are "In Search of the Michigan Grayling, Part 1: Daniel H. Fitzhugh Jr., the Father of Grayling Fishing," and "In Search of the Michigan Grayling, Part 2: Thaddeus Norris and the AuSable River Boat."
Fitzhugh came to Bay City in 1847 and built a large house at Third and Water streets. After a few years, he departed for New York where he was a stock broker. His love of fishing and the outdoors soon drove him back to Bay City. Later he built an imposing mansion at 914 Center Avenue.
Recalled Augustus Gansser in his 1905 History of Bay County: "Mr. Fitzhugh was the first to discover the habits and cause to be properly classified the fish known as the grayling, which are abundant in the waters of the northern portion of our peninsula. In after years those who have in any way been instrumental in promoting the interests of fish culture will be looked upon as benefactors of the human race."
In 1873, Fitzhugh asked the Michigan House of Representatives for legislation protecting the grayling, along with the brook trout. He had sent several samples of the fish to the Smithsonian Museum in Washington, D.C. and was leading efforts to protect and allow it to thrive.
"This beautiful little game fish, of the family of salmons, is only found in a few rivers of your State, and the head waters of the Yellowstone river," wrote James W. Millner, deputy U.S. commissioner of fish and wildlife. "It would be a great pity to have it exterminated, as it will be if not protected, as it is not nearly as numerous as its relatives, the brook trout. A species of the same genus, Thymallus volgaris, of Europe, is a spring spawner, and spawns in the month of April. The same period will, undoubtedly, be found to be the habit of the Michigan species, and in this month it should be protected from capture."
However, by that time over-fishing and the depredations of lumbering had reduced the grayling population and its habitat and the fish soon died out here. Several efforts to re-establish the species have not been successful.
Daniel Fitzhugh died June 26, 1896. A tribute was spoken at his funeral by Herschel Whitaker, president of the Michigan Fish Commission: "He was one of nature's noblemen, a true sportsman, a brave spirit, with a heart as gentle as a woman's."
###
---
---

Dave Rogers




Dave Rogers is a former editorial writer for the Bay City Times and a widely read,
respected journalist/writer in and around Bay City.
(Contact Dave Via Email at carraroe@aol.com)

More from Dave Rogers
---
Send This Story to a Friend!
Letter to the editor
Link to this Story
Printer-Friendly Story View
---
--- Advertisments ---