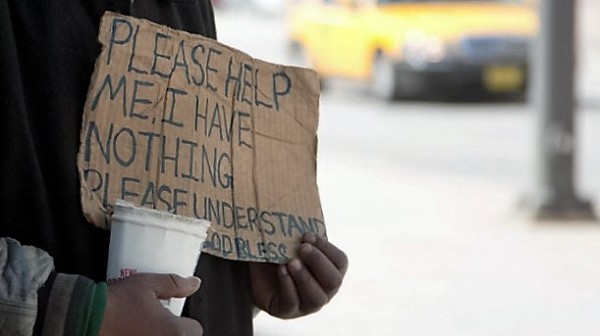 Panhandlers typically use crude signs with emotional appeals for help like this one.
---
PANHANDLERS EYED: County Executive Tom Hickner to Discuss Issue Tuesday
County Board May Consider Supporting Controls on Public Begging
January 8, 2016 2 Comments
By: Dave Rogers
County Executive Tom Hickner is planning on making a presentation on his research and concerns on panhandling to the board of commissioners on Tuesday.
"I have had extensive conversations with various individuals including staff with the Bay City Police Department and representatives of various veterans organizations," said Mr. Hickner, adding:
"It appears a city or township must take action since the county does not have the authority to enact an ordinance. However, the county board can pass a resolution supporting such efforts."
The Bay City Commission last September approved an ordinance amendment that defines panhandling and locations where begging is illegal. The measure comes after officials from the Bay City Public Safety Department saw an increase in panhandling in the past year.
However, panhandlers often skirt the city regulations by working township areas such as Jenny and Thomas streets outside city limits.
Dennis Kula, Bangor Township supervisor, said the township is considering a panhandling ordinance similar to the city's. If adopted, it would become effective Jan. 21.
Andrew Dodson of The Bay City Times reported: "Panhandling is Constitutionally protected under the 1st Amendment, according to a Michigan Circuit Court ruling. In that opinion, however, it did include a provision that allows cities to regulate panhandling.
"So, we can restrict certain things, but we can't outlaw it," City Manager Rick Finn said.
The new city measure bans panhandling between sunset and sunrise and in city right-of-ways and out-lawns. It also prohibits beggars from going into the street and asking for funds.
Finn also said charitable and nonprofit groups who collect money in the streets (such as, The Lions' Club and fire departments) within the city limits would have to apply for a permit.
Panhandling within the city limits is now also illegal within 50 feet of automated teller machines and banks, at bus stops and in outdoor eating areas.
Aggressive panhandling is also prohibited, which includes:
*Touching the solicited person without their consent;
*Panhandling people in line for a commercial establishment;
*Blocking the path of a person being solicited;
*Following behind, ahead or alongside a person who walks away from the panhandler;
*Using profane or abusive language;
*Panhandling in a group of two or more people;
*Conduct which is intended or is likely to cause a reasonable person to fear immediate bodily harm to oneself or to another or damage to or loss of property.
Finn has talked with Bay County and township officials to discuss implementing similar regulations outside of the city limits. Specifically, he pointed to panhandlers at the intersection of West Thomas Street and Euclid Avenue, who, in the past year, have been holding up signs asking for money from motorists coming off the highway.
"We don't want these people greeting visitors to our city," Finn has said.
###
---
"The BUZZ" - Read Feedback From Readers!
ntsrl Says: On January 10, 2016 at 12:26 AM

I wonder how this applies to the bell ringers for the Salvation Army.

I was verbally harassed by a bell ringer when I walked past him from the parking lot into Krysiak's restaurant.

I know they get paid for their time of collecting money, but their presence does not obligate me to make a donation to them. And, in fact, I made a donation to SA directly by mail that year. But, I tell you, that guy had an attitude about me not donating. And, the bell ringers in general try to crack my eardrums with that bell ringing.
sunbeamf Says: On January 11, 2016 at 11:35 AM

When Euclid was all torn up this summer and there were construction vehicles and blockades and the traffic was down to one lane there were still panhandlers--and I include the "official" ones such as Muscular Dystrophy and the Lions--out in force. I complained to the Bangor clerk and she said they had had other calls and complaints and were looking into an ordinance. The problem seems to be that the "official" charities seem to feel it's their right to run into the street and accost you while you're legally stopped at a light. I don't give to ANYONE who comes into the street seeking money. Someone is going to be hurt or even killed while they stand in the street seeking money for their charity. I read the comment by Mr. Finn that said "we don't want those people greeting visitors"--hmmm. I say ban all solicitation in the streets and control the panhandling outside stores by requiring permits.

---

Dave Rogers




Dave Rogers is a former editorial writer for the Bay City Times and a widely read,
respected journalist/writer in and around Bay City.
(Contact Dave Via Email at carraroe@aol.com)

More from Dave Rogers
---
Send This Story to a Friend!
Letter to the editor
Link to this Story
Printer-Friendly Story View
---
--- Advertisments ---