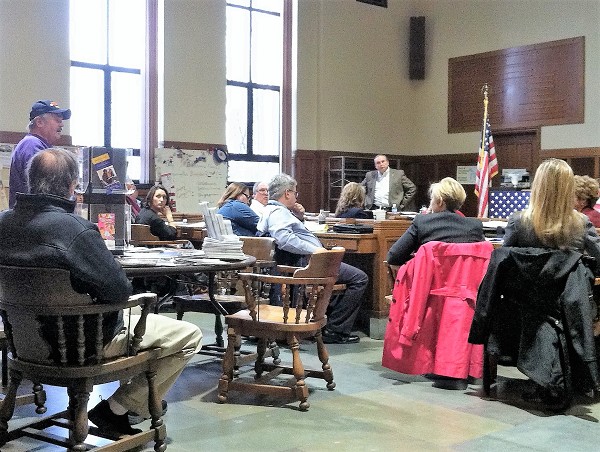 Agencies serving veterans convened recently at the Bay County Building for a meeting with the new Bay Veterans Foundation.
---
VETERANS ORGANIZE: Bay Veterans Foundation Aims to Coordinate Services
"Red, White and Blue Cruise" Slated for Public Awareness of Group
February 15, 2016 1 Comments
By: Dave Rogers
The newly-organized Bay Veterans Foundation is planning a "Red, White and Blue" Cruise aboard the Princess Wenonah this summer to make the public aware of the organization and its goals.
President of the BVF is Keith Markstrom, former director of the Bay Medical Foundation who served as interim executive of the Bay Area Chamber of Commerce after the retirement of longtime exec Mike Seward.
BVF's purposes are "to better coordinate and communicate existing veteran services and benefits in the Bay Area. The group has already provided gift cards to the VA hospital patients.
A major project is the restoration of Battery Park in cooperation with the Bay County Library System, City of Bay City, the County of Bay and local charitable foundations.
The group has received IRS 501 c-3 approval and certification to receive tax-exempt contributions, according to Mark Janke, treasurer.
An office has been established on the second floor of the Bay County Building in the veterans service suites area, formerly the Board of Commissioners chambers. The Soldiers and Sailors Relief Fund, the Michigan Veterans Trust Fund and the Veterans Service Officer operate in this area.
Mr. Markstrom said there are an estimated 9,000 military veterans in Bay County who need a central source for information on available veterans programs and services offered by local, state and federal agencies.
BVF recently co-hosted with County Executive Thomas L. Hickner a meeting of many groups serving local veterans to determine their capacity for serving veterans needs. The meeting determined that communication between existing agencies is a key to servicing veterans' needs
A campaign modeled after the "Uncle Sam Wants You" recruitment effort of World War II will be launched as an outreach to veterans who may not be aware of services and benefits available to them, said Mr. Markstrom.
"Also, we are hoping to personally contact all veterans and compile a database for occasional communication on matters of interest to them," said Mr. Markstrom. "One major effort will be to identify all homeless veterans in the county and work to provide housing for them."
The new local foundation will be meeting with and sharing information with the Michigan Veterans Affairs Agency, the Great Lakes Bay Veterans Coalition, the Bay Veterans Council and local veterans groups like the American Legion, DAV, AMVETS, VFW, PLAV and others.
The group is hoping to encourage the establishment of a post for Iraq and Afghanistan veterans.
BVF is planning fundraising to direct financial support to vital veteran-specific needs such as transportation to the VA hospital and medical appointments.
An annual golf outing and pheasant shoot, previously sponsored by the Military Order of the Purple Heart, are being incorporated into the BVF program along with grant-seeking efforts and encouragement of veterans and others to include BVF in estate plans.
Board members of BVF include Mark Janke, Mike Jamrog, Heather Bauman, Dave Rogers, Bob Sarow, Pat O'Brien, John Dewyse, Mike Stodolak, and Sita Compton.
---
"The BUZZ" - Read Feedback From Readers!
tennis1960 Says: On February 18, 2016 at 08:19 PM

Another beautiful effort for the vets in Bay County. I have been following this with you and we discussed ideas and veteran options. It is great to see this project take hold in developing in Bay City. Good job dad....your heart is bigger then your wallet, Bravo and thanks for making me see things differently in the world. Glad to know for a long time.
---

Dave Rogers




Dave Rogers is a former editorial writer for the Bay City Times and a widely read,
respected journalist/writer in and around Bay City.
(Contact Dave Via Email at carraroe@aol.com)

More from Dave Rogers
---
Send This Story to a Friend!
Letter to the editor
Link to this Story
Printer-Friendly Story View
---
--- Advertisments ---