CRUNCH TIME: $600 M for Flint? "Goodness, We Must Be Careful," Senator Says
National Outrage Escalates as Gov. Snyder Ducks for Cover
February 16, 2016 2 Comments
By: Dave Rogers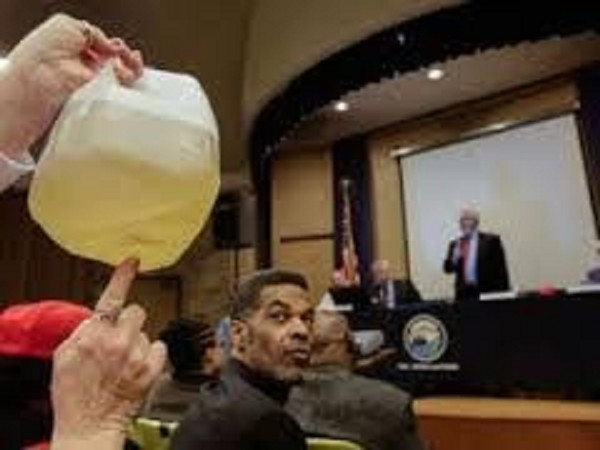 Flint was neglected because it is 57% black and 41.5% poor, advocates say.
"If we can rebuild villages in Iraq & Afghanistan, we can damn well rebuild Flint"-- --Bernie Sanders before 9,300 in Ypsilanti, Michigan, Feb. 15, 2016.
-0-
Apparently in an effort to save the political career of recall-threatened Gov. Rick Snyder, the Michigan Legislature is doing what is extremely rare for a GOP-controlled body: spending money on poor folks.
And, the spending is no doubt hundreds, maybe thousands, of times more than normally would be approved for social welfare programs or even infrastructure.
Flint was neglected because it is 57% black and 41.5% poor, advocates say.
"Absolutely not," Republican Gov. Rick Snyder says of accusations. He has refused all demands to resign, calling it a failure of government but failing to take personal responsibility.
While the Legislature raced through approval for a $28 million appropriation for Flint last Thursday, in Congress a $600 million proposal from Michigan's two Democratic senators got a "not so much" from Senate leader John Cornyn of Texas.
Sen. Cornyn, in essence, threw Snyder under the proverbial bus: "I think we need to be careful here because while we all have sympathy for what's happened in Flint, this is primarily a local and state responsibility," the No. 2 Senate Republican told reporters in the Capitol. "Given the fact that we have about 19 trillion in debt I think it's fair to ask do we want to have the federal government replacing all the infrastructure put in place by cities and states all across the country."
The Flint Water Crisis is taking on all the aspects of a major, long-lasting, politically impactful brouhaha, as we have observed in this corner previously.
The level of public interest in Flint is escalating daily; Presidential candidates are making pilgrimages here because they are guaranteed publicity based on their concern.
The deaths of nine or ten people from Legionnaires Disease has raised the stakes and brought calls for Snyder's arrest.
The contamination of drinking water in Flint, Michigan, has so outraged community advocates that they now pose a powerful question: Was the city neglected because it is mostly black and about 40% poor?
Several advocates, including filmmaker Michael Moore, say yes. They charge that Flint residents are victims of "environmental racism" -- that is, race and poverty factored into how Flint wasn't adequately protected and how its water became contaminated with lead, making the tap water undrinkable.
Sen. Sanders said the news reports he's read did not prepare him.
"I did not know how ugly, how terrible. It is beyond my comprehension that in the year 2016 we are poisoning our children," Mr. Sanders said. He said he has called for the resignation of Michigan Gov. Rick Snyder.
On Monday, state Attorney General Bill Schuette said he is appointing an ex-prosecutor and Detroit's former FBI chief to join the investigation into Flint's water crisis, creating a "conflict wall" between the state's inquiry and the lawsuits targeting the state.
The prior announced investigation will determine "whether any Michigan laws were violated in the process that created a major public health crisis for Flint residents."
"I would certainly not bathe a newborn child or a young infant in this bad water, and if you can't drink the bad water, you shouldn't pay for it," Schuette said. Flint's state of emergency -- declared at municipal and state levels -- began years ago when the city suffered a financial emergency. The state took over the city's budget and decided to temporarily switch Flint's water source from Lake Huron to the Flint River to save money until a new supply line to Lake Huron was ready.
The river, however, was long-known as befouled. Locals call it the "General Motors sewer."
---
"The BUZZ" - Read Feedback From Readers!
tennis1960 Says: On February 18, 2016 at 08:05 PM

Powerful article Mr. Rogers.....This is a quagmire and must be solved. It is a horrible situation and the mentioned comment via Bernie Sanders about the bridges and infrastructure in Iraq and Afghanistan is more reason we need him in the White House. Good read as usual Dad.
Joycetippman Says: On February 23, 2016 at 11:44 AM

Great commentary.Keep going Dave!!
---

Dave Rogers




Dave Rogers is a former editorial writer for the Bay City Times and a widely read,
respected journalist/writer in and around Bay City.
(Contact Dave Via Email at carraroe@aol.com)

More from Dave Rogers
---
Send This Story to a Friend!
Letter to the editor
Link to this Story
Printer-Friendly Story View
---
--- Advertisments ---