MARINES STAND TALL: Corps Rejects Recruit Who Displayed Racial Hatred
Nation's Decline Into Fascism Challenged by Strong Corps Stand
March 5, 2016 1 Comments
By: Dave Rogers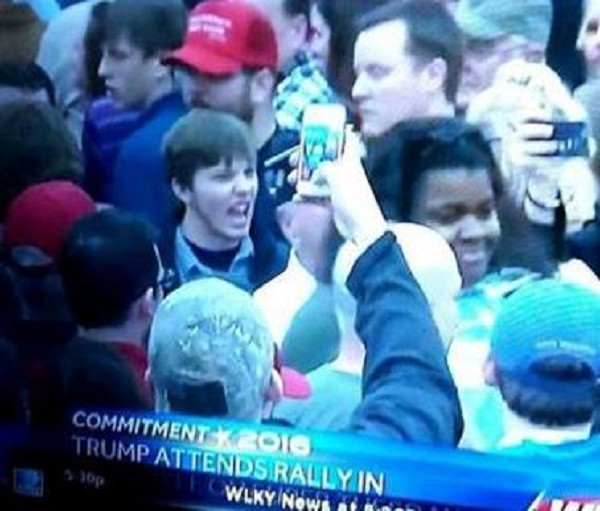 Joseph Pryor on racist rampage at Trump rally, leading to Marine Corps rejection.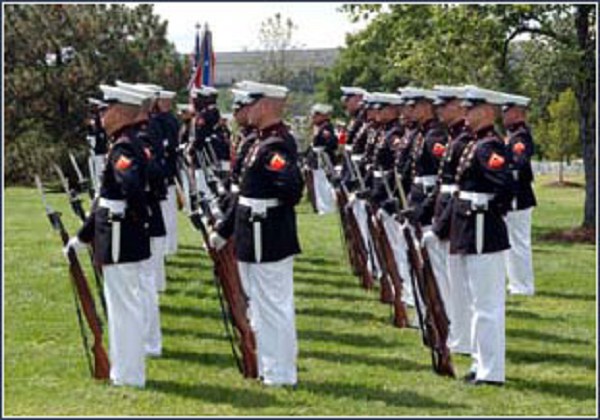 The Marine recruiting office in Louisville took notice of the Facebook
Remember this name: Joseph Pryor. You will hear it again and again.
An undistinguished young man named Joseph Pryor may go down in history as one whose actions stopped -- or at least called widespread attention to -- a dangerous moral decline trend of the nation.
Pryor, emboldened by the anti-minority hubris of Donald Trump, engaged in bullying of a young black woman at a Trump rally this week in Louisville, Kentucky.
Adding his own ignorant hubris, Pryor proudly posted a photo of himself harassing the helpless woman being driven from the Trump rally, apparently for the crime of being black.
The Marine recruiting office in Louisville took notice of the Facebook posting and issued this statement:
"Joseph Pryor demonstrated poor judgment in his use of social media that associates him with a racially charged altercation at a political rally. Hatred toward any group of individuals is not tolerated in the Marine Corps and he is being discharged from our delayed entry program effective yesterday."
Had the Marines allowed Pryor to continue in his pre-enlistment training program would the Corps have been guilty of sanctioning racism?
Would that situation then have encouraged a mass anti-black movement as Trump seems intent on fueling?
Would the unlettered and naive youth of the country have felt justified in such criminal activity under the thinking "well, if the U.S. Marines are doing it, then it must be OK?"
Would the image of the Corps as defenders of freedom from the Halls of Montezuma to the Shores of Tripoli be thereby sullied?
Those are the questions of morality that Marine recruiters no doubt weighed in rejecting Pryor's enlistment.
But it's just a posting on Facebook, some might argue.
However, by flaunting his obvious hatred toward another human being with his posting, and identifying himself as a future Marine, Pryor was making a statement to the world that such action was agreeable to a body of the military that prides itself on defending the honor of the country.
Duty. Honor. Country.
That standard would be meaningless if the U.S. Marines were seen as a group of white bully boys akin to the fascist black shirts of Europe we have all observed in historical television documentaries about the run-up to World War II.
Hugh Wharton, writing for usuncut.com, observed: "During his speech to the nation on Thursday, Mitt Romney referenced these very actions that have occurred at Trump rallies repeatedly, noting that Trump has encouraged them rather than doing anything about them.
"When Mitt Romney is the adult in the room, you know there's a serious problem. The behavior seen at Trump rallies is utterly unacceptable in America, and unfortunately, this is unlikely to be the last such incident."
The argument that such actions against racial minorities are protected by the First Amendment's freedom of speech provisions doesn't hold water. Just as it's an unwritten law of morality that no one should cry "Fire" in a crowded theater and thereby doom helpless patrons inside.
A cynical observer posted: "He will be a great Marine under President Trump! Torture? Yes, sir! America needs guys like this to yank out the out the fingernails and teeth of journalists who disrespect President Trump!"
Did the Joseph Pryor incident help derail the descent of America into fascism? Perhaps not, but it did bring out the best in the U.S. Marine Corps, a standard that should be very carefully protected -- just as the Marines have protected everyone, of any color, across the globe for generations.
Duty. Honor. Country.
After all, the Corps is open to all races and creeds, as Sgt. Amir Hekmati, of Flint, Michigan, recently freed from Iranian captivity, can attest.
Let us not forget that this is the Land of the Free and the Home of the Brave.
###
---
---

Dave Rogers




Dave Rogers is a former editorial writer for the Bay City Times and a widely read,
respected journalist/writer in and around Bay City.
(Contact Dave Via Email at carraroe@aol.com)

More from Dave Rogers
---
Send This Story to a Friend!
Letter to the editor
Link to this Story
Printer-Friendly Story View
---
--- Advertisments ---