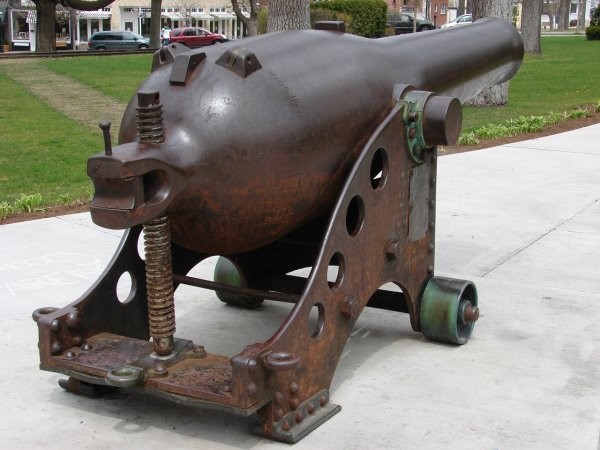 Dahlgren 9-inch cannon from Admiral Farragut's Civil War fleet is being replicated by Bay Cast Inc. of Bay City for placement in a restored Battery Park.
---
HISTORIC CANNON: Bay Cast Foundry Re-creating Dahlgren for Battery Park
March 18, 2016 1 Comments
By: Dave Rogers
History -- specifically the history of Bay City's parks -- is about to be repeated.
Bay City's historic Battery Park will again be home to an iconic Dahlgren cannon, replacing one donated to the World War II armaments effort in 1943. While the Dahlgren cannon of the past came from armories like Cyrus Alger & Co. of South Boston, Bay City's new model -- a replica -- will be made right here -- at Bay Cast on Center Avenue.
A second gun, a replica siege gun, also will be made by Bay Cast and placed in the park.
Another highlight of the restored park will be a replica hexagonal guard shack/kiosk modeled after one that stood at Center and Jefferson for many years. It was used by a traffic safety monitor for the Flint & Pere Marquette Railroad.
The kiosk will have recognition of donors and historical information about the city and the park. It is being designed by former Delta College official and instructor Tom Freiwald, now of Fife Lake.
Re-dedication of the restored Battery Park is scheduled for June 21 with an array of veterans and civic groups slated to be involved in the ceremonies. The first recipient of the Congressional Medal of Honor in Vietnam, Col. Roger Donlon, of Iowa is invited.
Special recognition will be accorded Donald J. Carlyon, retired Delta College president, a veteran of three branches of military service, who has been instrumental in planning for the Battery Park project.
Col. Donlon will be here for several days to make a presentation about the Medal of Honor Character Development Program to area teachers and school administrators. He will be the guest of retired Navy Captain Dr. Tim Eckstein, occupational medical director for Covenant Health Care, and George Lynch and Tony Bosco of the Bay City Elks Lodge No. 88.
A Bay City businessman, enthused about the educational benefits of a revived Battery Park as described by Keith Markstrom, who heads the new BVF, on hearing of the project immediately wrote out a check for $20,000 to the Bay Veterans Foundation for one of the two cannon planned for the park.
The local veterans' group, while bemoaning the loss of the historic military artifacts, notes that Bay City seemed to have a heightened sense of patriotism to have donated its cannon while other cities in northern Michigan hung on to theirs.
For the past 111 years, Petoskey has displayed Dahlgren Number 249, cast in 1859 by Cyrus Alger & Co. of South Boston.
And, as it turns out, Bay City's and northeastern Michigan's part in assembling and identifying military displays in several cities following the Civil War is much more significant than previously known.
Teacher and writer Nancy Hall of Petoskey gives credit for bringing several guns from the ships fitted out by Civil War Union Admiral David Farragut to Northern Michigan Congressman George A. Loud and Petoskey Postmaster James Buckley.
It was Rep. Loud who arranged for Confederate cannon from Fort Sumter through a South Carolina colleague to be acquired by Bay City. And, another connection is that the metal tablet on the gun's carriage was cast at the Industrial Works in Bay City.
The Petoskey Dahlgren's Marsillly carriage (No. 110), weighs 1,290 pounds. It probably replaced a heavier wooden (elm) carriage, used during the Civil War, when the Hartford was refitted in the late 1860's. The Hartford carried 26 such Dahlgrens. The last time this gun was fired "in anger" was at the Battle of Mobile Bay.
On the left trunnion is a letter P for proved, with the inspector's initials, W. R. T. for William Rogers Taylor.
The gun was brought to Petoskey during the winter of 1904-05 from Mare Island Navy Yard, in California. Farragut founded the Mare Island Shipyard in 1854, and the Navy closed the yard in 1996. During that period, over 500 ships, including nuclear submarines, were built at Mare Island Naval Shipyard, today a historic naval park. Petoskey's Dahlgren was placed in its current location on May 29, 1905, and dedicated July 4th the same year.
The metal tablet on the carriage was cast at the Industrial Works in Bay City. The plaque reads: "This gun is one of 26 nine-inch guns composing the battery of Admiral Farragut's historic flagship 'Hartford' during the battles of New Orleans, Vicksburg, Port Hudson, Mobile.
"Forevermore a silent reminder to the rising generations of the glorious deeds of our Navy during that fierce conflict in which the God of Battles watched over our nation and in which this gun effectively spoke for liberty and a united country. Mounted July 4th, 1905."
Along with the tablet are etched or painted white letters that are difficult to read, although -- Naval Yard Mare Island Calif -- stands out.
Other USS Hartford cannons are in Harbor Springs (#678), Cheboygan, Mackinaw City, and Gaylord (#250). Bay City had two of the 9-inch Dahlgren but they were melted down for scrap during WWII, she remarked.
More USS Hartford cannons are in Harbor Springs (#678), Cheboygan, Mackinaw City, and Gaylord (#250).
On display in the Emmet County government building in Petoskey is a fully restored brass Napoleon 12 pounder, the 27th cannon made by the Revere Copper Co. for the Civil War. The City of Petoskey has an unrestored mate to this gun in the city garage. The county also has another unrestored Civil War artillery piece in storage at one of its parks.
In Petoskey's Arlington Park is another fully restored Civil War Napoleon that was unearthed near the Perry Hotel during a remodeling excavation. It is thought to be a cannon that was brought to Petoskey by Joseph Wheeler in 1905 for a reunion of the Grand Army of the Republic.
Wheeler was a senior cavalry general for the Confederate Army of Tennessee and later was a general in the US Army during both the Spanish-American War and Philippine-American War. He may have brought it to Petoskey as an invited guest to the GAR's reunion. It is believed he is the first former Confederate to be invited to such an event.
In Greenwood Cemetery at the western edge of the city is a 30 pound Parrott Rifle cast in 1862. A tall, graceful marble cenotaph is engraved "Sacred to the memory of our fallen heroes 1861-1865."
In Lakeview Cemetery above Harbor Springs is another 30 pounder Parrott Rifle, No. 287 cast in 1864.
. In Brookside Cemetery in Charlevoix is another Parrott, No. 252 cast in 1864.
Boyne City displays an 8-inch Columbiad on part of a Barbette Carriage.
###
---
"The BUZZ" - Read Feedback From Readers!
dwhite Says: On March 18, 2016 at 08:49 PM



Great Article, we have some Cannon in need of repair in Mackinaw City could you provide me with a contact at Bay Casting. Dave I would also like to alert you to an event happening the Weekend of April 30th at Bay City Central, it is the State Finals for Michigan History Day. The event is sponsored by the Michigan State Historical Society and I will be one of many Judges for the events taking place. The winners go on to represent Michigan at the National event. It has special meaning for me this year as I graduated from BCC and Dad taught Michigan History there for 40 years. I am letting you know since food is not involved I am sure that the new Bay City Times or what ever they are calling themselves these days will not be covering it. Hope all is well, call me if you have any questions.

Dave White, Bay City in my heart, living in Petoskey
---

Dave Rogers




Dave Rogers is a former editorial writer for the Bay City Times and a widely read,
respected journalist/writer in and around Bay City.
(Contact Dave Via Email at carraroe@aol.com)

More from Dave Rogers
---
Send This Story to a Friend!
Letter to the editor
Link to this Story
Printer-Friendly Story View
---
--- Advertisments ---