NOTHING NEW: Misinformation Has Plagued Mankind Throughout History
Current U.S. Political Dysfunction Similar to Jonestown, Ireland's Woes?
March 26, 2016 1 Comments
By: Dave Rogers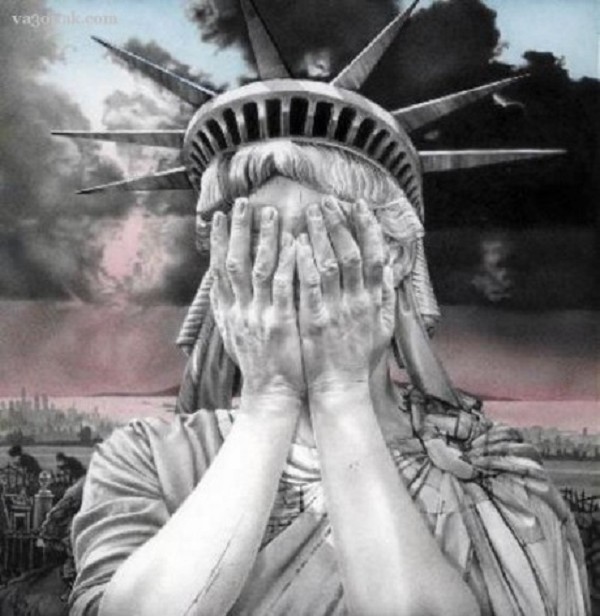 The height of this widespread madness rose to new heights when 21,500 Republicans reportedly petitioned the Republican National Committee to allow anyone attending the convention in Cleveland in July to openly carry weapons of all kinds.
You've all heard the nasty condemnations of their fellow citizens spewed by political bigots and demagogues:
*Obama is the worst president in history!
*The country is piling up deficits like crazy!
*Most of our taxes go to undeserving poor people who survive on welfare, Obamacare, food stamps and "free stuff."
*We need to bomb the hell out of ___________ anybody not like us, arm yourself with assault rifles and take out the freeloaders, then we'll be OK.
You can't stop a bad guy with a gun unless there is a good guy with a gun on the scene.
*"Vote for __________ (fill in the blank) and the country will be great again!
The height of this widespread madness rose to new heights when 21,500 Republicans reportedly petitioned the Republican National Committee to allow anyone attending the convention in Cleveland in July to openly carry weapons of all kinds.
The petition asserts Cleveland is one of the nation's most dangerous cities and besides the gun toters need to protect themselves against a potential attack by ISIS.
First to cry Uncle is a Republican U.S. Senator from Nevada, who says he is afraid to go to the convention, where riots are expected, for fear of a polyglot of heavily armed angry voters, maniacs who might start shooting at any time.
Can you blame him?
Return with us now to those halcyon Old West days of cowboys crowding into the saloon, getting "likkered" up and blasting everybody in the room with six guns just for the fun of it. (Probably never happened except at the OK Corral and in the movies.)
But let's just think for a moment: Why the hell would anybody want to take an assault rifle to a political convention???
Wouldn't that be akin to allowing blowtorches in dynamite factories?
I've covered several large political conventions and witnessed the obvious: many of the conventioneers are on a two or three-day toot. The effects of the copious use of alcohol by the be-ribboned political types cannot be denied. OK, now let them have guns??
Well, the point of this column is that political insanity that denies reality is being pushed to new and incredible levels. At the base of this mass, mental illness is misinformation that is gobbled up by so-called low information types, listeners to Mad Max talk radio and purveyors and recipients of Internet gobbledygook peddled by Rush Limbaugh types.
It has been proven that some political candidates here and now have copied Adolf Hitler's speeches and followed his strategies of befuddling some gullible folks into becoming avid followers. Remember Jim Jones convincing dozens of ignorant fools in Guyana into committing mass suicide by drinking the poisoned Kool-Aid?
Political madness based on misinformation is nothing new, dating to the Greeks and Romans of antiquity. Misinformation has been the tool of tyrants from Cesar to Hitler. A prime example is found in the British suppression of Ireland, dating to the 1600s.
As historians have documented, the historic British oppression of Ireland was based on a massive fraud with religious connotations.
It seems that the Calvinist Puritans like military leader Oliver Cromwell believed that only those who were selected could receive God's grace and, therefore, go to Heaven. Catholics, on the other hand, believe that God's grace can come from adhering to sacraments like Baptism and that anyone who seeks God's grace (not just the select few) can be welcomed into Heaven.
Ireland's Catholics were accused of massacres of hundreds of Protestants. Wild stories were circulated of the bloody killings of Protestants. Thus, Cromwell felt justified in his vicious killing of Catholics during his 1649 invasion.
Cromwell not only rejected Catholicism but also Scottish Presbyterianism and Anglican Episcopalianism. He was financed in a war on Ireland by like-minded British investors, called Adventurers, who were to be rewarded with land when the Catholics were exterminated and Ireland was "settled."
Thus began a campaign of ideologically-based oppression by the sword, famine, hardship and banishment that cost the lives of 504,000 Irish and 112,000 British colonists from 1641 to 1650. Additionally, 40,000 soldiers left the island to enlist in other countries.
When Cromwell arrived in 1649 with his army to complete the conquest, Ireland's population of 1.4 million in 1641 had already been reduced to about 600,000; Cromwell brought more death, exile, persecution, indentured slavery in perpetrating a form of 17th-century ethnic cleansing.
Thomas Carlyle wrote: "Oliver Cromwell came as a soldier of God the Just, terrible as Death, relentless as Doom doing God's judgment on the enemies of God."
However, there is no historical evidence that the massacres of Protestants attributed to Catholics ever took place!
. Thomas Walsh wrote in a recent history of Ireland: "Sad it was for Ireland that Cromwell believed a fiction. Atonia Fraser in her biography of Cromwell says that there is no historical evidence that a massacre took place during the 1641 rising. Legend had created a massacre and gave Oliver Cromwell justification for his vengeful assaults on Irish cities."
The British vs. Irish conflict grew and multiplied and exists still today after festering for centuries, although now greatly diminished. It is appropriate to recall the situation on the centenary of the 1916 Easter Rising, a revolution leading to the relative peace in modern Ireland.
So, upon reflection of historical examples, are we Americans, like the poor ignorant souls who listened to Cromwell or drank the Kool-Aid at Jonestown, doomed to repeat political carnage and upheaval based on misinformation? Are some of our political candidates rushing us to disaster based on false information?
Let us hope there are enough right-minded Americans who will keep the ship on an even keel and reject the madness of misinformation --like that which infected Oliver Cromwell and the Jonestown suicides-- threatening to overwhelm us.
###
---
"The BUZZ" - Read Feedback From Readers!
ebmspang Says: On May 02, 2016 at 02:20 AM

If my history serves me correctly, the very first battle of the American Revolution was the Battle of Lexington and Concord. Any guesses what started it? Here's a hint...on April 19th, 1775, the British began a secret offensive to capture and destroy rebel (patriot colonists) military supplies and weapons and to confiscate all of their guns!

Boy, all I can say is that we should all be thankful that these brave patriots fought back and saved us from the British so that less-insightful people of today could just dismiss our country's history so easily and s imply attempt to legislate them away from us instead.

Jefferson would be proud of you all...don't you think?
---

Dave Rogers




Dave Rogers is a former editorial writer for the Bay City Times and a widely read,
respected journalist/writer in and around Bay City.
(Contact Dave Via Email at carraroe@aol.com)

More from Dave Rogers
---
Send This Story to a Friend!
Letter to the editor
Link to this Story
Printer-Friendly Story View
---
--- Advertisments ---