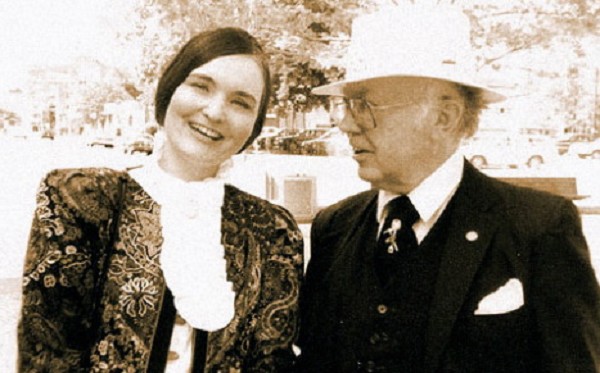 Annette and the late Russell Kirk, conservative thinkers.
---
RAND & RYAN: Can We Keep the Speaker of the House Out of Our Houses?
Ryan Fails the Moral Dimension of Conservatives Russell and Annette Kirk
April 17, 2016 1 Comments
By: Dave Rogers
Jonathon Chait, writing in New York Magazine in 2014, has posed the era's most pertinent political question:
"Is Paul Ryan an earnest, fiscally responsible wonk looking to make government more efficient, or an Ayn Rand-influenced ideologue determined to stop the government from taking rich people's money?"
Why is that query so pertinent to our lives?
Because the attitude of Speaker of the House Ryan pervades conservative thinking from the courthouse to the White House.
And, it determines the fate of the simplistic conundrum: How are we going to stop the rich from continuing to steal from the poor?
And, can we keep the ultra right wing Koch brothers puppet Ryan from sneaking in the back doors of our houses and making life miserable?
The fact becoming more and more evident is that tax cuts for the rich end up costing average folks more to support the government and societal needs. By the rich not paying their fair share this adds an unfair tax burden on everybody else. A good example is corporations who offshore their jobs and money. They profit from America but refuse to support the very economic and social structure that benefits them.
Speaker Ryan, you will remember, is the masked bandit from Wisconsin poised, some say, to pounce on the Republican national convention in July, and with quick and deadly sword thrusts end the campaigns of Donald Trump and Ted Cruz, seize the mantle and waltz off with the nomination of the GOP for President.
Ryan, for his part, frequently and fervidly declares his non-candidacy for President much as he denies being a devotee of Ayn Rand, the author of "Atlas Shrugged" and other pseudo-intellectual tomes that have set the right wing agenda of today.
And that agenda is? Selfishness is the paramount good. Why waste perfectly good government money on poor people who don't deserve a helping hand? They're lazy and worthless and, good heavens, they keep procreating no matter what we do to stop them.
Another deep question: Is Randism (devotion to the principles of Ayn Rand) a basic tenet of conservatism? If so, should it be embraced by conservatives who above all profess to love their country?
To analyze this question we turn to the father of the modern conservative movement, Russell Kirk, (1918-1994) the Sage of Mecosta, Michigan, author of the 1953 tome "The Conservative Mind: From Burke to Santayana."
A salient consideration is given by Andrina Tran, 2015 Graduate Student Essay Prize Winner of the Michigan Historical Review, for a piece entitled "An Experiment in the Moral Imagination: Russell Kirk, Clinton Wallace, and Conservative Hobohemia."
I have written here before of my youthful fascination with conservatism that led me in the 1960s to Kirk's Mecosta doorstep, as a pilgrim may have sought out Mecca. Sadly, the Sage was not at home so I spoke briefly with his wife, Annette, sagelike in her own way. But I digress.
President Ronald Reagan appointed Annette Kirk to the National Commission on Excellence in Education, which in 1983 published the landmark report, "A Nation at Risk," elevating educational issues to prominence. Since then, she has encouraged our educational and political leaders to consider to what purpose we are educating our youth, and whether true education can exist without a moral dimension.
During Annette's thirty-year marriage to Russell Kirk, they gave joint lectures, campaigned for political candidates, and hosted thousands of students at seminars held in The Russell Kirk Center library where Russell Kirk wrote almost all of his thirty-two books.
Tran summarized perceptively: "Kirk believed that Ayn Rand's objectivism epitomized the worst of the libertarian 'illusion' since Rand's exaltation of selfishness undermined the rule of law, moral principle and Christian charity."
So, my friends, it appears that Paul Ryan, who by the way is in charge of the federal budget, has failed to do his homework about the roots of conservatism. His dedication to tax cuts for the rich and society's scraps for the poor is not only misguided but highly destructive.
Obviously, Ryan's intellectualism is shallow and dangerous to the nation. Despite the example shown by the Kirks, and his own Catholic faith, he ignores the moral dimension of government.
Unless Ryan and his fellow ideologues at all levels of government are pushed aside in November we will face more erosion of the American middle class and the persecution of the poor.
###
---
"The BUZZ" - Read Feedback From Readers!
tennis1960 Says: On April 19, 2016 at 02:40 PM

He is a "POLITICAL HACK" and a tool. The rich stay rich$$$$$ with him as the speaker. Nothing but a puppet to the wealthy. Good read again as usual Mr. Rogers !!. Keep em coming !
---

Dave Rogers




Dave Rogers is a former editorial writer for the Bay City Times and a widely read,
respected journalist/writer in and around Bay City.
(Contact Dave Via Email at carraroe@aol.com)

More from Dave Rogers
---
Send This Story to a Friend!
Letter to the editor
Link to this Story
Printer-Friendly Story View
---
--- Advertisments ---