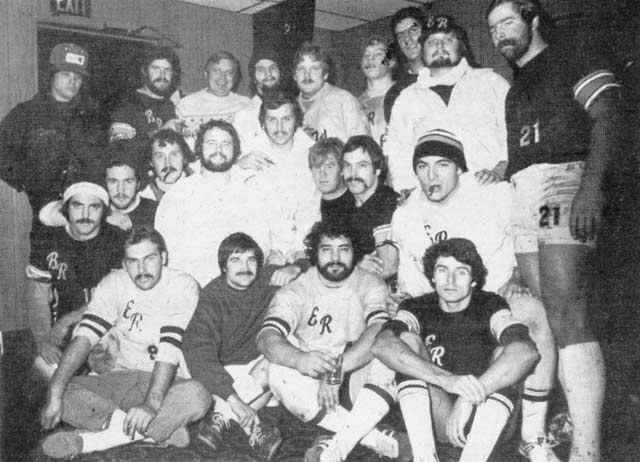 In 1977, Rob Roy Trophy Was Symbolic of Recreation Football Supremacy
Elbow Room Outmans Boys Club with 26-7 Win To Claim Rob Roy Title
December 5, 2002 1 Comments
By: O. J. Cunningham
November 7, 1977
After leading only 2-0 at intermission on a Butch Wegener safety, Elbow Room finally got untracked in the second half and went on to a 26-7 win over Boys' Club to claim the 1977 Rob Roy Trophy at Vet's Park.
The Rob Roy trophy has come to symbolize touch football supremacy in Bay County. The three league winners in county touch football play off at the end of the season. The winner of the single elimination tournament is City Champion and keeps the Rob Roy trophy untilthe following season.
Previous Winners were:
1972 - Sandy's Pizza
1973 - Silver Palace
1974 - Silver Palace
1975 - My Brother's Bar
1976 - Fortress North
Elbow Room had gone into the game favored by as many as 4 touchdowns by most "in the know" insiders but failed to score a touchdown in the first half due to splendid defensive secondary work by Boys' Club defenders John Covieo and Hector Velasquez.
Elbow Room quarterback Ben Haller came out throwing in the second half and connected on TD passes to Tom Murray (32 yards), Jim Skrocki (66 yards) and Bob Wuepper (2 yards) to lead "The Room" to the Rob Roy Title.
Boy's Club countered with a Jim Velasquez pass to Al Rapelje to pull within 20-7 but "quick-stepping" Tim Levassuer took the ensuing kick-off and scampered 78 yards down the sideline to put the gane away and hoist the Rob Roy tropy onto the Elbow Room trophy shelf.
Pictured above are the 1977 Rob Roy Bay County Touch Football Champions from Elbow Room. Elbow Room finished the season with a 7-0-1 mark with only a tie against Broadway Richie's as a blemish on their schedule. Pictured are: (Front Row, left to right) Bob Wuepper, Joe Gledhill, Harry Girvin and Rick Depp. (Middle Row)Tim LeVassuer, Ron Morse, Wayne Smith, Bill Braman, Ben Haller, Tom Baird, Jim Skrocki, Terry Westphal and Dick Horning. (Back Row) Jim Hack, Dave Middleton, Sponsor Les Jacobs, Tom Murray, Butch Wegener, J.D. Westphal, Tim Trepkowski, and Brian Compau.
NOTE: This is one of a continuing series of flashback article to be taken from the archives of the Bay County Sports Page & Bay City Enterprise newspapers published from 1976 through 1984 by O.J. Advertising, Inc. This Publisher hopes you enjoy the time travel as much as he does! If Sports Page and Enterprise are the grandparents of our newest arrival - mybaycity.com - then they are (as expected) very proud granparents, indeed.
---
"The BUZZ" - Read Feedback From Readers!
JP says: On November 08, 2008 at 09:20 AM

OJ, I just had to thank you for one particular outstanding "flashback" story you penned way back in 02 - that I happened to come across today!
The article has profound meaning to me in that it takes me back to some of my most favorite childhood memories of growing up in a wonderful neighborhood in Saginaw back in the 70s. What made my childhood neighborhood so wonderful to me, you ask?..my uniquely colorful & unforgettably
inspirational neighbors, of course! One of those neighbors happened to be the one and only, Ben Haller (and family)! Talk about a renaissance man whose environs made one seem larger than life itself! Ben exemplified the very definition of a self-made-man - and he did it all with a gentleman's bearing & humble heart. The neighborhood kids (no less me included) adored Ben & his family. He gave so much of himself to the recreational pursuits of his neighbor's children that droves would flock to his little plot of land just to be included in a game of wiffle-ball or touch (usually turned to tackle) football!
Ben's ½ Acre was transformed into a baseball field every summer and the perfect (pint) sized grid iron in the fall! Our little "Field of Dreams" came long before the book/movie ever saw the light of day! Still, to this very day my heart tells me that many, many grown-up children have a great reverence for that little spit of grass - even hallowed ground to some.
I just could not pass up the opportunity to relate to you the uniquely wonderful way Ben Haller created a place that transformed the dreams of his neighbor's children for so many beautiful seasons of hope & glory! Thank you, OJ, for all the unique and inspirational ways you help keep these wonderful memories alive & well!

Cherrio, my friend!
---

O. J. Cunningham




O. J. Cunningham is the Publisher of MyBayCity.com. Cunningham previously published Sports Page & Bay City Enterprise. He is the President/CEO of OJ Advertising, Inc.

More from O. J. Cunningham
---
Send This Story to a Friend!
Letter to the editor
Link to this Story
Printer-Friendly Story View
---
--- Advertisments ---