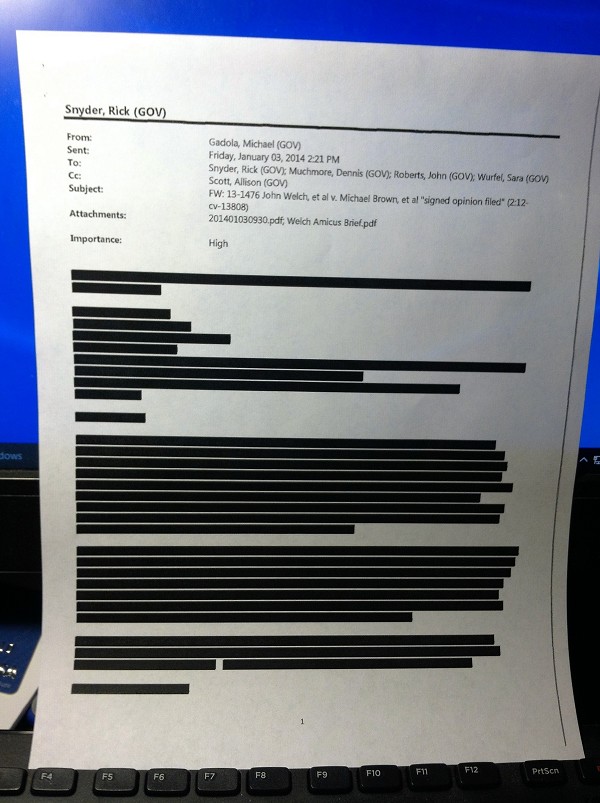 Gov. Snyder wrote -- "In the spirit of transparency and accountability, I am releasing my emails related to Flint from 2014 and 2015.
---
TRANSPARENCY? Actual Documents From Governor's Website
May 1, 2016 1 Comments
By: Dave Rogers
Gov. Rick Snyder, in a furious public relations blitz to whitewash responsibility for the Flint water crisis, has posted a website purporting to make public documents pertinent to the issue.
You, gentle reader and taxpayer, can judge for yourself how credible and successful this effort is. Note that many hands were in the mud pie and their faces are, or should be, as red as the Guv's.
Gov. Snyder wrote in and introductory letter: "In the spirit of transparency and accountability, I am releasing my emails related to Flint from 2014 and 2015.
"The Flint water crisis is an extraordinary circumstance and therefore, I'm taking this unprecedented step of releasing my emails to ensure that the people of Michigan know the truth.
"I am committed to solving this crisis and look forward to working with all Michiganders to help the residents of Flint."
You can see the actual first document on the website, or at least the completely redacted version of same, used to illustrate this opinion column, above. (The website notes that the completely redacted document, above, appears in that form because it is unrelated to the Flint water crisis. However, Michael Brown was one of a series of emergency managers of Flint whose actions helped pave the way to the crisis, a discussion included in the redacted document. Our question is: if it was totally unrelated to the water crisis, why was such a letter included?)
Following is a transcript of a news release that, in the light of history, defies reality and strains credibility to the nth degree:
For Immediate Release
Dayne Walling, Mayor
Jason Lorenz, Public Information Officer
(810) 237-2039
jlorenz@cityofflint.com
(Note: The name of Emergency Manager Darnell Earley also was part of the letterhead.)
The city of Flint Officially Begins Using Flint River as Temporary Primary Water Source
"Even with a proven track record of providing perfectly good water for Flint, there still remains lingering uncertainty about the quality of the water.
"In an effort to dispel myths and promote the truth about the Flint River and its viability as a residential water resource, there have been numerous studies and tests conducted on its water by several different independent organizations.
In addition to what has been found in independent studies, it is also the responsibility of the City of Flint Water Service Center to continually test the water provided to city residents.
Michael Prysby of the Michigan DEQ Office of Drinking Water verified that "the quality of the water being put out meets all of our drinking water standards and Flint water is safe to drink."
"For nearly 10 years Mike Glasgow has worked in the laboratory at the City of Flint Water Service Center. He has run countless tests on our drinking water to ensure its safety for public use.
Mike has not only conducted tests on water provided to us by Detroit but also on local water from nearby rivers, lakes and streams including the Flint River. When asked if over the last decade if he has seen any abnormalities of major concern in the water, his response was an emphatic, "No."
In his words, "there has been nothing seen that was of major concern," during his ongoing tenure working in the lab.
"The tests results have shown that our water is not only safe but of the high quality that Flint customers have come to expect," announced DPW Director Howard Croft, "we are proud of the end result."
Those two officials, Mike Prysby of the Michigan DEQ, and Mike Glasgow of the City of Flint have been charged with crimes by Michigan Attorney General Bill Schuette.
I rest my case.
I am not making any of this up. Check it out for yourself at: http://somcsprod2govm001.usgovcloudapp.net/files/snyder%20emails.pdf
###
---
---

Dave Rogers




Dave Rogers is a former editorial writer for the Bay City Times and a widely read,
respected journalist/writer in and around Bay City.
(Contact Dave Via Email at carraroe@aol.com)

More from Dave Rogers
---
Send This Story to a Friend!
Letter to the editor
Link to this Story
Printer-Friendly Story View
---
--- Advertisments ---